REI's annual Gear Up Get Out sale is here and we've handpicked the best hiking, backpacking, camping and snowsports gear deals for Trail and Kale readers. With discounts of up to 30% (and 50% for members!), you won't want to miss checking out this list of discounted gear.
ADVERTISEMENT
If you've been waiting for the right time to buy new outdoor adventure and winter sports gear that we have written about, now is a good time!
There's no such thing as an REI Black Friday sale because they choose to encourage their OptOutside ethos to encourage people to get outside.
Many of the items we've reviewed or picked out in our buying guides over the last year are discounted in this REI November sale until the 22nd, and we expect popular items with the bigger discounts to sell out quickly.
Keep reading to learn about the benefits of becoming an REI Member – after that, we are sharing our favorite deals this year.
Also, it's worth noting that if you can't find something already included in the REI sale, you can still save 20% on one full-priced item and an extra 20% on one outlet item, by using REI member coupon code GEARUP2022 at checkout!
Also, for 2022, they are offering discounts of up to 30% on certain products – just for members, and we've handpicked our favorites from those deals, too.
You must be an REI member to take advantage of the code and these additional discounted items, but REI membership is only $20 for a lifetime and so worth doing for the reasons outlined below.
Table of contents:
---
Benefits Of Being An REI Member
Before you buy with REI, consider becoming a member for extra benefits. We have been REI members since moving to the USA, and love that REI is a co-operative that invests in causes that we care so much about.
If you're not familiar with REI, signing up for a membership, which only costs $20 for a lifetime, provides you with a member dividend of 10% back on what you spend.
You'll see these returns in spring each year, as well as access to exclusive member-only events and sales, including exclusive REI member coupon codes like this November's GEARUP2022.
To learn more about REI's values, what they do and what makes them different, click HERE.
---
REI Gear Up Get Out Discounts – Our Top Picks
On Cloud 5 Shoes $140 $111.99 [20% OFF]
The GUGO sale at REI is one of those rare occasions where you can buy discounted On Running shoes, including the insanely popular On Cloud shoes, with 20% off On Clouds for REI members in this year's sale!
As the top reviewer of On Running shoes since their very early years, we've tested and reviewed hundreds of On shoes over the years, with the On Cloud, as featured in our On Cloud shoes review and our roundup of the best On Running shoes, being consistently top rated by us, and loved by many.
On rarely does discounts themselves so buying a pair at REI with this 20% off (that's $28) is a great GUGO deal!
---
Garmin Fenix 7 GPS Watches [Up to 14% OFF]
The Garmin Fenix 7 ranks as our best GPS watch for running, and right now it's also high up on our list of favorite REI Gear Up Get Out offers as you can get up to 14% off the Garmin Fenix 7 Series of running GPS watches – that's a discount of $100!
This means you can pick up a Fenix 7S for less than $600 compared to the normal price of $699.
This Garmin watch blows the competition out of the water when it comes to navigation features and general useability, so if you've been holding off getting one (because they are understandably very expensive) then this discount may make now a great time for you to pick one up for less.
---
Biolite Firepit + $299.95 $239.89 [$60 OFF]
One of our favorite camping and backyard leisure items, you can pick up a portable Biolite Firepit + with 20% off in this year's sale – that's a $60 discount off its normal price of $299.95.
Accessories including the carry bag are also discounted for REI members.
To learn more about why we love this portable firepit, read our Biolite Firepit+ review, which has plenty of photos of it in action, as well as all the key features.
---
Men's and Women's Cotopaxi Jackets, Fleeces and Vests [30% OFF]
Some of the biggest deals in this year's REI GUGO sale for Thanksgiving week are on Cotopaxi warm layers – all of their men's and women's jackets, fleeces and vests have 30% off this year.
We're loving the range of colors available for both the men's and women's styles, and the flattering fit of the Fuego jacket style (men's version is pictured), which is filled with quality and very warm 800-fill power goose down.
These insulated jackets make great Christmas gifts, and are a great investment especially if you're planning to spend time in ski resorts or being active in cold weather this winter.
---
All Women's and Men's REI Co-op Branded Down & Synthetic Insulated Jackets [30% OFF]
For more discounted puffy jackets (perfect for Fall/Winter and cold Spring weather), REI is also discounting their own REI Co-op branded jackets by 30%, which includes both responsibly-certified down and more cost-effective synthetic fill jackets made with recycled nylon.
As REI's own brand outdoor apparel is already such great value, this means you can pick up some great quality warm insulated jackets for great prices.
As an example, the women's insulated jacket, pictured (the '650 Down Jacket 2.0'), normally costs $99.99 but with 30% off it costs around $70.
---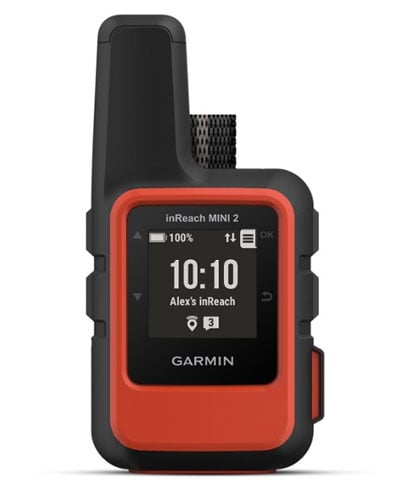 Garmin InReach Mini 2 $400 $350 [$50 OFF]
This compact Garmin satellite communicator features on our satellite messengers buyer's guide and is widely popular with people who spend time in the backcountry and on adventures such as skiing, hiking and paddling trips.
It's popular because it's small, lightweight and known for being reliable as a satellite messenger which you can use when there's no phone signal and you need to stay in touch with friends and family back home, or communicate with first responders in the case of an emergency.
The Garmin InReach Mini 2 normally costs in the region of $400, so $50 off is a huge (and rare) discount and worth taking advantage of if you've been looking into investing in your own personal satellite tracker and communicator.
---
Smith Snow Helmets & Snow Goggles [20% OFF]
Whether you're already a skier or snowboarder, or are looking t
---
REI Sale Gift Ideas For Under $75
I don't know about you but we love giving warm layers and outdoor gear as Christmas and birthday gifts around this time of year – what better way to encourage someone outdoors than to make sure they're staying warm and comfortable (and looking good) while doing it?
Here are our top picks when it comes to festive Christmas-time gifts from REI's GUGO sale.
Smartwool Clothing & Accessories for Women, Men & Kids [25% OFF]
The REI GUGO sale offers 25% off all Smartwool clothing and accessories! Smartwool are especially well known for their merino socks and baselayers, which can be worn layered under other winter or snowsports apparel, as well as on their own as a single, warm, sweat-wicking layer for active days.
Some of our favorite picks from the Smartwool gear available on sale at REI this week include this quarter-zip merino baselayer (pictured), and these traditional snowflake pattern socks, which would make a great Christmas gift!
---
Kahtoola Traction & Gaiters $70 $55.89 [20% OFF]
The Kahtoola MICROspikes Traction System delivers unrivaled traction on snowy/icy winter trails with its twelve 3/8 in. hardened stainless-steel spikes per foot.
They're easy to use with almost any shoes and tough enough to handle any adventure you dare to take them on.
There are some mountain trail running races that require traction systems like these and due to their small size, I wouldn't feel like I'm carrying deadweight with them in my race vest/hydration pack.
Also check out their Nanospikes system, which is more minimal and great for flat terrain, including walking on slippery surfaces in towns and cities during winter weather conditions.
---
MPOWERD Luci Solar Lantern + Power Bank $54.95 $41.19 [20% OFF]
These Luci solar lanterns have a built-in rechargeable lithium battery, and can last up to 50 hours on a single charge. These inflatable lanterns can be charged using their integrated solar panel, as well as using a USB cable, and are great to take anywhere!
Because they get their shape from being inflatable, you can collapse the lantern down to less than 1 inch thick when you need to stash it in a backpack, or for storage.
They also feature straps, so you can hang them easily, and a two-way USB port that allows you to use the stored battery power to charge some mobile phones and other small devices.
At just over $41 when used with the REI members' discount code, this is a great deal!
---
REI Co-op Active Pursuits Full-Zip Hoodie for Men $79.95 $39.89 [50% OFF]
This men's hoodie features two-way stretch, and a fleece lining that is warm but breathable, as well as cosy features such as thumb holes and a scuba neck.
It also has zip up hand pockets and reflective details – useful for dark mornings and days outdoors.
With a huge 50% off in this REI sale, this hoodie costs less than $40 and is a great deal as a gift or for yourself if you're looking for some new warm layers this winter.
---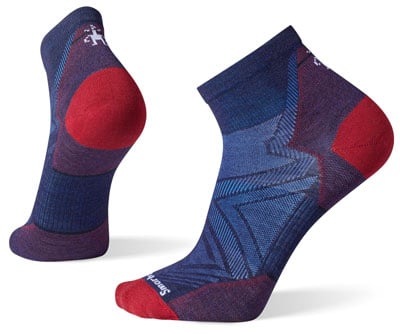 Smartwool Performance Zero Cushion Running Socks $20 $14.99 [25% OFF]
Who doesn't love receiving brand-new quality sweat-wicking running socks for Christmas?
Smartwool makes excellent warm men's and women's wool socks, designed for active pursuits such as running, hiking and backpacking – hence why they're featured highly on our best running socks buyer's guide.
While they're designed for being active outdoors, these socks are so comfortable to wear that it's a treat to wear them for everyday activities, too.
---
ENO Doublenest and Singlenest Hammocks $74.95 $59.89 [20% OFF]
Not just for camping, these ultra light, ultra packable single and double (two-person) hammocks from ENO make great gifts and are just as fun in a backyard or on a balcony as in the woods or at the beach, and members can get 20% off in the GUGO sale with this year's discount code.
This is one of the most popular two-person hammocks out there, and comes in a range of great color options. To learn more about hammocks, have a read of our camping hammocks buyer's guide next.