I don't know about you but I'm so ready for Spring, especially once the current global pandemic dies down and we can head outside more freely for adventures. Looking ahead to that time, I've been checking out the REI Co-op sale, which is offering a huge 25% off REI Co-op women's clothing and other REI-branded gear. They are also offering free shipping to the US due to the current situation regarding the Coronavirus outbreak and them having to close all their physical store until we've beaten the virus.
Here's a selection of adventure (or beer garden) ready women's outfits, all handpicked from the discounted items in the REI Co-op sale, which is live now. I have a few of these items (the 650 Down Vest, Safari Shirt, Diamond Trucker Hat and Tote Bag) and can't wait to wear them further afield than my front porch!
---
REI Co-op Women's Clothing for Spring – when there's still a chill in the air
REI Co-op 650 Down Vest $59.89 $79.95
The features I particularly love about this vest are that it packs down small into one of its own pockets, it's made from recycled materials, and the pockets are zip-up so you can carry your phone and wallet in them without risk of them falling out (although go for a slimline wallet to avoid the dreaded pocket-bulge). It is also lightweight and repels water, making it ideal for traveling. It is filled with down certified to the Responsible Down Standards, which ensures the down comes from animals that have not been subject to unnecessary harm, such as force-feeding or live-plucking.
The 650 Down Vest goes so well with the Sahara Long Sleeve and Taereen pants shown below – this would make a great travel outfit because all three items are comfortable, repel water and pack down small.
---
REI Co-op Taereen Pants $48.69 $64.95
I love these light and stretchy pants. They're next on my list of must-haves for my everyday wardrobe. They're super versatile because of the stretchy, lightweight material, which makes them perfect for everything from sitting all day in (working, traveling, etc) to days out hiking and adventuring.
The REI Co-op Taereen pants also include a few nice features such as zips on the rear pockets, reinforced cuffs, and quick-drying fabric with UPF50 protection. With the current 25% off offer they're less than $50, which is a steal!
---
REI Co-op Sahara Long Sleeve T-Shirt $26.19 $34.95
The Sahara Long-Sleeve T-Shirt is made from soft, comfortable sweat-wicking quick-drying fabric with anti-microbial and UPF 30 properties. It is designed with hiking in mind, but I wear mine all the time regardless of whether I'm hanging at home, in a coffee place or out on a trail. I have this shirt in the 'Copper Spiced Heather' color (shown in the pictures) and it goes perfectly with the 650 Down Vest.
---
REI Co-op Women's Clothing for Spring and into Summer
REI Co-op Savanna Trails Shorts $33.69 $44.95
Similar to the Taereen Pants, the Savanna Trails Shorts are super-versatile (especially when worn in the black color option) and will go with pretty much anything. They have stretchy, breathable and moisture-wicking properties so are perfect or hiking but just as nice to wear for everyday casual. I also appreciate that they have lots of pockets but that the pockets lay pretty flat when empty.
---
REI Co-op Northerwoods Shirt $44.89 $59.95
Everyone needs a cotton plaid shirt, don't they? REI's own brand Northerwoods women's shirt is great for layering or you can wear it on its own on warmer days. I love the soft brushed cotton fabric. It will look great with the Savannah Trails shorts or the Taereen pants.
---
REI Co-op Old Sol T-Shirt $22.39 $29.95
REI has all of it's own-branded clothing in the REI Co-op sale, so this is a great opportunity to stock up on quality t-shirts ready for spring and summer while they are discounted by 25%! I love the vintage design on this 'Old Sol' T-Shirt, which you can layer with the Northerwoods shirt on a cooler day.
---
REI Co-op Women's Clothing for Spring – Sale Accessories
REI Co-op Diamond Tech Tote Bag $18.69 $24.95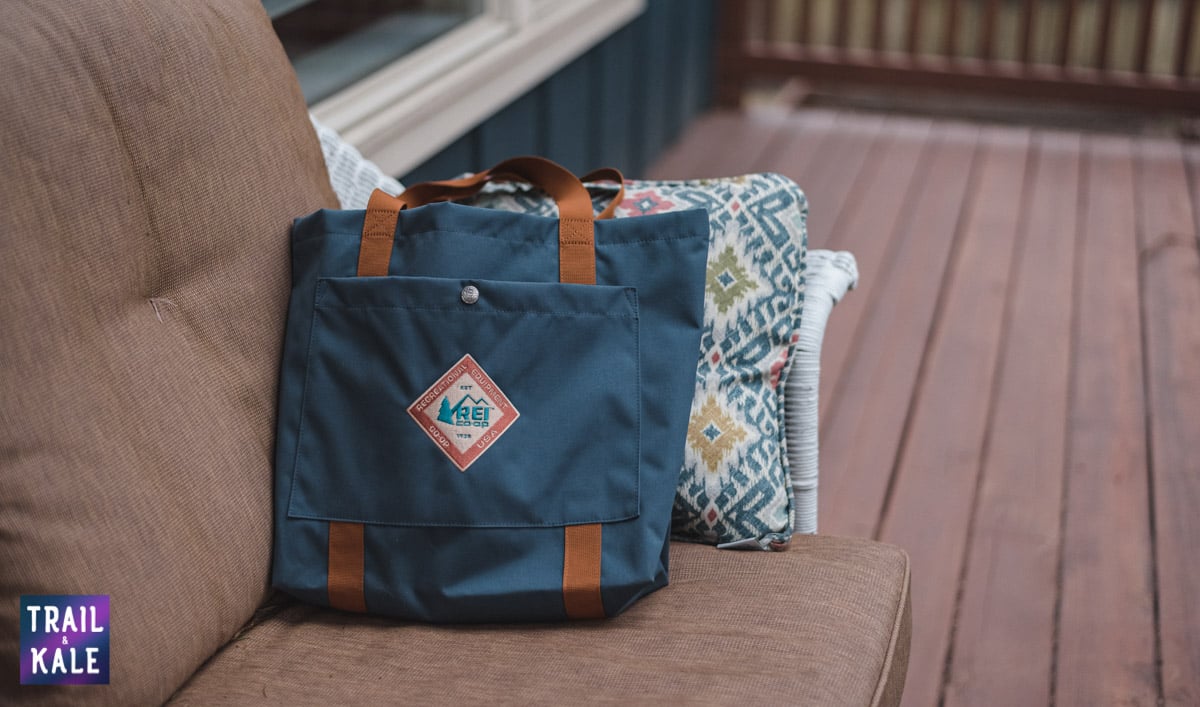 I love this tote bag, it's great for everything from groceries to carry a laptop and accessories around to coffee shops, or porting some snacks to a picnic. I use this as my catch-all handbag that I can put everything in that I need for the day, including big things like the laptop and its charger, when I have that with me.
The REI Co-op Diamond Tech Tote has reinforced stitching for durability, and has been manufactured with respect for the planet using bluesign®-approved materials, which conserve resources and protect the health of people and the environment. It's also good to know that it's machine-washable (cold).
---
REI Co-op Diamond Trucker Hat $18.69 $24.95
I love the retro diamond design on this REI Co-op Diamond Trucker Hat – it's similar to the retro diamond used on the tech tote bag shown above – a logo that dates back to 1978. The cap is categorized on REI's website as a men's hat, but I like it and it fits really well (maybe I have a big head?). The logo patch is made from faux-leather, and the cap itself is cotton and has a good amount of structure to it.
---
REI Co-op Merino Wool Lightweight Hiking Socks $12.69 $16.95
---
I don't know about you but when I get to this time of year I start stocking up on T-shirts and socks, so the REI Co-op sale is the ideal opportunity to get some quality merino wool hiking socks with the 25% discount.
I wear these not just for hiking but any activity when I am wearing boots or am potentially going to get cold, wet or sweaty feet. The merino wool is naturally stink-resistant, and the wool properties wick sweat away, helping keep your feet comfortable and dry and reducing the chance of blisters developing.
---
Gallery – REI Co-op women's clothing range