With Spring just around the corner and Summer right behind, now's a good time to think about getting some new trail and lifestyle gear, especially as REI has one of their biggest sales of the year happening right now. If you're not familiar with the REI Co-op men's clothing range yet, then I'm so excited to be able to be the one to introduce you to them first. REI's own brand of clothing range is made to a very high-quality standard while maintaining very reasonable prices, not to mention their commitment to sustainable manufacturing. REI clearly cares for our planet just as much as we do.
ADVERTISEMENT
In the current sale you can get 25% off all REI Co-op brand gear! They are also offering free shipping to the US due to the current situation regarding the Coronavirus outbreak and them having to close all their physical store until we've beaten the virus.
---
REI Co-op Clothing Collections
Clothing Collections are designed to help you pick out a complete outfit without the worry that you may accidentally commit a fashion faux-pas by choosing items of clothing that don't go well together.
REI Co-op Long Valley Spring Collection – I love how vibrant and fun this collection is, the patterns are so jazzy! If you're looking for standout pieces that scream FUN, this is the collection for you.
REI Co-op Everyday Collection – The Co-op Everyday Collection is a capsule collection full of comfortable, versatile staples with hidden technical features like built-in SPF and water resistance that make it easier to say yes to outdoor adventures every day.
---
My Favorite REI Co-op Men's Clothing for Spring Adventures
REI Co-op 650 Down Vest 2.0 – $59.89 $79.95
The REI Co-op 650 Down Vest 2.0 is at the sweet spot of being light enough for everyday wear, yet warm enough for trail duty. Having a 650-fill-power down (responsibly sourced down) is means the vest can be lightweight while still maintaining good warming power, it also packs down right into its own pocket. I love that!
The hand pockets are…wait for it… 'handy' if it's chilly and you don't have gloves to keep your hands warm. The wind-resistant outer shell is made of recycled nylon taffeta and is treated with a durable water repellent (DWR) finish which sheds light rain and snow. This vest is made using bluesign®-approved materials, which conserve resources and protect the health of the environment, workers and wearer, you! It's these types of responsible business decisions that continue to bring us back to REI.
---
REI Co-op Peace from the Sun Trucker Hat – $18.69 $24.95
We wouldn't exist without the sun, so you have to love it—but sometimes it gets a little hot. The REI Co-op Peace from the Sun trucker hat has a trendy broad bill and a mesh crown that allows airflow to your head, important for temperature regulation during the hot Spring/Summer days ahead.
The front crown and bill are made from cotton and the mesh sides/back are made with polyester. This REI Co-op trucker hat is one size only but can be resized using the adjustable snapback closure.
---
REI Co-op Life Outdoors Graphic T-Shirt – $22.39 $29.95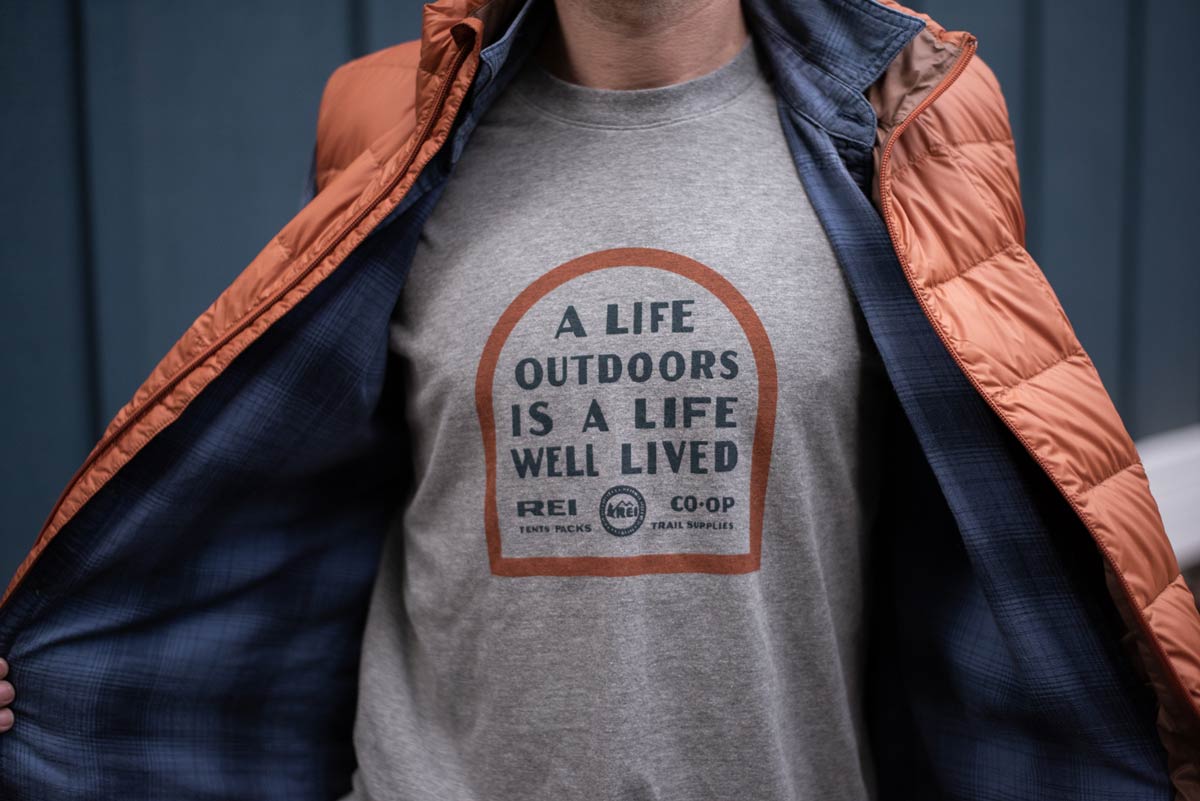 "A life outdoors is a life well lived". This is pretty much my mantra in life, which is why I choose to wear it on a t-shirt. The REI Co-op Life Outdoors Tee is made from 97% organically grown cotton and 3% Spandex, so it's really soft to the touch.
This is a T-shirt that has been made to reflect our love for people and the planet, including the use of organically grown cotton, which has a lower environmental impact than conventionally farmed cotton.
---
REI Co-op Sahara Plaid Long-Sleeve Shirt – $48.69 $64.95
Exploring new trails is a big part of who I am, so I need to be able to do that with as little resistance as possible because who knows when I may want to just up and go find peace on the trails? The REI Co-op Sahara plaid long-sleeve shirt is great for people like me who want to be able to have a versatile shirt that looks just as good at the brewery as it does on the trails. And it's a performance shirt which means it's moisture-wicking and is made from stretch fabric with a full range of motion.
The Sahara Plaid shirt also has convertible sleeves that roll up and secure with button tabs to keep them from unraveling and has UPF 50+ sun protection to keep you safe from harmful rays while hiking exposed trails.
---
REI Co-op Trailsmith Pants – $52.39 $69.95
The REI Co-op Trailsmith pants have a hint of stretch and high durability so you can do pretty much anything in them in comfort. These are pants that will likely replace your favorite pair of jeans due to their versatility and comfort.
There are double-layer fabric reinforcements at the knees and thighs which help to withstand abrasion/wear and tear. I've loved some pairs of trousers so much that I've worn through the knees on numerous occasions, oh if only they were reenforced like these.
They also have jeans-style coin, hand and back pockets with additional drop-in tool pocket at side and a pencil pocket at the thigh. And for those who it concerns, these pants have a zippered fly with a single button at the top.
---
REI Co-op Boxers – $17.19 $22.95
There's not all that much to say about the REI Co-op Boxers, other than that they are lightweight, comfortable, and really reasonably priced. They are an essential piece of outdoor gear with soft, 4-way stretch fabric that wicks moisture and absorbs odors. Smart, simple, effective!
---
More images of REI Co-op men's clothing
---