Every year around Memorial Day, REI Co-op has its biggest sale of the year offering discounts of up to 30% OFF outdoor adventure gear.
ADVERTISEMENT
This year's REI Anniversary Sale will be on between May 20 and May 30, 2022 so if there's outdoor gear, including large toys such as bikes and kayaks, that you've had your eye on then now is the time to do it.
Read on for top deals you shouldn't miss out on in this year's REI anniversary sale! Plus, to see all deals and discounts in sale items at REI, click here [sales go live on May 20, 2022 – bookmark this page to come back then!]
---
Benefits of being an REI Co-op member – Before you buy with REI, consider becoming a member for extra benefits. We have been REI members since moving to the USA, and love that REI is a co-op and invests in causes that we care about.
In the REI Anniversary sale, REI Co-op members save 20% on one full-price item and an extra 20% on one REI Outlet item. This is reason alone to sign up – you'll get your lifetime membership fee instantly covered once you spend more than $150 in eligible items covered by this offer – not to mention that REI membership entitles you to other benefits, including:
a member dividend of 10% back on what you spend, in spring each year
access to exclusive member-only events and sales on new and used gear
20% of in-store services such as bike and snow gear servicing
33% off gear rentals.
To learn more about REI's values, what they do, and what makes them different, and see the full list of benefits, click the button below for more details (you can also sign up here – it's worth it we promise!):
---
REI Anniversary Sale – Best Deals For Running, Hiking, Camping, and Cycling
Up to 40% Off Ecoflow Portable Power Stations & Solar Panels
Ecoflow products at REI are up to 42% off in this year's sale!
Products on sale include their RIVER and DELTA portable power stations that are great quiet generator alternatives for off-grid camping, tailgating, vanlife, or as a home backup power supply.
These are our portable power stations of choice right now because of how well built they are, the awesome ecosystem of products that all work together including a smart portable AC Unit, and also a super helpful app to control all the devices.
You can charge the power stations on an outlet at home, in your vehicle using a 12v (cigarette charger) connection, or using a set of Ecoflow's solar panels for off-grid, environmentally friendly power.
---
25% Off Leki Trekking & Trail Running Poles
One of our favorite lightweight trekking poles for trail running, hiking and fastpacking, LEKI's Cross Trail FX One Superlite poles are one of the styles of LEKI poles included in this year's REI Memorial weekend sale.
These poles are made of super-light carbon fiber, and fold down small for stashing in (or lashing to) a backpack or running hydration pack during fast and light endeavors.
---
25% Off Rumpl Puffy Insulated Camping Blankets
Another T&K HQ favorite (they came top-rated in our ranking of the best camping blankets), a wide range of Rumpl Puffy recycled and down-insulated camp blankets are have 25% off in the REI Anniversary sale this year.
These make a great gift, as well as being useful companions for at home, in the backyard, at festivals, and camping trips.
Learn more about Rumpl blankets in our review.
---
20% Off KEEN Hiking Boots, Shoes & Sandals
A must for summer in and around the water, KEEN's most popular hiking sandals and water shoes have 20% off in this year's Anniversary sale, including the Astoria West and Newport H2 styles.
Also, if you're in the market for a new pair of hiking boots or shoes, there's 20% off these, too. Our top recommendation for hot summer hikes where breathability is important? KEEN's Targhee Vent Mid hiking boots.
For more information on choosing hiking sandals, read our buyer's guide.
---
25% Off Janji Running Apparel, Including Shorts & Shirts
Highly rated by our Editors and ranked as one of the best men's running shorts, the Janji AFO Middle men's 5″ shorts are included in the 25% off deal in this year's REI Anniversary sale.
---
25% Off Solo Stove Bonfire Smokeless Firepits
A Trail & Kale HQ favorite, you'll likely never go back once you've used a smokeless firepit like the Solo Stove Bonfire!
Great for camping and backyard gatherings, you can also buy accessories including a firepit griddle cooking kit.
This deal is a member-exclusive one – worth the membership by itself!
To learn more, read my Solo Stove Bonfire review.
---
30% Off REI's Men's & Women's Running Apparel
Already a great deal for quality running apparel and accessories, REI Co-op brand Swiftland range is 30% off in the 2022 REI Anniversary Sale.
This includes men's and women's running shirts, vests and shorts, as well as accessories including sweat-wicking caps and gaiters for your running shoes.
Don't miss out on these huge deals on this great running gear.
Learn more about REIs Swiftland running gear.
---
15% Off REI Co-op Cycles Bicycles
I bet you didn't know The REI Co-op produced their own line of bicycles and eBikes! Unfortunately, the eBikes aren't on sale this time around but their other bikes are, including this rather dashing Mountain Bike, the Co-op Cycles DRT 2.1 Bike.
Visit the link below to see all the deals happening on REI Co-op cycles this week.
---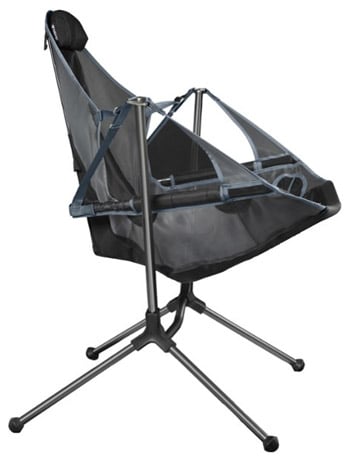 25% Off NEMO Stargaze Recliner Luxury Camp Chairs
Rated as the best all-round camping chair in our camp chair buyer's guide, the NEMO Stargaze Recliner is indeed luxury.
With the smooth rocking chair movement, adjustable headrest and padded armrests to the smaller features such as the cup holder, pockets, and water-resistant mesh, we can definitely spend long periods of time in it snoozing, reading, chilling, or stargazing.
At the full retail price, it's one of the more expensive camping chairs, so with this 25% discount, you're saving a lot of cash and getting a great deal!
---
30% REI Co-Op Men's & Women's Hiking Apparel
If you've read our 'What to wear hiking' guide then you'll already know how highly we rate REI Co-ops hiking apparel for men and women.
This year's sale includes all the REI Co-op hiking apparel you need for this summer's hiking trips, including pants, jackets, merino layers, and underwear.
Learn about the clothing you should wear while hiking; if you're a beginner, read our beginner's guide to hiking first.