Randolph Engineering has been a supplier of Aviator sunglasses to the U.S. Military for the past 42 years, and for good reason, their hand-made sunglasses (hand-made in over 200 individual steps) are high-quality, comfortable, and durable, and as a result, very reliable in the field. In my opinion, the new Randolph Aviator matte black frames add a touch of 'F.B.I.' to the airforce style Aviator, I love that. 🙂
Randolph's mission is to build eyewear for anyone who expects better. For the individualists, the singular, the uncommon.
FOR THOSE WITH A SPIRIT THAT'S HARD TO DEFINE AND A STORY THAT NEEDS TO BE TOLD.
It wasn't long after they opened their doors in the 70's, that they joined forces with the U.S. military to produce the HGU-4/P Aviator for fighter pilots. Cue the Top Gun music!
I have been wearing my original Randolph Aviator polarized sunglasses (matte black frames weren't available when I got mine) for around a year now, for everyday use and hiking, and I'm still really impressed at the frame and lens quality. Here's my full review of the Randolph Aviator Sunglasses if you're looking for an in-depth look at what makes the Aviator so special.
There are still no visible scratches on my Aviator lenses and the frames look like new due to the electroplating and additional corrosion-resistant coating that all Randolph frames come with. With the new Randolph Aviator Matte Black style variant, there's even more reason to buy these USA made military-spec Aviators. When paired with Cobalt polarized lenses, as seen in this article's pictures, these sunglasses look so good!
---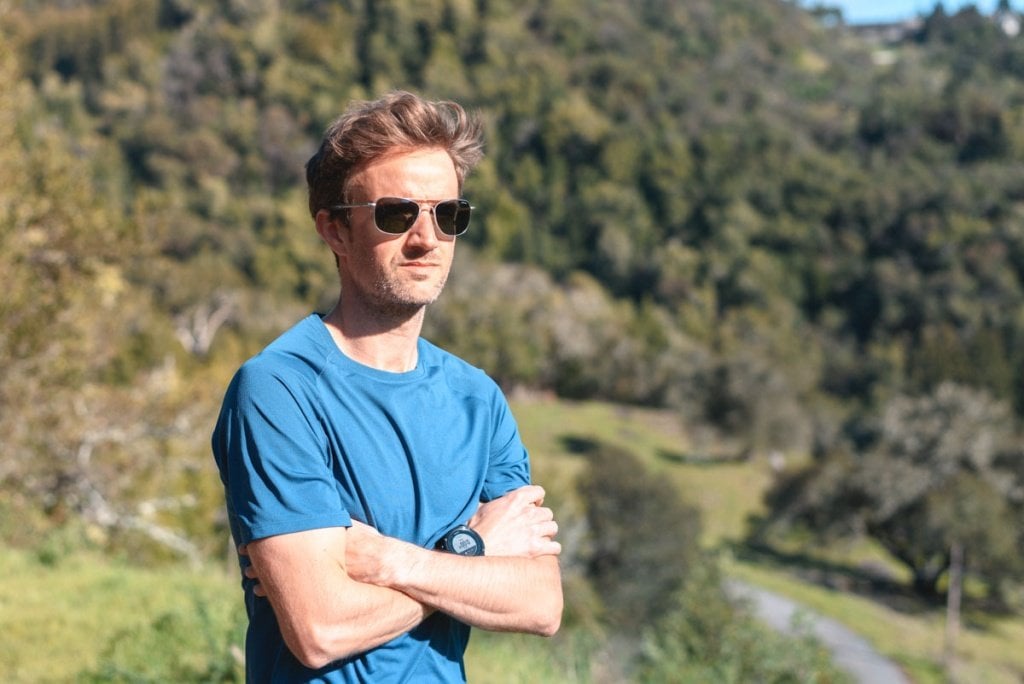 What I love about my Randolph Aviators
They fit very securely while being active in my day to day or hiking on trails.
They are very comfortable to wear all day.
Because they are handmade in the USA, they can be fully customized to get the perfect fit and look for you. There are 3 different frame sizes, 15 lens filters/colors, and 7 frame colors including the brand new matte black.
The frames and lenses are made from durable scratch-resistant materials.
They are the best quality sunglasses that are handcrafted in the USA.
Lenses are UVA and UVB protected and have anti-reflective backside coating which is essential for things like driving and range shooting.
---
I think when Randolph Aviator matte black sunglasses are paired with Randolph's SkyTec™ Polarized Cobalt Blue lenses (made with camera-quality glass) you have a really sophisticated look that's not going to go out of fashion.
Each Randolph Aviator is guaranteed for life, and to complete the look, a 1973 Diamond Logo is hot foil stamped into the temple tips – this is a nod to the year Randolph was founded.
The new Cobalt Randolph Aviator Matte Black is steeped in military heritage and combines one of the world's best performance lenses with an iconic and durable Matte Black finish.
If you're looking for a fresh new look this Spring/Summer, consider the Randolph Aviator Matte Black, with Cobalt lenses.
---
Did you know, these actors wear Randolph sunglasses?
Plenty of celebrities have been spotted wearing Randolph Aviators as their choice of sunglasses too. In fact, I was amazed at how many high-flying stylish men and women actors wore Randolph sunglasses.
HERE's the complete list, but some actors that I myself have noticed wearing Randolph in films and TV Shows are Johnny Depp, Zac Efron, Tom Cruise, Emma Stone, Dwayne "The Rock" Johnson, Jon Hamm, Jamie Foxx, Amy Adams, Ryan Gosling… ME (haha)…the list goes on!
Now you know that so many celebrities are wearing Randolph (by their own personal choice), I bet you start noticing more stars wearing these frames in films, TV shows, their social media accounts, or in the news.
---
Randolph Aviator Matte Black Image Gallery