You're probably familiar with Merino wool, which is used in outdoor and sport-focused clothing, such as hiking socks, baselayers and sweaters. But what about alpaca wool?
Paka Apparel is shaking up the outdoor apparel industry with its traceable, ethically-sourced alpaca wool socks and apparel. Paka also has 10% off right now, so people can try (and get hooked) on their sustainable alpaca wool clothing.
If you're not familiar with wearing clothes made from alpaca wool, read on to learn why it's superior to merino, cashmere and other wools when it comes to its thermal, sweat-wicking, durability and anti-stink properties, making it perfect for hiking and running socks and apparel.
This Paka apparel review also includes more information on their performance alpaca wool socks, which we've been using for trail running, hiking and other sweaty trail endeavors.
About Paka Apparel
Paka specializes in creating ethical, traceable alpaca wool socks and clothing for active people who care about the environment and where their clothes come from.
Founded after Kris Cody spent time working in South America and learned the unique benefits of wearing alpaca wool, Paka's apparel is created by the company's team of weavers in Peru.
The women who create Paka's socks and clothing have been recruited by Paka, and in many cases trained by the team to weave – a life skill that helps empower individuals as they are then able to work in the weaving trade and earn a living for their families.
What is an alpaca? In case that's a question you've been wanting to ask, alpacas are small, domesticated members of the camelid family, originally bred by Andean people South America for their wool, and kept in herds.
The alpacas whose wool is used to make their apparel roam free in the Andes, are sheared by local farmers, and the wool fibers are collected by hand.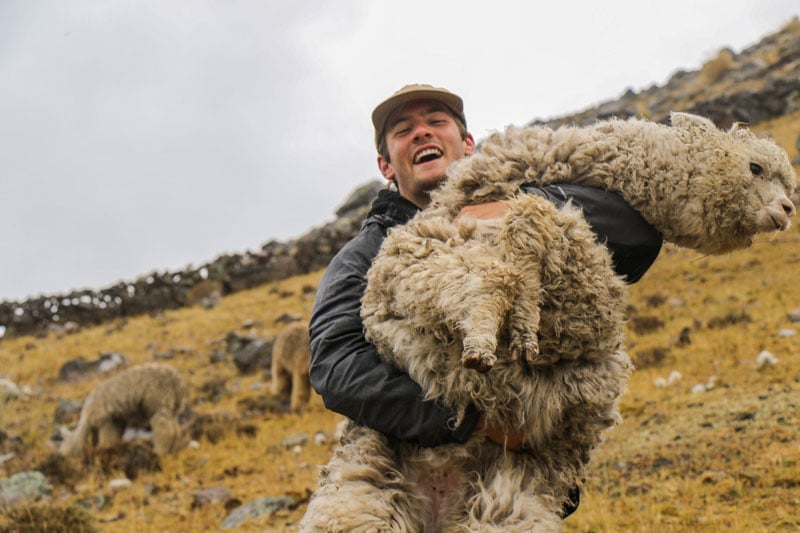 Because Paka controls the process right from the start, they are able to track the source of the alpaca fibers back to the herd they were collected from.
Once collected, the wool is then dyed using environmentally-friendly dyes, and spun and woven in Peru into Paka's range of socks, hoodies, baselayers, and other alpaca wool apparel.
Rare in the apparel industry, Paka's wool is fully traceable!
When you buy their Alpaca wool hoodies, for example (or any other alpaca clothes for that matter), you're able to use the unique QR code on your product's label to scan and see exactly where the wool came from that was used to create it.
To learn more about this process and the communities they work with to source and create their products, visit this page on their website that explains it all.
5 great things about alpaca wool clothing
We're loving Paka's performance socks and baselayers for activities such as skiing, running, and hiking.
This is because alpaca wool has some unique properties that make it ideally suited for use in clothing – these unique properties include:
1. Sweat-wicking
Alpaca wool has the lowest water retention rate of all natural fibers – around half of most wools. This means it's great for creating sweat-wicking apparel.
2. Stink-free
Your other socks smell because they retain some amount of water, causing bacteria to replicate. Because of alpaca wool's low water retention rate, it's almost impossible to make alpaca wool socks and clothes smell.
3. Thermal
Alpaca wool is a natural fiber with excellent thermal properties as it has hollow air pockets holding heat in. It's warmer than other wools – apparently, the only thing warmer than alpaca wool is polar bear fur!
4. Durable
The wool used to create Paka's thermal socks is durable and machine-washable, so if you're wondering how to wash alpaca socks, know that they don't need any special treatment when it comes to washing them (but, like other wool products, let them dry naturally).
5. Hypoallergenic
if you have sensitive skin, you may be asking, 'is alpaca wool itchy?'. Well, because alpaca fiber doesn't contain lanolin (the grease that causes itching from wearing other wools) alpaca wool is not itchy!
This makes it a great choice for people who are sensitive to other types of wool.
So, you can see why socks and apparel made from alpaca wool are getting popular among people who like to be active outdoors!
They're great for keeping your feet warm in cold weather, while wicking sweat to keep your feet dry, comfortable, itch-free and stink-free.
Paka Review: Performance alpaca wool socks
Because of all the wool's unique properties, alpaca wool socks are a natural choice for running, hiking, mountain biking, and other active endeavors.
Importantly for running in, Paka's alpaca wool socks feature cushioned soles, mesh ventilation, light compression around the arch, and an anti-blister heel tab.
Plus, of course, they're naturally sweat-wicking and anti-stink.
Paka's performance socks are available for a very reasonable price of $42 for a three-pack, which is comparable to other premium wool running and hiking socks.
Because they're so confident in the durability of their products, these socks come with a lifetime guarantee!
There are only a few running sock brands out there that offer such a committing guarantee and this shows that the company stands behind the quality and function of its products.
All of these features make these some of the best alpaca socks you can buy, especially if you're looking for socks with technical features that you can rely on when wearing out on the trails during sweaty pursuits.
Where to buy Paka clothing
Paka's socks and other clothing such as their alpaca wool hoodies and baselayers are available exclusively from Paka's website, which is currently offering 10% off.
You can take advantage of the discount when you visit their site using the button below or another link in this post:
Paka Socks Review Summary
Paka Socks Review
PROS
Super soft
Stands up to wear and tear of running and hiking
Mindfully sourced and created
Lifetime guarantee
CONS
Less compression than other running/performance socks
Paka Performance Socks Gallery