Yes, it's true, On makes running socks too, and as you would expect, they look every bit as stylish as their running shoes. I think we can all agree they look pretty cool (which is probably why you're here, reading this On running socks review) but how well do they perform while running? Read on to find out!

ADVERTISEMENT
I tested all three lengths of On running socks (Low, Mid and High) to see which performed best and how they all compare.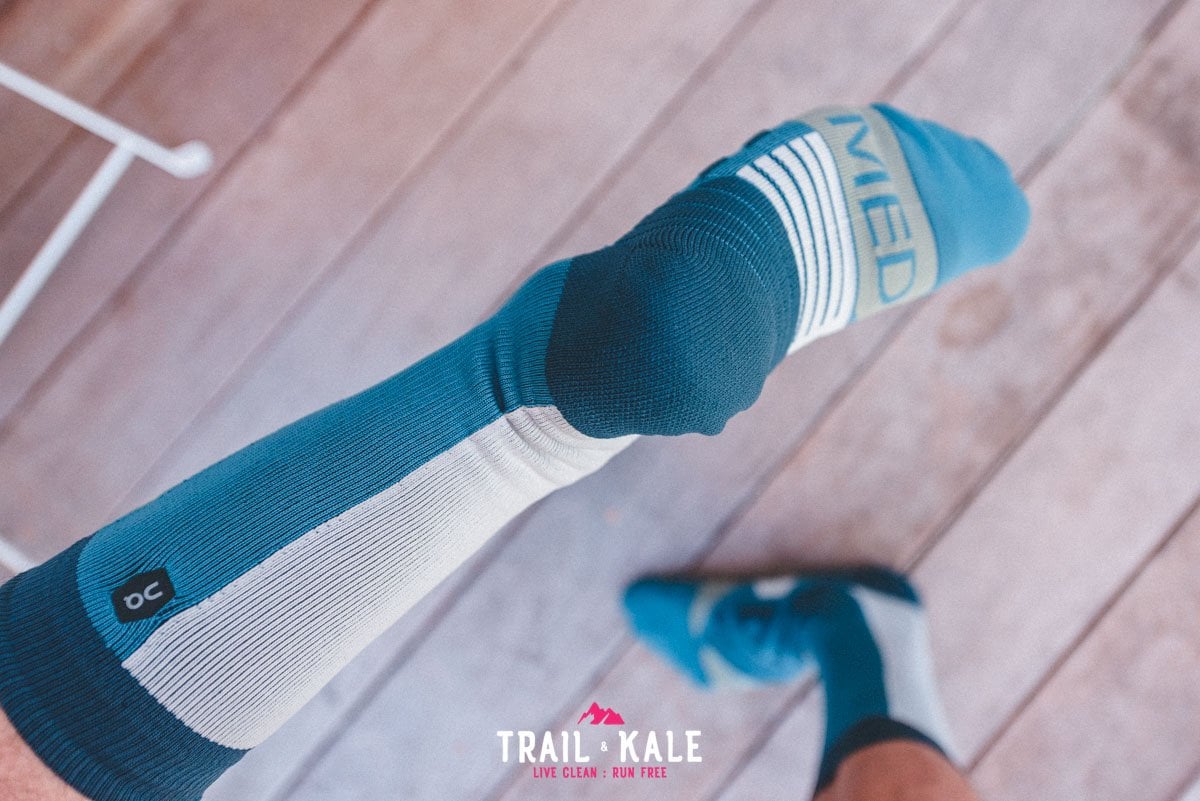 Let's start by what they all have in common
They actually share most features, except for their length of course but it's really their usage that sets them apart.
A snug fit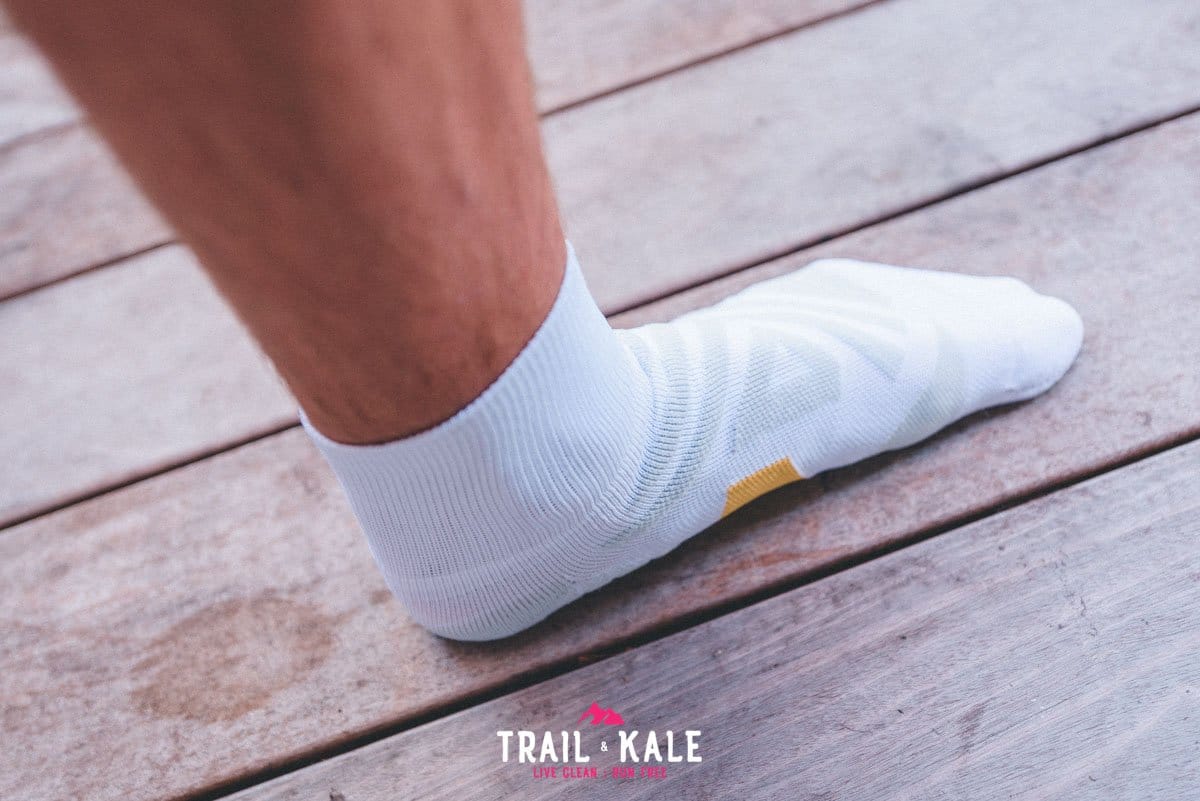 They all fit with a similar level of compression, that's not to say they are 'compression socks' but they do have a snug fit. There are also localised compression areas, including on the arch which helps to support your feet while stopping the socks from slipping.
Flat Toe Seams
They have flat toe seams which reduce the risk of toe blisters. There's also extra wiggle room for your toes to splay because of the anatomical shape of the toe area.
Breathable Mesh
Meshed areas on the top of the socks to aid ventilation and temperature regulation.
Double wall heel protector
They all have a double layer of fabric around the top heel section, which will prevent blisters from shoe rub.
Same Fabric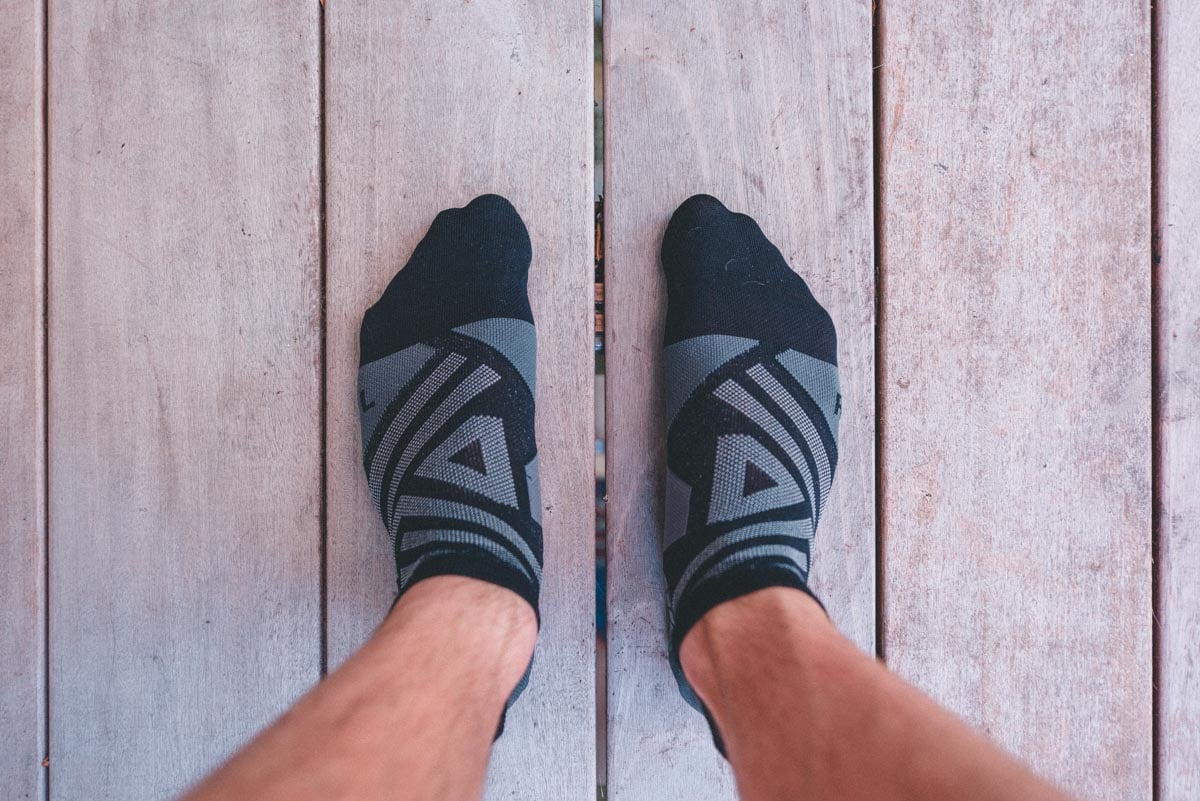 All socks are made from the same fabric mix and have odour control technology that keeps them smelling fresh for longer. See below for materials used in these socks.
RELATED: Best No-Show Running Socks
Price
The pricing structure is pretty simple with the least expensive model being the Low Sock and the most expensive being the High Sock, with the Mid Sock smack bang in the middle. All socks are built to a very high standard and you definitely get good value for money.
Pros and Cons of each sock length
Now you know the shared features between the On Running Socks, here are my pros and cons for each of them, on an individual basis.
On Low Sock
Pros
Very minimal and no show makes them great for casual use, they would pair particularly well with the On Cloud 2018 or On Cloud Waterproof.
The most lightweight of all three due to their small size.
3 men's colors / 3 women's colors.
Least expensive of the 3 socks.
Cons
I felt they were a little restrictive around the top of the sock and due to the low rise, they were not the most comfortable of the three socks for me.
Dirt can get in if you wear them trail running.
On Mid Sock
Pros
I like the length of these. They prevent dirt and debris from getting in.
Double-walled heel protection feels like it's in the right place to prevent Achilles rub on the back of some shoes.
4 men's colors / 4 women's colors and the colors look great for casual use too.
Cons
I can't think of any, the mid-length came out the winner for me!
On High Sock
Pros
Wearing long socks is definitely a strong look for trail runners although not everyone will like the high rise. It's down to personal choice.
A longer sock means the funky design has more room to shine!
3 men's colors / 3 women's colors.
Most expensive of the 3 sock lengths.
Cons
My feet got quite hot wearing these. It's pretty normal to expect this from a longer sock but worth mentioning in case you don't normally wear socks long and suffer from hot feet while running.
On Running Socks
Pros
Nice colors and 3x length options available
In Summary
Each of these On Running socks serves a purpose and I think your final decision should be down to personal choice. My favorite out of all of them was the Mid Sock for its versatility, color options and heel padding that sat in just the right place to protect my achilles from blisters while running.
It's fair to say that based on my experience, On have nailed the art of producing an excellent running sock.