The On Cloud Hi Edge are the latest lifestyle shoes from On Running and if you didn't recognize the On logo on the side and saw me wearing them around town, you may think you were on the set of the next Back to the Future film.
In this On Cloud Hi Edge review I'm going to share all the things I love and dislike about these lifestyle shoes including their design, comfort, performance, durability, cost, and as always, how well they stack up against all the other On running shoes I have reviewed in the past, that's all of them by the way!
So many brands have drawn inspiration from the 80's, and for good reason, designers back then were bold and daring. On is a brand that has never been shy about pushing the envelope in innovation and style when it comes to their running, fitness, and active lifestyle apparel.
That's the first thing that attracted me to their very first running shoes, the Cloudsurfer. I wanted to be wearing those shoes because they were bold and unique, and at that time, no one else had them!
On's Cloud pod system also happened to be a smart innovation that truly helped me run faster too, and to this very day, they still do.
---
On Cloud Hi Edge Review Contents
---
Cloud Hi Edge design (including fit, innovations, materials, and style)
Upper construction details
The upper is made with a mix of technical and style-enhancing fabrics. The technically engineered mesh is very lightweight and breathable while the synthetic suede sections give the Cloud Hi Edge a more street-ready look.
Detailing is something On does really well and you can see this in the lacing system of these shoes.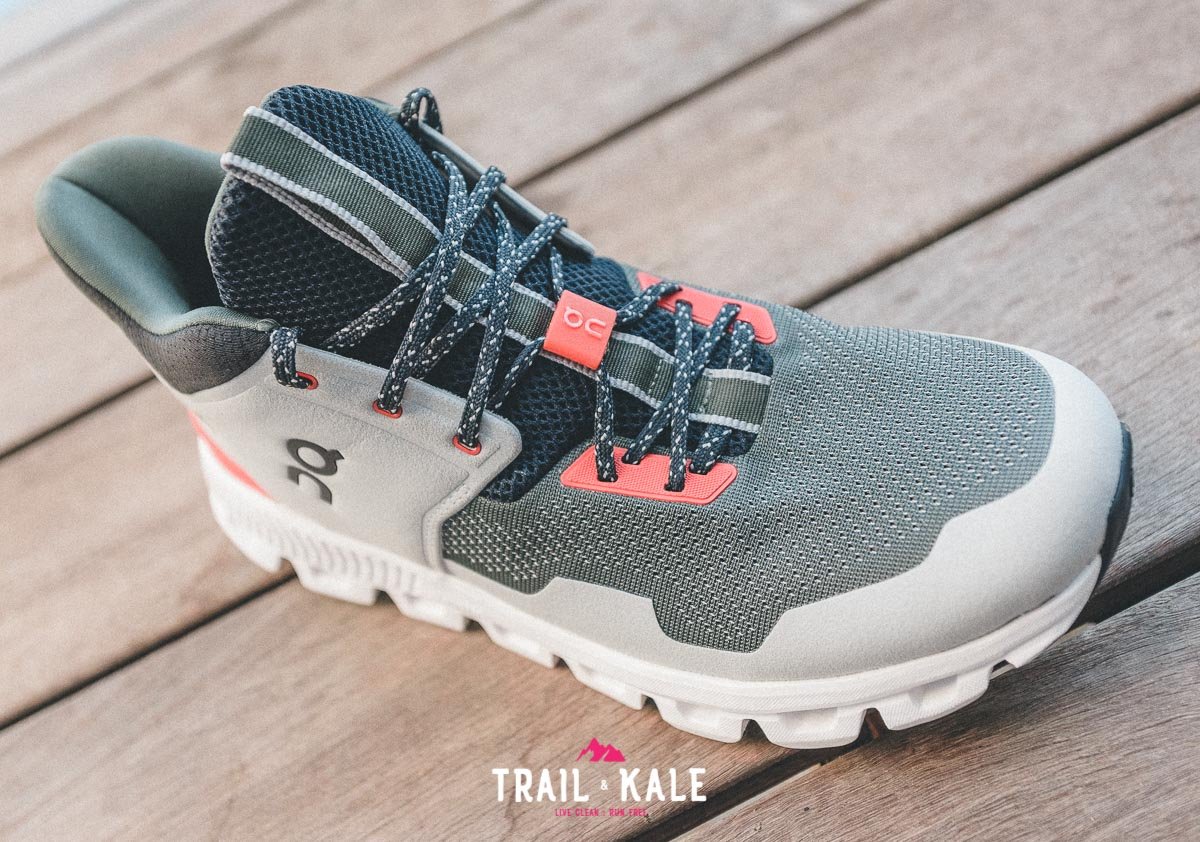 I love the logo lace loop (that's the red plastic thingy by the way) that gives a unique lacing configuration but also a funky retro look to the shoes overall.
Not only does the logo lace loop look cool but it serves a practical purpose too, and that's to connect the top ankle area lacing system to the bottom forefoot lacing system.
The Cloud Hi can still be worn without this loop, but it does keep the shoes secure in an area that does flex.
In fact, the whole shoe is covered in attractive details with mixed fabrics and textures that make the Cloud Hi Edge seem as though it wouldn't be a technical training shoe but the fact is, it is!
And this is something that makes this shoe in a class of its own, and a new style of crossover shoe, one that can be worn as effectively in the gym as it can be worn in the city, or even alpine environments for that matter.
The tongue connects to the rest of the upper and forms a sock of sorts. This internal sock provides additional comfort by reducing chaffing points due to the lack of seams. It also hugs your feet more than a standard tongue, I love it.
My last thing to mention with the upper is the curved heel support which reduces stress on the Achilles while walking or running in them.
It's a similar design as seen on the popular Nike Pegasus running shoes, and something I loved instantly because of my past Achilles injuries.
I'd like to add that I have not had any more Achilles tendonitis issues since running with shoes that have this same design.
Outsole details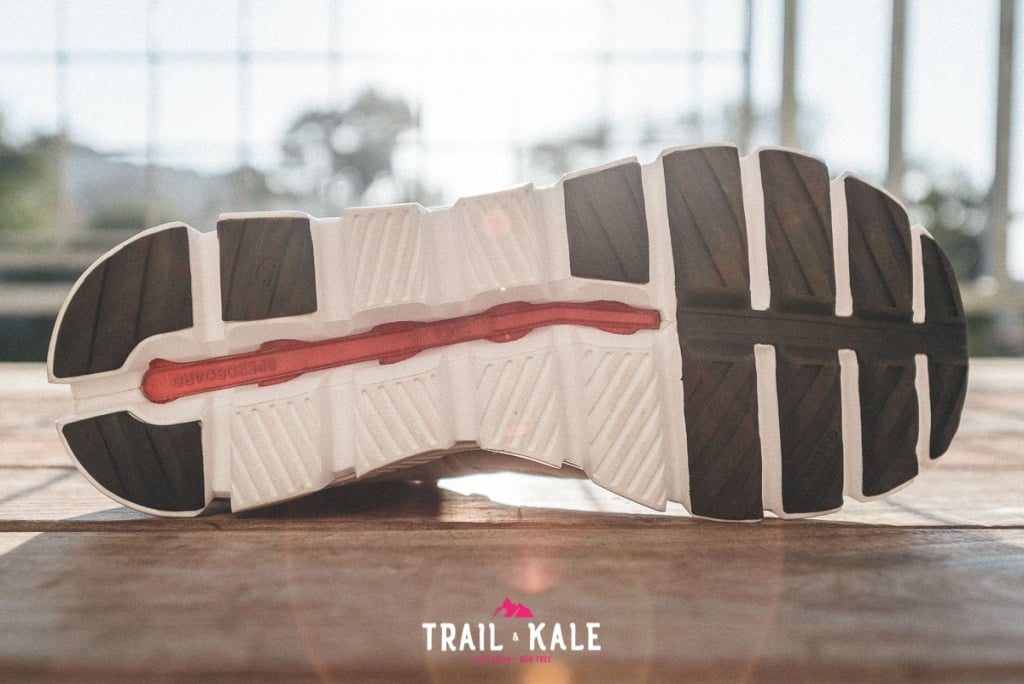 This shoe is a boot crossover, so to keep the weight down On has opted for their Helion superfoam outsole.
Helion provides a really lightweight, comfortable, and also responsive ride. The tread pattern has been upgraded from the Cloudswift (the first shoe that featured the Helion) to be more aggressive and feature deeper-lined lugs.
This will make the outsole more durable than in the past.
The Cloud Hi Edge outsole also has a full rocker design which makes walking in them for long periods of time a total breeze. See the image below for the rocker which brings the tip and rear off the ground.
How much do they weigh and what drop do they have?
The On Cloud Hi Edge weighs 11.04 oz (313 grams) and rather interestingly they have a heel-to-toe drop of only 2mm, which is very low for an On shoe.
This low drop makes the Cloud Hi feel comfortable with reduced stress on your calve muscles for all-day use.
Sizing/fitting advice (including toe box width)
The Cloud Hi Edge, and the Cloud Hi both have a consistent fit with other On Running shoes and most popular brands including Nike, Adidas, and Merrell.
So, go for your usual size and these shoes will likely fit you well! The Cloud Hi shoes also have a really effective lacing system too which helps them to conform around your forefoot and also ankle areas.
The width of the shoe, in general, is medium/normal, as is the toe box.
What type of support do they have?
They have a neutral support type which means they should fit most peoples feet.
How much cushioning is there?
There's a good amount of cushioning and support in the midsole and also the shoe walls.
---
How comfortable is the Cloud Hi Edge and how do they perform when worn all day, every day?
The Cloud Hi Edge is really comfortable, especially considering these could almost be classed as a boot. Everything about them feels plushy and supportive.
The low drop gives your feet and legs a more natural stance and footfall position which makes them really comfortable when worn all day long.
The breathable upper materials ensure a well-regulated internal temperature as well as keeping your feet fresh and free from overheating.
I love the curved Achilles heel support too, it really adds to the comfort while you're blasting through your daily step count.
---
How durable is the On Cloud Hi Edge?
The Cloud Hi Edge has held up really well and shown no signs of breaking down.
The only wear so far has been on the outsole tread but this is consistent with what I would expect from most athletic shoes when worn daily.
---
How much do the On Cloud Hi Edge cost, can I get a discount, and are they worth the price?
The Cloud Hi Edge costs $159.99 which I think is worth it for such a versatile shoe that's going to last a long time. Unfortunately On running shoes don't get discounted unless they are last season's design.
---
Review Summary (Score out of 10 plus Pros & Cons)
On Cloud Hi Edge Review
PROS
Love the unique and retro design
Very comfortable for all day use
Very versatile in what you can use them for
Very durable
CONS
May be a little expensive for some people but in my opinion they're worth the money.
Can't think of any others - these shoes do what they are designed to do, very well.
See our Best On Running Shoes Guide to see how they stack up against other active lifestyle shoes by On.
---
What's the difference between the Cloud Hi Edge and the Cloud Hi?
The On Cloud Hi Edge is a more athletic shoe that performs better in the gym and on more technical hikes. The Cloud Hi, on the other hand, is made with Vegan leather and is more suited for urban explorers, and those who want to travel with a slightly smarter look.
The Cloud Hi Edge is less expensive but only by $10.
The Cloud Hi Edge is 41g lighter. The Cloud Hi weighs 12.45 oz (354g)
They both have the same 2mm drop.
They both share the same Helion outsole and tread.
---
I hope you enjoyed this Cloud Hi Edge review, and if you have a question please leave it in the comments down below. We always reply to comments in a timely fashion.