My Trail Co specializes in equipping everyday adventurers with ultralight, ultra-durable, ultra-comfortable and affordable clothing and equipment that helps you go as far as you want on whatever trail you set out on. Sounds like our kind of company!
ADVERTISEMENT
The My Trail Co Backpack UL 35 backpack is designed for moving at speed, which, for us, means running (of course), as well as hiking, cycling, skiing, or taking the camera out for some nature and landscape shots.
Capacity
At a capacity of up to 35 litres, the My Trail Co UL 35 is a versatile backpack option. 35 litres is more than enough you need for a long day out, and a bigger capacity than many ultrarunners would argue you need for a multi-day race or fast-packing adventure.
Equally, even though the UL 35 can carry that volume, it performs well with a load half that size. The duffel fastener and clip combination on top, plus the side cinching straps mean that you can lock down a smaller load to prevent excessive movement when on-the-go.
Lightweight
The 'UL' in the name stands for 'Ultralight'! Because the UL 35 is so light (20 oz), it doesn't really matter if you use it to carry smaller volume loads on a regular basis, because you're not carrying around a load more weight than you need in the pack construction. This backpack weighs less than a relatively new 20 litre pack I have from another brand, and gives me the option of stuffing additional items in it if I need to.
Although lightweight, this bag's construction is tough. I don't worry about it getting caught on a tree or rock and ripping, the fabric is very durable – apparently the threads are 3x as strong as Kevlar (according to My Trail Co's website!).
Hydration options
The UL 35 is designed to accommodate a hydration bladder, although I prefer water bottles as I can see how much I have left and manage my water intake accordingly. The UL 35 has one stretchy mesh pocket on each side, ideal for carrying a bottle/canteen of water. One can also be used to stow hiking/trail running poles, by clipping the side clips around the poles to hold them in place.
Sizing
The My Trail Co UL 35 is available in Small, Medium, and Large sizes. It's important to get the right size pack so that the spine length and hip circumference will fit you – because the bag doesn't have a mechanism or frame offering spine length adjustability, like other (heavier) backpacks do. Our bag is a size Small, for reference.
As a 5ft4 woman, being able to choose a backpack in my size is a huge plus! The backpack fits much better than when I wear a standard pack designed for all sizes, which inevitably have to have the adjustments on the smallest/closest-fitting setting (which is never optimal).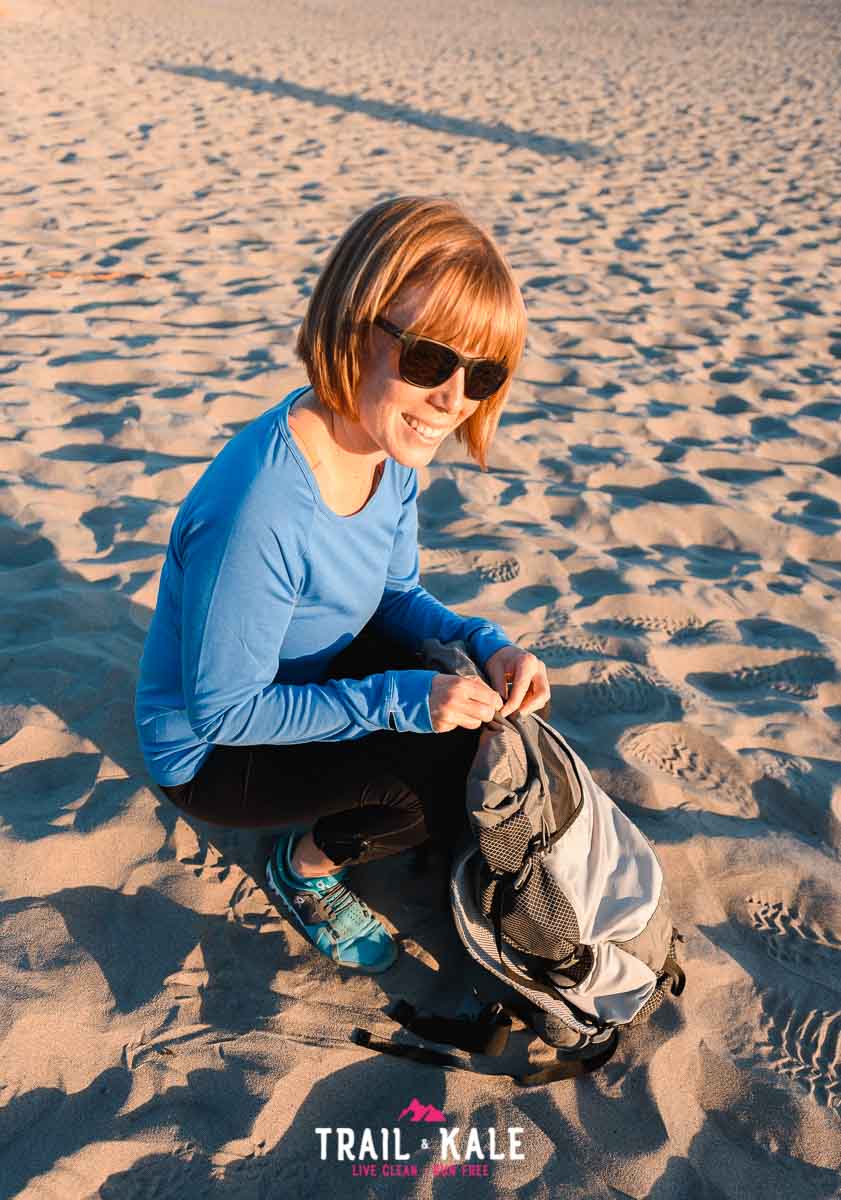 Regular use
The My Trail Co UL 35 is my go-to back as a drop bag for trail running races and one-day overnight stays. It is also ideal for days out taking photographs, as the side pockets can accommodate a tripod and there is enough capacity for a DSLR camera, spare lenses, accessories, a warm layer and snacks.
Another use that I have not tested but this would be well-suited to for runners is run-commuting. There's enough room inside for a laptop and change of clothes and shoes. The outside back mesh pocket is good for carrying items that you don't want to store inside with the rest of your kit, like shoes or sweaty items. The addition of a waterproof cover would be a plus and necessity if you run commute is likely to involve your pack getting wet.

Shoulder straps
I appreciate the adjustability of the chest strap that attaches the two shoulder straps across your front. This means that, depending on the load I'm carrying and what I'm wearing, I can adjust the chest strap up or down, so it sits comfortably across my chest.
Equally, this means Alastair can use the backpack and adjust it to fit him – it's not a male or female-specific fit, just well designed so people of different builds can wear it comfortably, assuming they're of a similar size overall (we can both use the 'Small' size bag).
The clip also has a built-in whistle! Another nice touch on the shoulder straps is the reflective details on the front.
My Trail Co Backpack UL 35
Pros
Ultra lightweight
Great fit with size options
Versatile Volume
Very reasonably priced
Comfortable
In summary
The My Trail Co Backpack UL 35 is a great value (at $99), super versatile pack. Because of its capacity and how compressible it is, it is great for a wide range of uses from short day trips to full-on multi-day adventures. When weight is at a premium, having all these features packed in is a real differentiator, and I am really impressed at how comfortable it is when worn for long periods.