We love to spend as much time as we can exploring the outdoors and spending time in nature. However, one of the biggest risks facing many people when they venture outdoors, especially in the more remote locations where there is patchy or no phone service, is getting separated from other members of your group, and risking getting lost. This LynQ review covers the LynQ GPS Tracker 'Smart Compass', which is a small handheld device designed to provide you with the distance and direction between you and other members of your group to help you get reunited if you ever get separated… and the best thing is – it doesn't require any wifi, phone signal or subscription to work.
ADVERTISEMENT
There are a few ways to reduce the chances of getting lost when hiking and trail running, including knowing where you are going, carrying gear such as a map and compass (and knowing how to use them), as well as learning to read the terrain and nature around you. Technology can help, too, and I'm not talking about a phone call or opening up google maps! This is where the LynQ tracker from Lynq Technologies stands out.
The possible uses for the LynQ GPS Tracker are numerous, and obvious examples relevant to our adventure-loving community include group ski trips, hikers, trail runners running near one another but not necessarily side-by-side or close together, and anyone spending time with a friend or group of friends in the outdoors, including in remote places where there is no cell service or wifi for miles. The LynQ tracker can help you reunite with your group of up to 11 other people, if you get separated, need to find each other in poor visibility, or even find a lost or injured group member.
In this Lynq tracker review I've summarized the key features of the LynQ Smart Compass, the pros and cons, and our experience using the devices while trail running – which could equally be applied when using the LynQ GPS tracker for hiking or other outdoor adventures.
Side note: If you enjoy running in off the grid locations I would also recommend looking into getting yourself a Satellite Messenger and Personal Locator beacon combo incase you get lost, or find yourself injured with no means to make it back to civilization without help.
If you've landed on this Lynq tracker review because you're new to hiking, you may also find these posts useful to read next (links open in new tabs):
---
LynQ Tracker Review – Table of Contents
---
LynQ GPS Tracker Review – Key Features
The general idea with the LynQ tracker is that each person in your group has a LynQ GPS device on them. The LynQ tracker works by using GPS and long-range frequencies between the LynQ tracker devices to calculate the distance and direction one device is from the others in its group.
You could even put a Lynq tracker on your dog and use that to locate him or her if they go missing, assuming they're within around three miles of you (although for that use, you may be better off checking out the Fi GPS dog collar like our trail-dog Kepler wears).
The LynQ GPS is designed to be simple to use – so much so that it only has one button. You click the button to wake it up from Standby Mode, and further clicks cycle through the locations of other LynQ members in your group.
The key features of the LynQ tracker are:
The GPS device works for groups from 2 to 12 people
Lynq a range of up to three miles between devices
No wifi or phone signal is needed to use Lynq
There are no subscription or fees
Daylight-visible screen
Waterproof
You can also set a safe zone (a radius from one of the devices), and LynQ will notify you if someone leaves the zone. I imagine a popular use for this would be if you were, say, camping with your kids and clipped one on to them. That way, if someone wanders out of bounds, then you should know about it before they stray too far from camp.
You can carry a LynQ tracker with you in your hand, stow it in a bag or clip it onto your clothing/bag. It's around the size of a small mobile phone, so not as small as other GPS trackers on the market. However, the Lynq device is pretty lightweight and easy to slip into a hydration pack or hiking backpack, and the integrated carabiner clip means it can go on the outside of your backpack.
The LynQ tracker is waterproof with an IP67 rating, which means it can be submerged in water up to a metre (around 3 feet) in depth for half an hour and stay waterproof.
---
LynQ Review – Using the LynQ tracker for hiking and trail running
We've taken the LynQ tracker trail running to learn more about the features and see how reliable the LynQ GPS is at locating other group members when taken out onto the trails.
For testing purposes, we have each had a LynQ Compass device with us and gone out for trail runs in the same area as each other, but not running together. For us, this is pretty typical, because we run at different speeds and sometimes also want to take different routes or go different distances, but know that the other one is on a trail nearby.
We often don't have consistent phone signal in places we trail run, or signal is unreliable or only available in certain locations, because we are running in wild places and also amongst hills and trees, which can affect the reliability of cell signal as well as GPS coverage.
In the past, I have used my iPhone's 'Find my Friends' feature to try and locate Alastair to see where he is and how far he is from meeting me back at the trailhead, but sometimes it doesn't update for 10-15 minutes or longer if he is going through an area without signal, so I was curious to see if the LynQ tracker would be more reliable at retaining a GPS signal so we can locate each other when out of phone coverage.
Carrying the LynQ GPS Compass while trail running
While the LynQ GPS device has a lockable carabiner-style clip for attaching to a belt, backpack, etc, I prefer not to have things clipped to the outside of my hydration pack when I am running, as they will bounce around, so the best place I have found to store the LynQ location tracker is inside an easily-accessible pocket in my hydration pack – specifically, the hydration packs that I wear most frequently have small pockets under the arms that are the perfect size for a LynQ device. It's pretty lightweight and I don't notice it in there at all when I am running.
Kepler, our trail-dog, is wearing the LynQ Compass in some of the photos – we clipped it to the front of his harness. It looks cool but isn't the best way to attach the LynQ GPS to a dog, as it swings around and will get knocked on the trails and potentially caught on branches, etc.
If you want to use a LynQ location tracker with your dog then it would be better to have them carry it somewhere safe, such as in a doggy backpack.
Our LynQs have had light use to date, but they feel solid and robust. LynQ designs these people-compasses to be used in all conditions and terrains, and in the field by the military, so as expected, the devices are made from tough, durable plastic with a waterproof screen, button and light.
What is the LynQ Compass battery life like?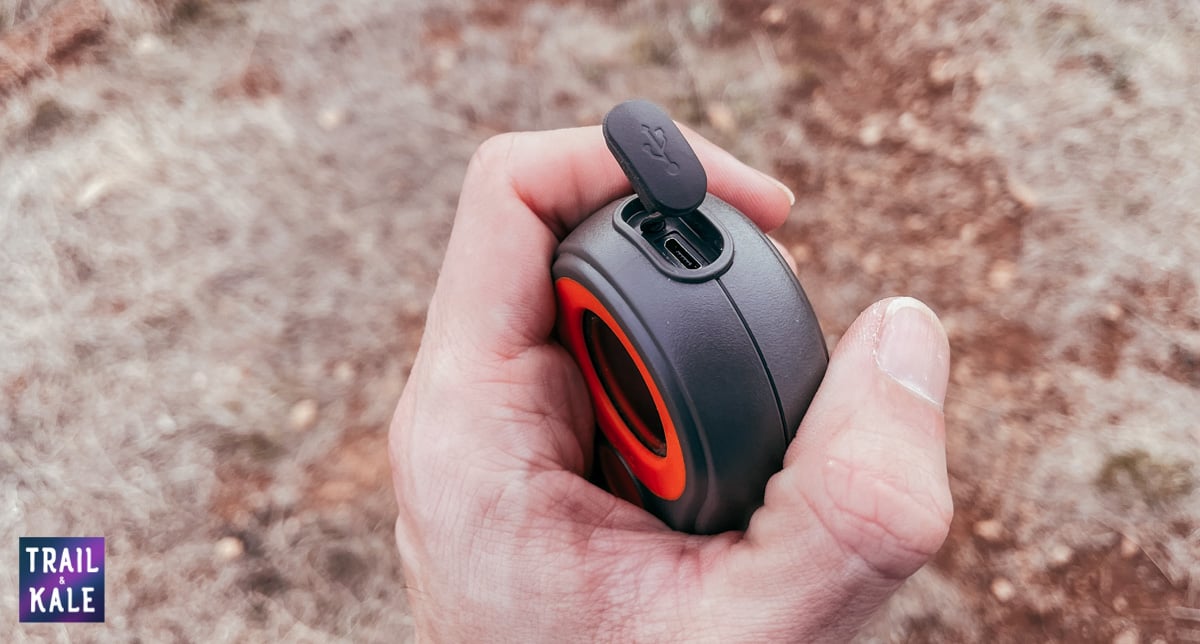 The LynQ's stated battery life is up to 3 days, or 24 hours with continuous use, and it charges via Micro-USB.
In our experience, the battery gets drained more quickly than three days, particularly if it is spending time looking for signal. This means that it's important to ensure all LynQs location trackers in your group are fully charged before you go out on the trails. If you're taking them on a multi-day hiking or camping trip, then you'll also need to have a means to charge them up when the batteries get low.
How reliable is the LynQ Compass GPS?
In general, the Lynq picks up GPS signal pretty quickly and we can accurately locate one another when out on the trails.
The short video below shows an example – Alastair is running with Kepler around 400 feet away from me (if you zoom in to the center of the screen you'll see them!). In the foreground you can see the distance and direction on my LynQ device. Of course, at this distance and with an open space between us I can see him, but if it was dark or forested between us, I'd hope for similar GPS location-driven results.
When we first obtained the Lynq devices, both struggled to pick up and also retain their GPS signal, in both open space and wooded areas (it's worth noting that LynQ suggests you should expect to allow up to 12-15 minutes to pick up a GPS signal, however initially it was taking longer than 15 minutes to do so). We contacted Lynq customer services and were advised that to improve this GPS 'time to acquire', we needed to download their firmware updater and GPS assist tool from their website, which help the unit locate nearby satellites rather than searching the entire sky for them.
This firmware update makes the GPS time-to-acquire much quicker and is definitely something to ensure you do so you pick up GPS with your tracker as quickly as possible before starting a hike or trail run, so my advice is to make sure your Lynqs' software is up to date before you use them.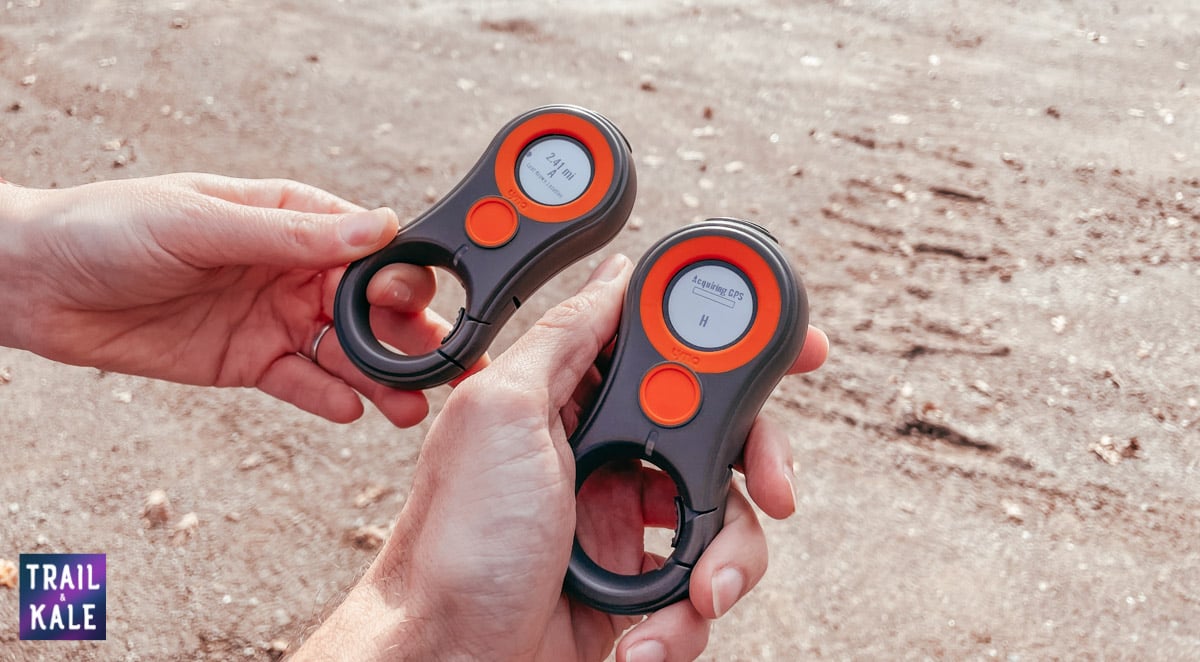 If one device does not have GPS, the other devices in the group report its last known location until it re-connects to enough satellites to pick it up again. This makes sense – and so if you're trying to locate someone who does not have a location pinpointed, you need to use some common sense and anticipate where that person could have gone in the time since they last had signal, rather than assuming they're near that location.
If you are using the LynQ Compass to find a missing group member, it could be a game-changer and potentially save their life – imagine someone getting lost and/or injured in a remote place, and you're able to pinpoint their location once you're within a few miles of their device (i.e. within the three-mile operating range between LynQs). That could really narrow down the search area and time to find them. However, if they haven't had signal for a while, and have moved from the last time they had GPS, then they could be quite far from the location stated on the LynQ.
IF HOWEVER you need to locate someone outside of that 3 mile operating range then that person would need to have a personal locator beacon on them, like the Somewear Global Hotspot, for example. See our Satellite Messengers / Personal Locator Beacons Buyer's Guide for a rundown of the best ones available.
---
How Much Is The LynQ Compass – Where to Buy
The best place to buy the LynQ GPS tracker is directly from LynQ Technologies, which will also help ensure you're buying the latest version.
LynQ Technologies sell the LynQ GPS tracker in bundles of two to five, plus add-on units, so you can buy as many as you need for your group.
At the time of writing, a pair (two-pack) of LynQ GPS trackers costs $409 (US). Click the button below to take advantage of current offers as LynQ sometimes offers discounts off their GPS trackers and you'll be able to take advantage of them via the button:
LynQ Review Summary
LynQ Review
LynQ Compass is excellent when it has GPS signal and a charged battery, and could potentially save lives. However, we would like to see improvements when it comes to picking up and retaining the GPS needed to work effectively. That said, it could be worth having it with you as a backup, especially if you're spending time in places where you know there is little to no phone signal.
PROS
When devices are in range, accuracy is excellent
Solid and robust construction
No phone contract or subscription required
Compact and easy to carry/stow
Easy to use
CONS
Reliability - can struggle to pick up and retain GPS signal
Battery life could be better
---