FitMyFoot believes that when products are made for your unique body, they help you function better and feel better. I couldn't agree more with this statement especially as we at Trail & Kale are all about becoming better versions of ourselves through the passion for running and healthy living.
ADVERTISEMENT
For us, FitMyFoot sandals sit in the space right after a run when we are in recovery mode and want to still be able to move around but in complete comfort.
Of course, these sandals are also a more comfortable and stylish alternative to flip-flops that are lazy in their construction and mass-produced offering little to no customization for the customer. Alright, let's get started with this FitMyFoot review.
---
The Custom Fit Process | FitMyFoot Review
Getting custom-fit footwear has always been a bit of an ordeal in the past but now it's as easy as following some simple instructions from a smartphone app.
First, you purchase the product that you would like on FitMyFoot.com and then use their app to take some photos of your feet that FitMyFoot can use to create 3D replicas to be used as the measurement for the Arch support 3D print process and extra custom fit adjustments in the straps and sole.
1.) Design and purchase
This is the stage where you select the colors for the different components that make up your footwear, like the straps and arch support color for example.
It's a lovely addition to the consumer purchase flow that brings your own individual style to the final product.
2.) Download the app
After you've purchased your Fit My Foot insoles, slides, or sandals, you will receive a link that takes you to the app store where you can download the FitMyFoot App, so make sure you check your email on your mobile so that the link works properly.
The app is then used to take measurements of both your feet.
3.) Get measured
I thought this stage was going to be a bit of a clunky drawn-out process but actually, it only takes a few minutes! All you need is the FitMyFoot app on your smartphone, a piece of blank white paper (8.5×11″ / standard printing sized paper), and your bare feet.
I admit, I had a little panic at the paper stage as we don't have a printer in our house and therefore don't keep piles of paper. I used the back of some mail in the end.
The app guides you through the process of measuring both your feet with audio as well as on-screen cues.
Two photos for each foot is all that's needed, one from above and one side image of your arches. The app then uploads your photos to FitMyFoot and you can complete your order.
FitMyFoot stores this information at their end so the next time you purchase some insoles or even another pair of sandals from them, the process is much faster, you just choose your custom colors/designs and place your order. Clever!
4.) Construction at FitMyFoot
FitMyFoot take your 4 photos and digitally maps each foot with over 200 points to create a 3D-printable file that is unique to each foot, even between your left and your right!
It doesn't get much more personalized than that, especially from the comfort of your own home.
5.) Delivered to your door within 10 days
After your order has been placed, you should receive your custom-fit sandals or insoles within 10 days (in USA and Canada).
If they don't fit perfectly, you can send them back for a full refund with no questions asked. That's confidence…
6.) Customer Feedback
FitMyFoot takes comfort and function seriously so customer feedback is extremely important to them and because their production line is so dynamic they are able to act on user feedback almost instantly, to make the next pair of FitMyFoots they make even better than the last.
FitMyFoot, if you're listening, my feedback is that I would love to be able to further customise my arch support after measurements have been taken.
For example, I would love to be able to request a 70% interpolation of my arch support measurements from a neutral/flat arch. For customers that don't want full support due to personal preference of how it feels, this could be a nice option to have.
I've drawn an extremely scientific diagram below to explain.
Design & Comfort
My FitMyFoot sandals feel really great and I love wearing them after running as they allow me to walk about without putting any unnecessary stress on my legs due to the support they offer.
The build quality is excellent and I really like the design in general. To help convince you of how well they fit and how comfortable they feel, here's an article about one of the FitMyFoot engineers running a sub-3hr Boston Marathon in a pair of FitMyFoot sandals.
Foot-bed and Outsole
The footbed is really soft and fit my feet really nicely. It also offers a very good grip for your feet which helps keep your feet in place when walking, or even running for that matter.
The tread on the bottom of the sole is of high quality too and provides good grip when outdoors.
Adjustable Straps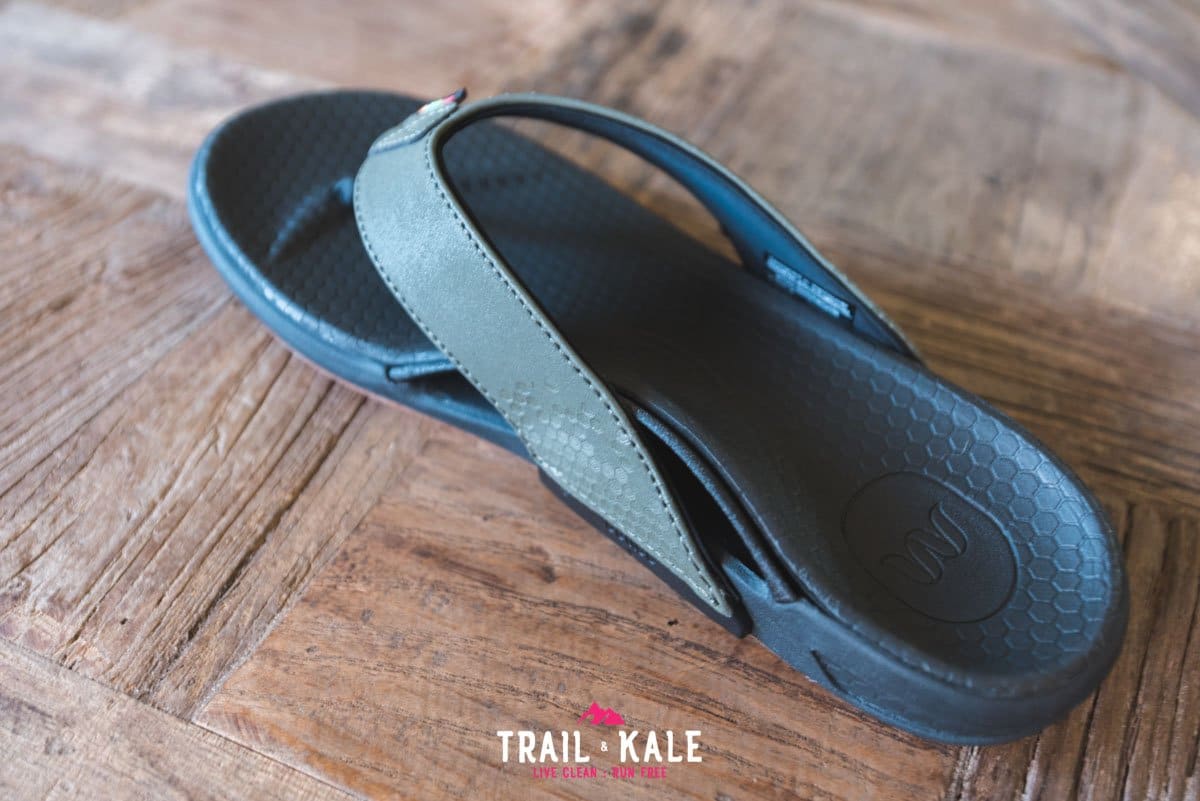 I love that you can keep on customizing even after you receive your sandals by adjusting the tightness of the straps at the side connection points.
Custom Toe Thong
Then there's the toe thong, for want of a better word, which is placed in line with to fit your feet measurements taken with the app.
Next to the toe thong is an embossed groove that so simple in design but feels great sitting under your toes and helps to keep the sandal in place when on the move.
Recyclable
The footbeds are recyclable too so FitMyFoot Sandals don't have to end up in our landfills and oceans.
Wear them out and send them back so FitMyFoot can use them to create future sandals. It's important to start moving away from the throwaway culture.
FitMyFoot Review
Pros
Custom fit sole with arch support
Can choose strap and arch support colors
Custom fit app process is only a few minutes long
Comfortable fit
Great quality
Recyclable sole once worn through
Cons
Would be nice to have an option to reduce amount of arch support depending on user preference as mine felt like there was too much for me
Summary
FitMyFoot sandals are very much a premium sandal with the added benefit of providing a perfect fit as they're tailored to your feet.
The FitMyFoot app takes the hassle out of going to a store to get yourself fitted because you can do it from the comfort of your own house, as long as you have a piece of standard printing paper to hand.
The in-app measuring process has been well thought out and the app is designed in a way that leaves no room for ambiguity so that anyone can do it in a few minutes without having to scratch their head.
You can further individualize the sandals too, with color variations for the straps and arch support.
All that's left to talk about now, is the price! $129 at first glance may seem expensive to some, and maybe that's because sandals are sometimes compared to flip flops but in reality, these are premium sandals that have been custom built to fit your feet perfectly. You can't put a price on comfort.
The build quality is excellent and so I imagine durability will be too. High-quality construction and custom fit comfort, are just two reasons why these sandals are worth the $129 price tag.
FitMyFoot also makes beautifully designed custom insoles, see the range by clicking below.