Earth Day lands on April 22 of every year and it's the perfect opportunity for people to share their appreciation for planet Earth – this year (2021) marks 50 years of Earth Day. This year's theme is Restore Our Earth so I'm focusing this list only on my favorite Climate Neutral gifts for Earth Day. Climate Neutral is an organization that's dedicated to fighting climate change by helping companies measure, reduce, offset, and label their carbon footprint.
ADVERTISEMENT
Climate change represents one of the biggest challenges to the future of humanity and the life-support systems that make our world habitable.
---
What is Earth Day?
Earth Day was a unified response to an environment in crisis — oil spills, smog, rivers so polluted they literally caught fire.
On April 22, 1970, 20 million Americans (10% of the U.S. population at the time) took to the streets, college campuses and hundreds of cities to protest environmental ignorance and demand a new way forward for our planet.
The first Earth Day is credited with launching the modern environmental movement and is now recognized as the planet's largest civic event. Thank goodness for organizations and events like Earth Day that give publishers like us the opportunity to share and educate our readers on the great work they do and of course ways in which we can help to support companies that operate sustainably and climate neutral. I hope you enjoy these recommended Earth Day gift ideas.
---
1. Rumpl Original Puffy Blanket
The Rumpl Original Puffy Blanket is one of those products that we use ALL the time! Not just on adventures but also on the sofa for a snuggly Netflix session.
Our cats and dog can't get enough of the warmth that the Rumpl Puffy blanket generates either, in fact, out pets love it so much we are going to buy a 2-person one for us all to use. The 1-person blanket that we have weighs a mere 1.2 lbs and packs down into the bag it comes with.
Because the blanket weighs so little and packs down so small it's the perfect companion for any camping, hiking or backpacking trip. There are so many fun designs to choose from so make sure you check out the complete Rumpl range at rumpl.com or REI.
Rei.com
$74.19
See Deal
Rumpl.com
$74.25
See Deal
Zappos.com
$74.25
See Deal
Amazon.com
$105.00

1 new from $105.00

See Deal
Last Amazon price update was: 30th November 2021 7:00 am
---
---
2. BioLite CampStove 2 Bundle (Climate Neutral Limited Edition)
The BioLite CampStove 2 Bundle (Climate Neutral Edition) includes a CampStove 2, Portable Grill, KettlePot, and FlexLight. The set of modular equipment that comes with this bundle provides so much value to camping and backpacking adventures that it's an absolute must-have.
The BioLite CampStove 2 Bundle is a lightweight solution that takes care of many of your essential requirements while camping, hiking or backpacking for days at a time while you're off the grid. Some of those solutions include:
An integrated onboard battery that can charge your devices with or without a live fire burning.
A folding portable grill for cooking your meals with.
A KettlePot that pours like a kettle and cooks like a pot while doubling as a carrying case for the BioLite CampStove.
A 100 lumen USB FlexLight that has a pliable gooseneck for quick, controlled lighting. Useful for lighting a cooking surface or brightening your workspace.
LEARN MORE: BioLite CampStove 2 Bundle – Climate Neutral Edition detailed look!
Last Amazon price update was: 30th November 2021 7:00 am
---
---
3. Western Rise Clothing
Western Rise's mission is to elevate people's lives through their technical clothing range which errs on the side of clothing you may see in an affluent city rather than in a mountain resort. And this is the line that Western Rise appears to be blurring.
The name 'Western Rise' is inspired by the rise of the mountains of the western United States and the early explorers and entrepreneurs who ventured westward toward them.
They strive to create products allowing the modern, active man to own less, carry less, and experience more while traveling, spending time outdoors, or in the day-to-day. That's my kind of lifestyle right there!
LEARN MORE: My Western Rise clothing review shares 3 of my favorite items from their range and all the reasons I enjoy wearing them.
---
4. Sunski Sunglasses
Sunski is a trendy company based in San Francisco, with beliefs that extend far beyond just making sales. Sunski actually wants to make a difference in the world by donating 1% of all sales to environmental non-profit organizations. They are also a Climate Neutral business, hence them being on this list.
Sunski sunglasses are great for trail running because they're lightweight and relatively inexpensive. At the top end of their sports range, you can usually grab some glasses for only $68 but right now they're currently on sale for $48 which is such a bargain for these cool looking sunnies.
LEARN MORE: Sunski Sunglasses for running with – Full review
---
---
5. LifeStraw GO
The LifeStraw GO bottle is an advanced water filter bottle that's ideal for travel, outdoor sports, and emergency situations.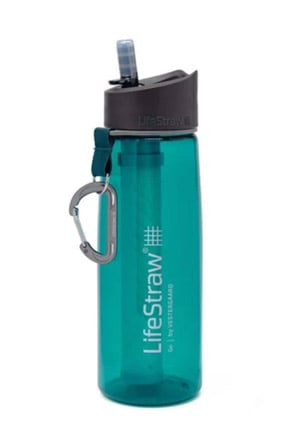 The 22 oz LifeStraw GO protects against bacteria, parasites and microplastics, chlorine and organic chemical matter such as pesticides and herbicides and even improves the taste of water. It's durable, BPA free, and has been lab-tested to prove its capabilities.
How does the 2-stage water filter work?
Stage 1: The hollow fiber membrane removes 99.999999% of bacteria (E. coli), 99.999% of parasites (Giardia, Cryptosporidium, etc.), and 99.999% of microplastics.
Stage 2: The activated carbon capsule reduces Chlorine, Bad odor and taste, and organic chemical matter.
The microbiological filter in the center of the bottle gives 5 years of safe water making this bottle the ultimate travel companion that you can fill up with water anywhere without worrying that the filter may stop being effective, at least for 5 years anyway! 🙂
Last Amazon price update was: 30th November 2021 7:00 am
---
Thanks for reading this Gifts For Earth Day guide!