This review covers Carhartt's men's Super Dux vest, one of the brand's most popular outdoor apparel products from their Super Dux range. This Carhartt vest was designed to be able to handle whatever you can throw at it outdoors, especially in colder weather and light rain, as it offers an insulated sherpa lining as well as a durable water repellent-treated outer fabric.
ADVERTISEMENT
This Carhartt review also includes a video review and an image gallery showing close-ups of the key features of the sherpa lined vest, as well as what it looks like when worn and finally my review summary, which includes the pros and cons.
---
Carhartt Vest Review – Table of Contents
---
About Carhartt
Carhartt is a US company with a long heritage – it was founded in 1889! Carhartt, which is headquartered in Michigan, was originally known as a workwear company, producing bibs, pants and jackets for workers in the railroad industry.
Over the years Carhartt has expanded into a wide range of workwear as well as outdoor and leisure apparel and accessories such as their popular Carhartt beanies and hoodies.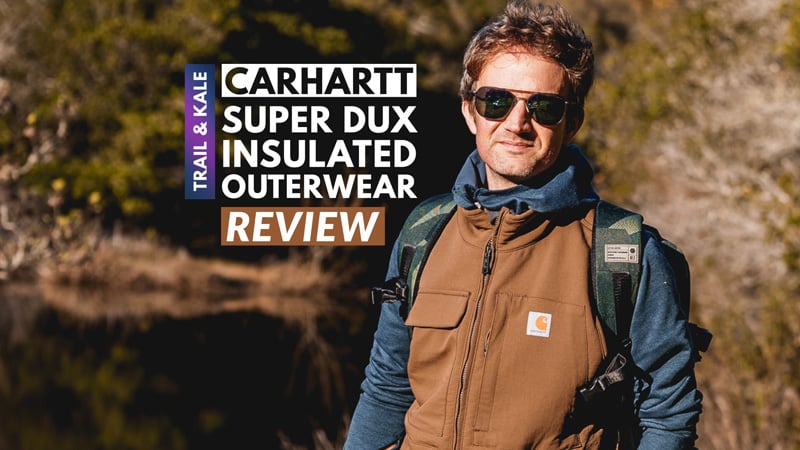 The Carhartt Super Dux Range
The original Carhartt Super Dux range was launched in the 1930s. This latest range is named after the original Super Dux range, and the ethos behind it is to celebrate the Carhartt heritage in the sphere of outdoor performance outerwear.
With that said, because this gear is built to perform, it would also make great workwear especially if you would benefit from warmer layers, durable fabric and plenty of pockets for tools and gear as you go about your work day.
I've been doing a lot of renovation work on my house recently, and this vest has been a staple item that protects me from wood shrapnel and offers plenty of pocket storage for my essential tools.
The products included in the current Super Dux range include sherpa-lined jackets, coats, bibs and vests for men and women, as well as branded Carhartt hoodies.
---
Key Design Features of the Carhartt vest
The nylon Super Dux fabric used to create this Carhartt vest is rugged and durable (a hark back to Carhartt's rugged workwear legacy), and blocks wind and light rain. It's a great choice for wearing day-to-day in colder weather, when a long-sleeve or hoodie isn't quite enough to keep you warm in a brisk wind or colder conditions.
As well as everyday use, if you enjoy going to games or participating in activities such as fishing where you're spending long periods of time outside and not moving all that much, then this vest (or the jacket) is going to help keep you warm by providing that wind and light rain (not downpour) protection, as well as providing insulation by virtue of the sherpa lining on the inside.
It also has a load of good-sized pockets, which is great if you're going out or working at home or work and don't want to take a separate bag to carry small essentials that don't already fit in your pants' pockets.
For example, as well as being useful for my DIY projects at home, I also find this vest is perfect for when I'm working on my camper van DIY build – I can stash things such as my phone, pencil, Leatherman, tape measure, headlamp, etc, in those deep pockets.
I also have the Super Dux active jacket, which is a looser fit and slightly bulkier than the vest, making it a better choice for colder environments with the addition of a hood and of course arm protection! I like that theres plenty of room for layering under that jacket.
Size options
The men's Super Dux vest is available in Regular and Tall sizes, from Small to 3XL, in a 'relaxed fit'.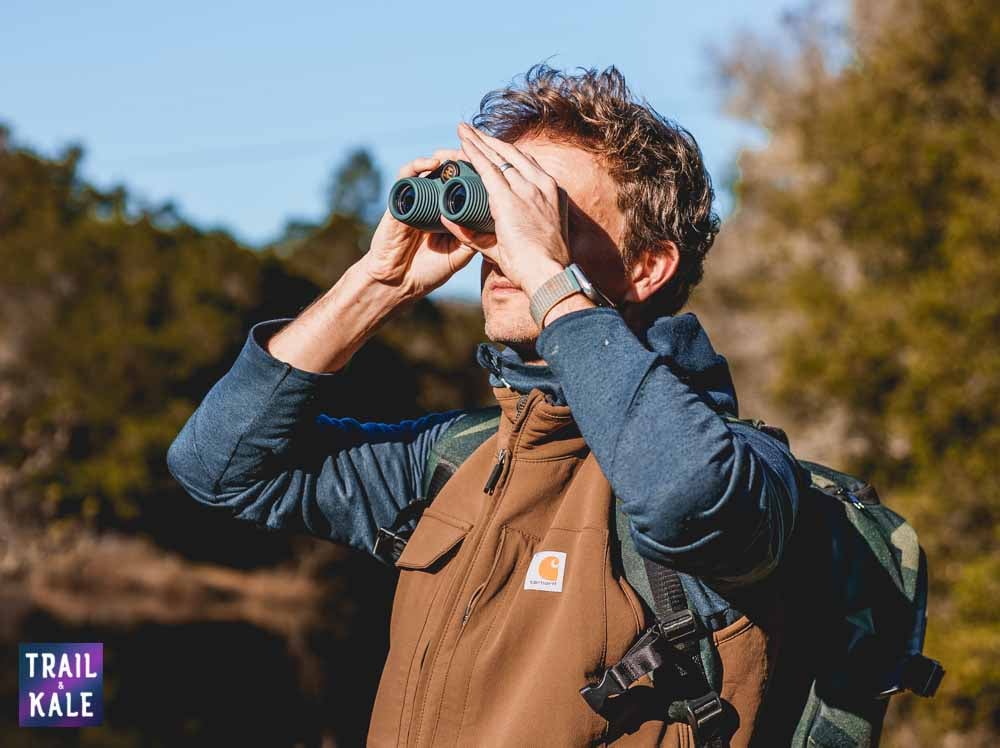 For the dimensions of each size, check out the size guide on the product page of their website – and remember they are designed to be a relaxed fit. For reference, I'm wearing the Small in the pictures of this review, and I'm 5'8″.
While the fabric it's made from has some stretch, the relaxed fit is designed to allow you to move freely when wearing it, as well as being able to layer up with a hoodie and other insulating layers below. It would be great if it was also available in a more slim fit for those of us with a slim build, but I still think this vest looks great.
Materials and insulation
As mentioned above, the outer layer of this Carhartt vest is made from a rugged nylon fabric which is treated with a durable water repellent to help fight off light rain, which also helps with wind-proofing.
The sherpa insulated interior is quilt-lined, with 100g of 3M Thinsulate insulation – often used for fleeces, gloves and in fact the same family of products that we used to insulate our Sprinter Campervan against cold vanlife nights!
Pockets and other features
Other features include a right chest pocket (with hook-and-loop closure), a left chest pocket with a zipper (great for small essentials) and lower pockets with a microfiber lining.
There's also an interior pocket on the left side, which is great if you need to keep valuables (or electronics such as your phone) warmer to help keep them extra safe (or preserve their battery when you're out in the cold).
Both the vest and jacket zip up with a zipper that's easy to grab to do the jacket up (or take it off) when you're wearing gloves.
Color options
The Carhartt vest and jacket are both available in black, greige, coffee brown, and a blue-stone color. The women's versions of the jacket and vest come in black and a very nice green-grey color called 'Elm'.
---
Tips for layering in cold weather
Layering this Carhartt vest with a hoodie and other layers to add insulation is key to being comfortable when out in the cold (this is a great general rule for spending time outdoors, whatever you're wearing).
Generally, this means I'm wearing this vest on top of a hoodie or at least one other long-sleeve top, with a t-shirt or base layer underneath if needed. If you're going to be getting your sweat on outdoors, especially in colder weather, such as working or hiking, then it always pays to wear sweat-wicking, breathable layers underneath your vest or jacket. This means choosing either wool or technical, man-made layers, rather than cotton shirts.
Also, don't forget a warm beanie (like these Carhartt beanies) to keep your head insulated.
---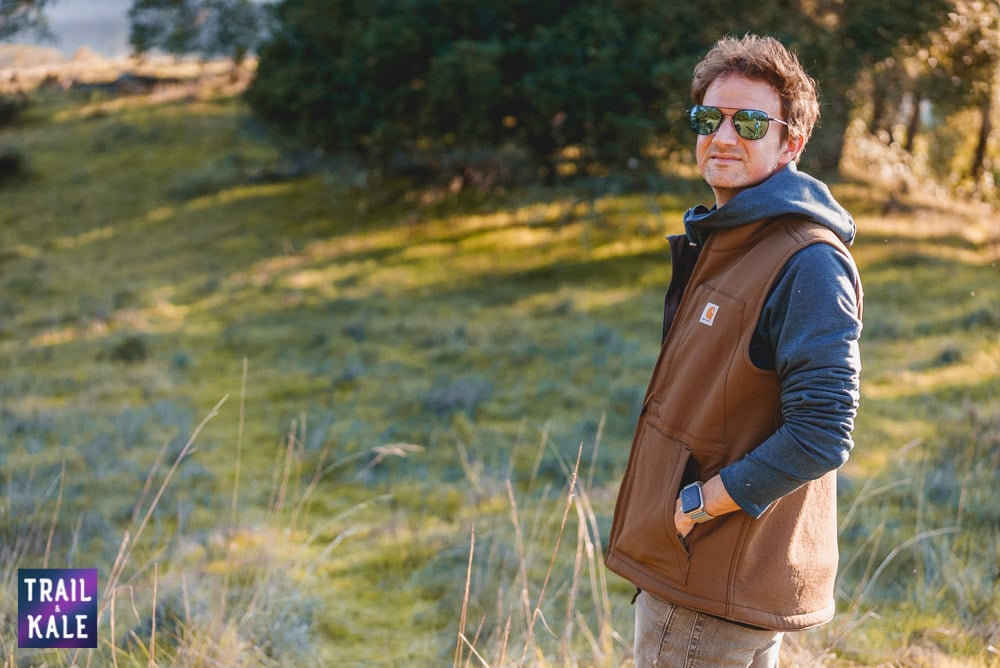 Cost and where to buy
This Super Dux vest retails at $120-$130. If you're looking for a Carhartt vest (or jacket, pants or bib) in this technical Super Dux material, the best place to go for the full range of size and color options is Carhartt's website, where you can buy it from them direct.
---
Carhartt vest: Super Dux video review
---
Review summary
Carhartt Vest Review
PROS
Highly durable & covered by Carhartt's craftsmanship guarantee
Five good-size pockets
Water-repellent outer layer
Available in a wide range of sizes
CONS
Bulky if you have to pack it
It would be nice if this vest was available in a slim fit
---
Image gallery