'Tis the season for gifting, and so here is our curated list of highly-rated trail running, hiking, and healthy lifestyle gear with Black Friday week/Cyber Monday discounts applied. How do we know how good this gear is? Well, we've been using it ourselves throughout this year – if you'd like to learn more about any of these products, be sure to click on our review links within our mini-reviews in this post.
We believe that gifts should be as sustainably manufactured as possible, or at the very least be of such a high quality, durability, and provide bountiful value so that they will be in your gear arsenal for as long as possible, and therefore minimize waste.
This Black Friday Gift Guide includes the very best trail running, hiking, adventure, and lifestyle gear, as well as some natural nutrition to help keep your immunity strong as we enter the winter months. Keep checking back over the coming days as we introduce new Black Friday trail running deals (and generally active lifestyle) that you won't want to miss. Remember, these are Black Friday Deals and therefore won't be around for long, so act fast if you see a deal that catches your eye!
[time-restrict on="2020-11-27″]
---
KEEN Revel IV Waterproof Hiking Boots
SALE DETAILS: 25% off almost everything at KEEN Footwear, including the awesome REVEL IV Polar Waterproof Hiking Boots – Sale ends Nov 30th
KEEN's 25% Off Black Friday sale comes at the perfect time if you're looking for a new pair of winter hiking boots. The Revel IV is a comfortable, durable, warm, and waterproof hiking boot that is designed to be able to take you anywhere, no matter the weather. The Revel IV has the agility of a light hiking boot with the warmth of a down jacket – I know, sounds cozy, right? It is!
The Revel IV is a great choice for anyone wanting to be active on super cold days because of its 200g of insulation, heat-trapping materials underfoot, and grippy 5mm multi-directional lugs for traction on snow and ice.
If you're looking for a serious, yet stylish pair of winter hiking boots this season, look no further – the Revel IV Polar Boot is an awesome all-terrain, waterproof hiking boot for cold conditions.
[/time-restrict]
---
Randolph USA Sunglasses
SALE DETAILS: Up to 50% OFF Select styles and Limited Edition sunglasses handcrafted in the USA at RandolphUSA.com. Be Quick – this epic sale ends Dec 1st!
I love that you can fully customize all Randolph's handcrafted sunglasses, right down to the materials, lenses, and arms used. The scratch-resistant lenses are made from mineral glass (for the clearest vision), and are UVA and UVB protected which is very important if you're going to be out for day-hikes. They also have anti-reflective backside coating too, which I love! This essentially means that you don't get any distracting reflections from behind you while driving or hiking on the trails.
If you're not already familiar with Randolph, the company was founded in 1973 and is now the only remaining metal eyewear company in the USA. It's so nice to see these premium high-quality sunglasses still being made in the USA when so many other brands have chosen to take the work elsewhere. We wear our Randolph's all the time here in California while hiking and running errands around town. To learn more about all the various styles available, click the link below – we also have some reviews that we wrote below.
RANDOLPH REVIEWS: Randolph Fusion Hiking Sunglasses Review / Randolph Aviator Matte Black Review / Randolph Aviator Sunglasses Review / Randolph Concorde Review: Why Use Cobalt Blue Lenses For Hiking?
---
Leatherman FREE™ P4 Multipurpose Tool
SALE DETAILS: 50% Off Customization / Free Crater Pocket Knife with Purchase of $139 or More with code 'snowfall' / Free Shipping on Order $35 and Over with code 'Dec20'
The FREE™ Series P4 Multipurpose Tool is Leatherman's most advanced multitool ever built, which means it's probably THE best multitool ever built, by anyone. The FREE P4 offers 21 different tools which could be life-saving given the right (or wrong) circumstances. The tool itself weighs only 8.6 ounces and has a closed length of just 4.25 inches, so it's just as comfortable in your pocket as it is while worn on your belt, or even your hydration pack when trail running or hiking backpack.
The fact that this fully-loaded multitool weighs so little, and collapses down so small, makes it the perfect companion for adventure racing or fastpacking too! It's also designed and manufactured in Portland, Oregon which ensures that it is built to a high-quality standard.

To give you an idea of how awesome a customized Leatherman multitool looks, click the image above to see out how our custom Trail & Kale Leatherman Surge turned out.
It's hard for me to explain just with words, how versatile this multipurpose tool really is, so I'll leave you with this video that demonstrates how easy it is to select and use each of the 21 tools on this fantastic life-saver of a multitool from Leatherman.
What's better than getting a gift with a single use? Getting one with 21! 🙂
LEATHERMAN REVIEWS: 5 Reasons a Leatherman makes a great gift for HER / 5 Reasons a Leatherman makes a great gift for HIM
---
LARQ Bottle – Water Purification On The Go
[time-restrict on="2020-11-19″ off="2020-11-24″]
SALE DETAILS: 35% OFF all accessories / 20% OFF orders over $125.
[/time-restrict]
[time-restrict on="2020-11-24″ off="2020-12-01″]
SALE DETAILS: Buy 1 bottle get 20% Off; buy 2 get 30% Off; buy 3+ get 35% Off. Secondary Offer –> 35% OFF all accessories / 20% OFF orders over $125.
[/time-restrict]
The LARQ bottle, and LARQ Bottle Movement, will purify water and neutralize any stinky bottle-odors, completely autonomously. LARQ Bottles are for those who want something a little different from the other water bottles on the market. The LARQ self-cleaning bottle can fill up from almost anywhere, even on the trails, and will purify your water at the tap of a button. The high-quality bottles themselves have all been designed beautifully and make for fantastic holiday season gifts.
If you want to take this bottle on a hiking trip with you, I recommend getting the new LARQ Bottle Movement as it's a lighter option. Please note that the LARQ Bottle Movement doesn't have insulated walls like the Original LARQ Bottle, but it is a bit lighter and more durable due to the colorful, removable silicone sleeve.
LARQ BOTTLE REVIEWS: LARQ Bottle Review / LARQ Bottle Movement Review
---
PlantRise SuperGreens72: Immunity Boosting Superfood Mix

SALE DETAILS: PlantRise's Black Friday Deal is a huge 25% off a subscription, and 15% off one-time orders. Use our link and code GREENFRIDAY
PlantRise SuperGreens72 is a premium daily supplement blend packed with 72 nutrient-rich superfood ingredients. When I've been incorporating SuperGreens72 into my morning routine, I've noticed that I have more, consistent energy levels throughout the day and I've seen other benefits such as improvements in my skin complexion! This is such a convenient and fast way to ensure you eat important superfoods in the mornings, and it tastes great too (natural – and not too sweet)!
In each pouch you can get roughly 30 servings – so just see it as 1 pouch per month if you're one person using it, or two bags if you plan to take daily with a partner. PlantRise has been specifically designed to increase energy and focus, support the digestive system, gut health, and help boost the body's immunity.
FULL REVIEW:PlantRise SuperGreens72 Review
---
Chirp Wheel – Back Stretcher/Pain Reliever

SALE DETAILS: Chirp's Black Friday Deal includes A Chirp Wheel 3 Pack, carry case, posture corrector, and tutorial videos—for only $99! Now with FREE shipping!
The Chirp Wheel (As seen on Shark Tank) is designed to fit perfectly between your shoulder blades, targeting the muscles that go up and down your spine. As your back is strained from the countless activities you do, those muscles lock up and cause even more pain. The GoChirp Wheel massages those muscles, relaxing your back and relieving all of the pain.
This is my favorite recovery tool right now, I get a lot of relief and satisfaction out of rolling on my Chirp Wheel to relieve clicks, knots, and tension in my back!
FULL REVIEW:Chirp Wheel Review
---
Jaybird VISTA True Wireless Headphones
SALE DETAILS: – GET Jaybird VISTA for only $179.99 $99.99 – At $80 OFF, that's the BIGGEST Jaybird VISTA discount ever!
If your gift recipient likes to listen to music while running, hiking, or working out, the Jaybird VISTA true wireless headphones are the only way to go if no cables are important. They have an extended battery life of 32 hours, are IPX7 waterproof, sweat-proof, crush-proof, and the lightest, most comfortable true wireless headphones we have ever tested. They're so good in fact, that they won our Editor's Choice award, and currently sit at the top of our best wireless headphones for running, and ultrarunning buyer's guide.
Pair VISTA with the Mighty Vibe Music Player
If you don't like taking your phone with you on runs then the Mighty Vibe music player is a very small and lightweight way to take music from Spotify or Amazon Music for a run or workout without needing a phone.
RELATED REVIEWS:Jaybird VISTA Review: Editor's Choice Award Winner / Mighty Vibe Music Player Review
---
Compex Mini Wireless & Fixx 1.0 Massager
Compex Mini Wireless

SALE DETAILS: Save up to 40% Off Compex Muscle Stimulators + 15% Off Sitewide with our links and code 'CPPBF15'
Our two favorite Compex products are both heavily discounted for Black Friday, making this the best time of year to get yourself one of these fantastic recovery and muscle building tools.
The Mini Wireless Muscle Stimulator with TENS is Compex's latest device, it's so small that it can very easily be taken with you on the go. Very handy if you want to give yourself a recovery massage straight after a race. The Compex Mini has 6 programs to help athletes improve their running performance. The programs are 'Prewarm Up', 'Endurance', 'Resistance', 'Training Recovery/Active Recovery', 'Muscle Relaxation', and 'Pain Management'.
Using a Compex muscle stimulator is a highly effective way for me to build strength into my muscles, especially when I don't have easy access to big mountains, where climbing would do a similar job for my quads.
I also use the TENS (transcutaneous electrical nerve stimulation) function of my Compex on my Achilles heel when I feel like it may be flaring up, usually after a high-intensity road run. TENS calms it down, reduces the pain, and helps it heal faster.
---
Fixx 1.0 Massager
The Compex Fixx 1.0 Massager, on the other hand, is a portable battery-operated massage device that has been fantastic at working out deep muscle knots.
Using this device makes massaging out localized tense muscles so much faster, and easier. The noise output is very low on the slowest setting but gets a bit louder the faster you make it go.
It has three speeds that you can use to help relieve different levels of soreness and you can also change the tips and rotate the gun head to reach areas that may be awkward otherwise.
AS FEATURED IN: 20 Hacks That helped Improve My Trail Running Performance (Nutrition, Recovery, Gear + MORE)
[time-restrict on="2020-11-23″]
---
Biolite Headlamp 750
SALE DETAILS: $25 OFF
The BioLite Headlamp 750 was recently awarded our coveted Editor's Choice Award, reserved only for best-in-class products. This HeadLamp has literally every feature you could possibly want from a headlamp as a trail and ultrarunner or even a hiker for that matter. The features that I love about this headlamp include:
The burst mode button which activates 750 lumens when you need it, is an awesome idea from BioLite.
Pass-through charging gives hours of extra runtime – potentially days based on the portable power bank you use.
It's a secure and very comfortable fit for running with.
There are highly customizable beam modes and brightness settings.
7-hour battery life in high-beam 500 lumens mode – That's impressive for such an intense light by the way.
IPX4 Water-resistant so you can run with it in the rain.
Easy to use with one button, even while wearing gloves in the winter.
Integrated sweat-wicking headband.
Truly great value for money at $99.95 $74.96 – when looking at the competition.
BIOLITE REVIEWS: BioLite Headlamp 750 Review / Biolite HeadLamp 330 Review / BioLite HeadLamp 200 Review
FEATURED IN: 5 Best Headlamps for Trail Running & Ultrarunning
[/time-restrict]
---
Rokform Crystal Case for Running
SALE DETAILS: 30% OFF Sitewide. Use code THANKS2020
The Rokform Crystal Case is our favorite because of how slim and lightweight the design is. A slim case is really important for running as you'll have more chance of fitting your phone into your short pockets, running armband, running belt, or hydration pack.
In addition to this, the Crystal Case will grip any magnetic surface! Until I got this case I didn't realize how many uses a magnetic phone case could have. Some examples of how I'm using my phone with the magnetic feature:
as a non-obtrusive GPS navigation device in my car using the Super grip phone vent mount.
On our kitchen fridge as a recipe book, timer, and for listening to music while cooking.
Taking running selfies.
When I use my phone's torch but I need both of my hands free.
You can see the ways in which we like to use our Rokform cases HERE. Like all the cases in this list, the Crystal case doesn't come with a screen protector but you can buy a tempered glass one here if you want to ensure your screen remains scratch-free too.
FULL REVIEW: Rokform Crystal Case Review: Phone Protector for Trail Runners
---
Rumpl Blankets
SALE DETAILS: 25% OFF select products.
Rumpl Puffy Blankets pack down small, making them great for travel, backpacking, camping, or even at home. It's the NanoLoft Puffy blankets which are made with synthetic down that we recommend and use ourselves.
There are so many fun designs to choose from so make sure you check them all out at Rumpl.com.
[time-restrict on="2020-11-23″]
---
Bluefin SUPs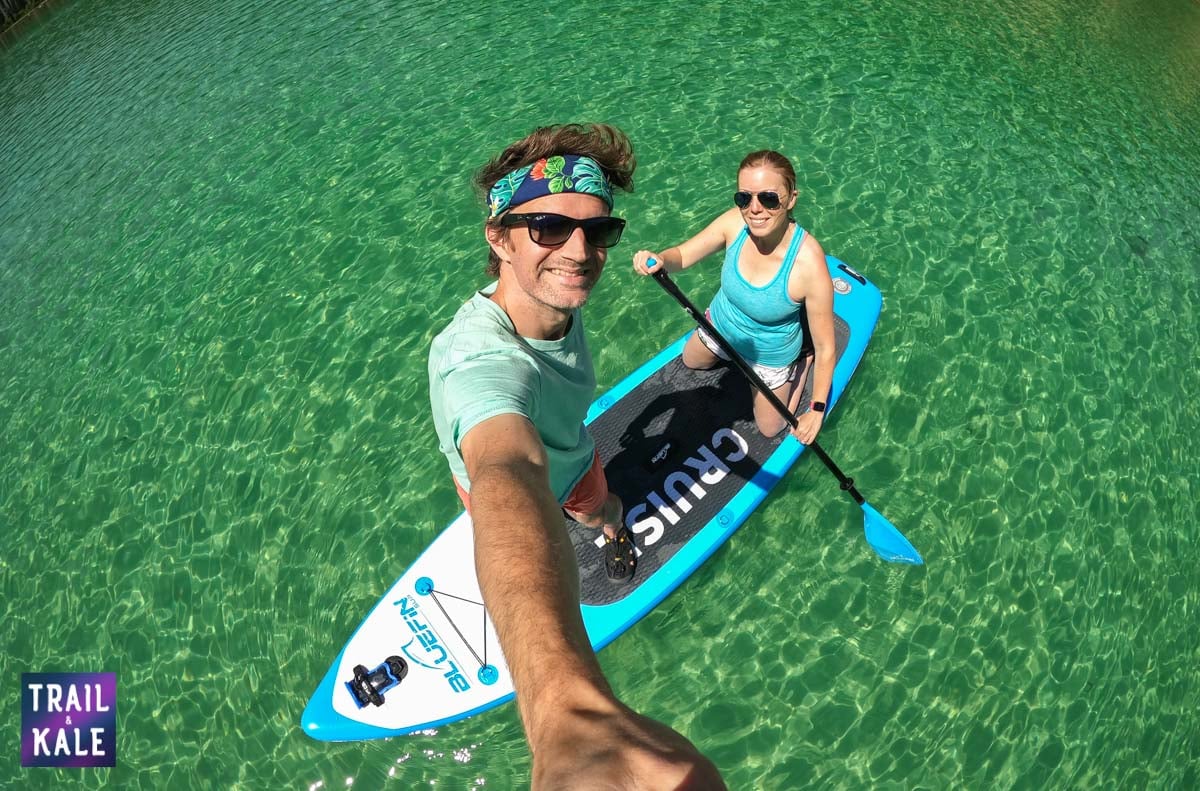 SALE DETAILS: 20% Off Select Bluefin SUPs
I know many of you in the Northern Hemisphere probably aren't thinking about SUP adventures right now due to the colder weather but now is actually the best time to prepare for next year's adventures on the water because of Bluefin's huge Black Friday discounts. We had so much fun using our SUP over the summer and can't wait to inflate it once again when the temperatures have risen enough.
Some reasons why we love our 10.8 Bluefin SUP include:
Because these SUPs are inflatable, they're very easy to store once deflated – Bluefins reasonably priced SUP bundles even come with a carry bag which makes them very easy to transport too.
Bluefin SUPs are very durable and rugged which is important when riding on a high-pressure inflatable SUP.
It's very stable and easy to paddle, even for two people at once. This makes it ideal for beginners and recreational use.
FULL REVIEW: Bluefin SUP Review
[/time-restrict]
[time-restrict on="2020-11-26″ off="2020-11-29″]
---
Organifi Green Juice
SALE DETAILS: 20% OFF Sitewide
Organifi Green Juice is a gently dried 11-superfood green powder dietary supplement that is certified USDA organic, gluten-free, soy-free, dairy-free, and Vegan. With ingredients like spirulina, moringa, chlorella, ashwagandha, mint, lemon (and more), this product has been designed to help people feel energized and detoxify their cells.
Green Juice is a great first step to helping people re-train their taste buds and start replacing the sugary processed foods in their diet with real, revitalizing nutrients. We mix a scoop of it in a glass of water every morning.
Get 20% OFF at organifishop.com
FULL REVIEW: Organifi Green Juice Review: The Organic Vegan Superfood Supplement
[/time-restrict]
---
And finally our top Trail Dog gear deals 🙂
Kepler is such a huge part of our lives, and is with us on most of our adventures which is why, this year, we are including our favorite dog gear of the year in this Black Friday gift guide.
Fi GPS Dog Collar
SALE DETAILS: Use our link with code 'BLACKFRIDAY' for a whopping $75 OFF Your Fi Order!
The Fi Collar is the smartest smart GPS Tracking collar for dogs. Chew-proof, water-proof (even the ocean), can take 300lbs of pulling force (if your dog is a puller) and generally extremely dog-proof. It's Bluetooth enabled to track doggo's walkies and activity, and to keep your dog in good shape.
With Fi, you can instantly track your dog's location no matter where they are in the USA, which means you can keep an eye on dog walkers and caretakers, just in case. This smart dog collar has a ton of clever features including:
The ability to create safe zones and be notified if your dog escapes. You can leave your dog in the backyard, and make sure they stay there but if they do go through the GPS safe zone that you set up, you'll receive escape notifications on your phone. You can set up multiple safe zones too, so if you travel a lot then Fi can handle that.
Activity tracking for your dog. Make sure you hit your dog's daily, weekly, and monthly step goals by keeping an eye on his Fi Collar stats with the Fi App. What's even more fun is that you can compare your score with other dogs in your area! I think trail running and hiking dogs may win some trophies! You can also see how active they are when you're not around.
It's waterproof. The Fi collar is AP68 waterproof rated and can sustain more than 30 minutes of complete immersion in a river and salty ocean water without damage. Time for a beach trip!
Long Battery Life. You can get an average of 3 months between charges under typical usage.
FULL REVIEW: Fi GPS Dog Collar Review
---
Kurgo Adventure Dog Gear
Kurgo has a site-wide sale with 20% OFF everything through November – use our link with code THANKYOU2020 to get the deal.
Our top picks from Kurgo include the Townie Harness, and also the Cooling Vest which is essential for those hot summer runs.
FULL REVIEWS: Kurgo Townie Harness Review / Kurgo Cooling Vest Review
---
There are more Black Friday trail running, adventure, and lifestyle deals to be revealed over the next week so remember to keep checking back for our highly rated recommendations for excellent gear at excellent prices.