Many headlamps hold one thing in common, and that's their heavy battery. Extra weight on a headlamp, designed to be worn around your forehead can create two issues for runners: 1.) discomfort when worn for long periods of time, unless wearing a headband underneath for padding, and 2.) unwanted vertical bounce while running.
The BioLite 330 has recently been upgraded to a brighter, and even more feature-rich model called the HeadLamp 425, and it's the same price! For more details, read my BioLite HeadLamp 425 review.
The BioLite HeadLamp 330 has overcome both of these issues by using a lightweight battery and distributing its weight by locating it at the rear of the adjustable headband.
Even with this lightweight package, the BioLite HeadLamp 330 is able to output 330 lumens at its highest beam, for around 4 hours which is enough for many runners (although probably not for ultrarunners intending to run through the night).
This Biolite Headlamp review covers all the key features of the BioLite HeadLamp 330, what I love/dislike, and how it performs while running and hiking.
MORE BIOLITE HEADLAMP REVIEWS: BioLite HeadLamp 750 Review / BioLite HeadLamp 200 Review / BioLite HeadLamp 425 Review
---
Quick Links for those looking for specific details on the Biolite 330 Headlamp: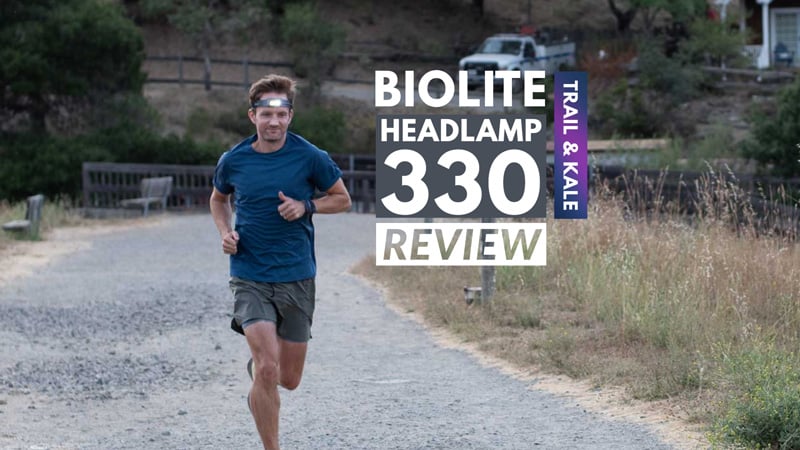 ---
What is the BioLite HeadLamp 330 like for running?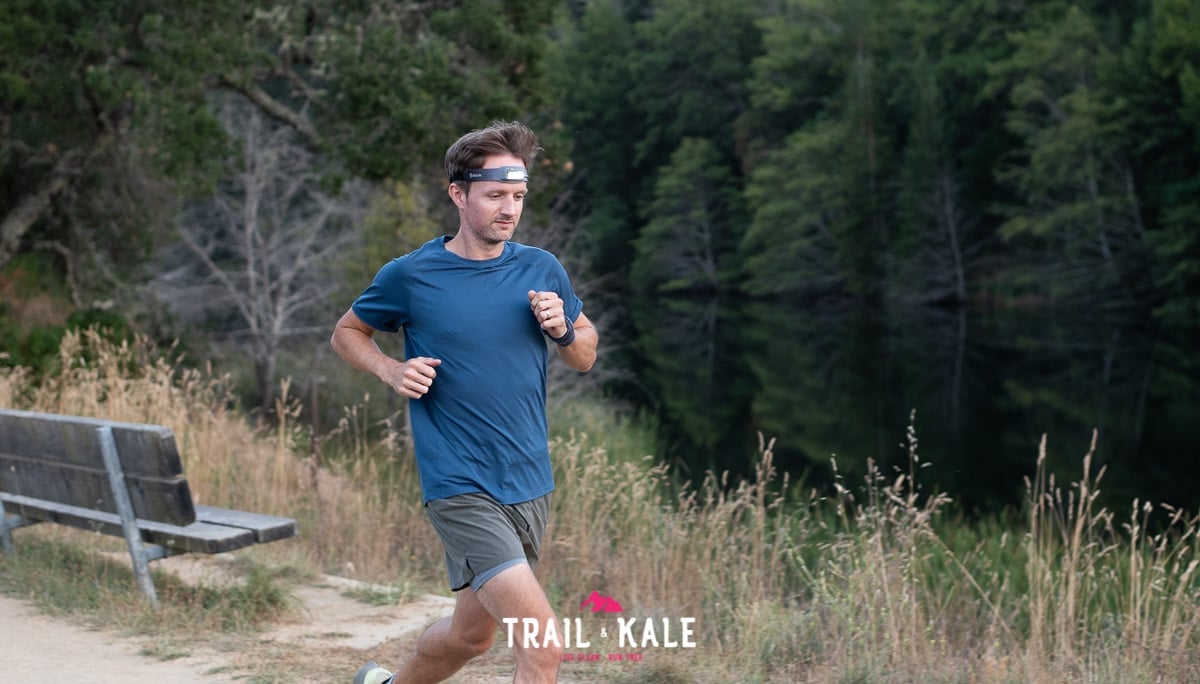 How bright is the Biolite headlamp's beam and is it easy to control?
The BioLite HeadLamp 330 has a very bright beam. This headtorch fires out 330 lumens of light to a 75m distance in a nice smooth circular fashion.
This brightest light setting is actually the focused beam and area lighting beam fired simultaneously.
The beam in this mode has widespread light for close objects as well as a focused beam that shines further into the distance (75m).
This mixture of beams means that you don't have to be laser-focused on a small dot for your immediate path ahead while running, which can make some people feel nauseous when running at night and in the dark.
You can use either one of those flood-beams on their own too if you choose, which will increase the headlamp's battery life.
To increase the Biolite 330's battery life further, once you have cycled through to the beam you want, just press and hold the button again and the light will start dimming.
Keep holding it for the lowest setting or let go sooner to get a midway brightness level. There's also a strobe light setting and a red light on this Biolite headlamp. The red light is great for your night vision while doing tasks in the dark, other than running.
I really like how easy it is to use too, I mean there's literally one button on the Biolite Headlamp 330 which is used to turn it on, cycle through the 5 beam modes and also to lock it.
You may want to lock it so that you don't accidentally turn it on while it's in your running hydration pack, hiking backpack, or while you're traveling.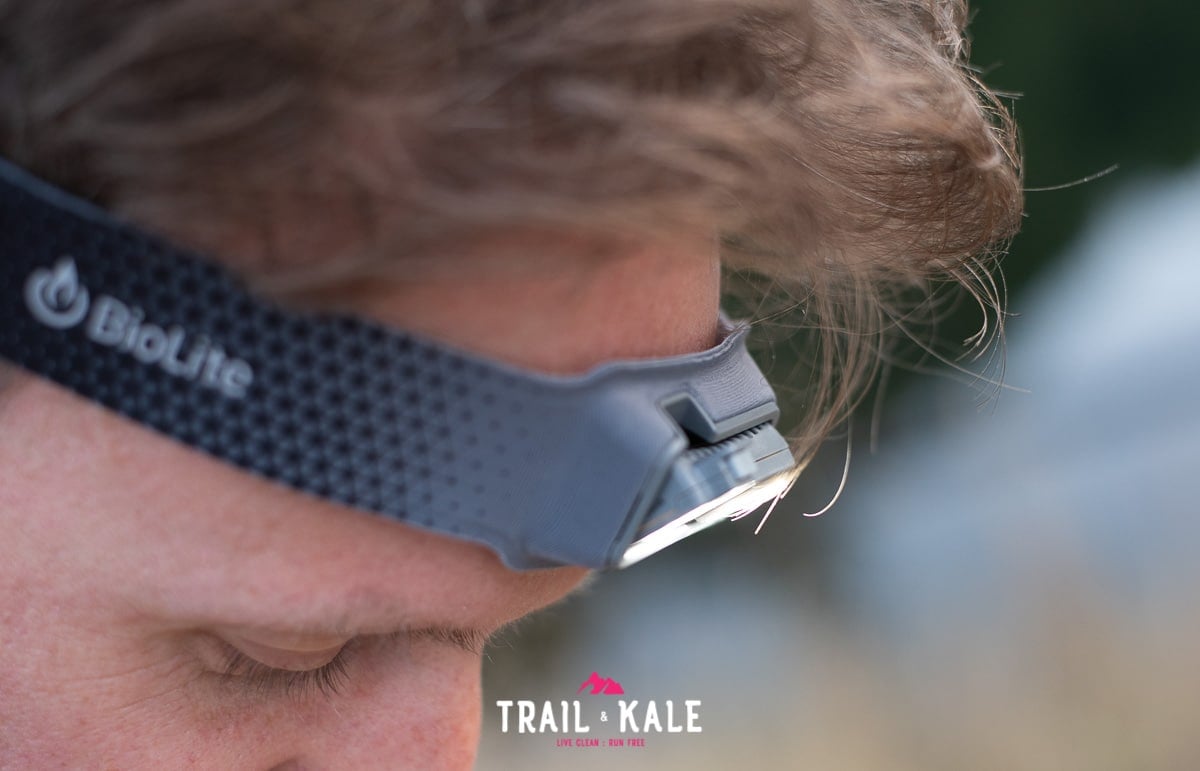 Having such a simple user interface makes it easy to use even during the winter months when cold weather running gloves are necessary to keep you warm.
The HeadLamp 330 also has a tilt option to point the beam toward the ground more or less, depending on your speed and how far ahead of you would like to see.
How comfortable is the BioLite HeadLamp 330 headlamp?
The Biolite 330 headlamp only weighs 69g, which is insanely lightweight for a running headlamp, in fact it's the lightest in its class which is why we rate it so highly on our Best Trail Running Headlamps: Buyers Guide.
This makes the whole experience of running with a headlamp so much more enjoyable.
In the past, it wasn't uncommon to get a headache from wearing a headlamp when running because you would be required to tighten the band so much in order to reduce the bounce, due to the weight of the front module which housed the bulb and batteries.
The BioLite HeadLamp 330 is not only lightweight but it also spreads its weight across the front and rear.
BioLite has put the headlamp's rechargeable battery module at the rear of the adjustable headband and the very slim tilting light panel (9mm slim to be precise) at the front.
The weight distribution feels really well balanced while running without the need to wear a BUFF headband underneath for extra comfort.
The BioLite HeadLamp 330 uses a moisture-wicking sweatband (pictured above), which keeps sweat off your face while adding to the overall comfort of wearing the headlamp.
How long does the BioLite HeadLamp 330 Battery last?
The Biolite 330's battery will last 4 hours in its brightest dual-beam mode (330 lumens), and 40hours in LO mode which you can activate by tapping the button 2 times and then press and hold until the light dims to its lowest level of 5 lumens.
This means that the headlamp is perfect for most running or hiking situations, provided you're not going to be out running through the entire night.
You could probably hike with the headlamp set to a reduced beam intensity as you'll be moving at a slower speed but I wouldn't recommend running with anything other than the high beam for safety reasons unless of course you're in survival mode and have no choice.
There's a handy 4-dot indicator on the battery module which will tell you how much battery life you have left, so you could theoretically keep an eye on this during longer runs and multi-day hikes and switch to a lower intensity beam when the battery gets low.
The BioLite HeadLamp 330 uses a rechargeable battery system that uses a micro-USB cable. It takes 2.5 hours to fully charge.
There's no light on the rear of the headlamp but BioLite has added a reflective strip on the battery housing so that you'll be seen by anyone who shines a light towards you.
Having a 40-hour battery life option gives this headlamp so many more uses, for example, you can pair it with BioLite's Light Diffusing Stuffsack to turn it into a lantern for camping with.
Such a clever multi-use headlamp that also makes it a great option for fast and light adventures like fastpacking or ultralight backpacking, for example.
Is the BioLite HeadLamp 330 waterproof?
The Biolite HeadLamp 330 is IPX4 rated which means it's water-resistant and can be worn in the rain but BioLite doesn't recommend using it for extended periods of time in a downpour.
Where to buy the HeadLamp 330
Last Amazon price update was: 24th September 2023 7:30 am
---
Biolite HeadLamp 330
Pros
Secure and very comfortable fit for running
I love the highly customizable beam types and brightness settings.
4 hour battery life in high-beam mode, 40 hours in low
sweat and water resitant
So easy to use with one button, even while wearing gloves in the winter
rechargeable battery (fully charged in 2.5 hours)
Sweat-wicking headband
Great value for money
Allows for Pass-through charging
Cons
For night runs over 4 hours longer battery life at high beam would be needed (check out our 'Best Headlamps Buyers Guide' for alternatives
Not 100% waterproof for extended use in a downpour
HeadLamp 330 Image Gallery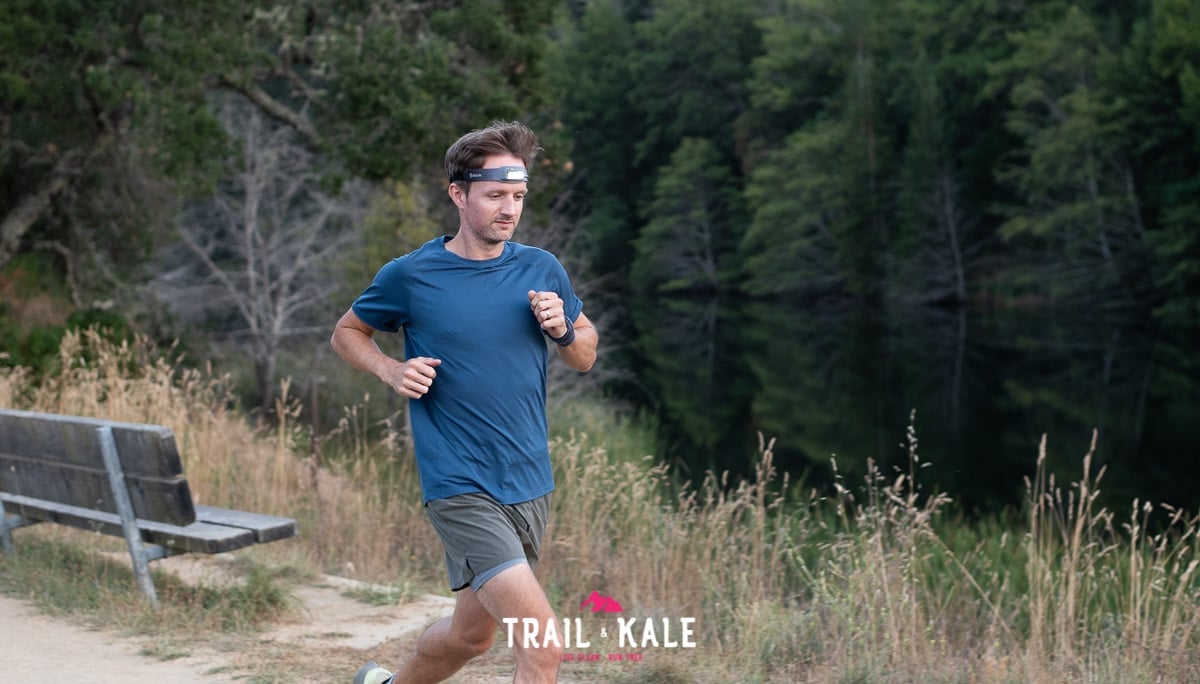 ---
Do Headlamps make you feel nauseous when running or hiking in the dark? Here's an alternative solution for running at night.
Some people really struggle with wearing headlamps because they make them feel nauseous, no matter what headlamp they use.
This has to do with the placement of the light source, which on a headlamp is just above your eyes. When light illuminates from the perspective you're viewing from, shadows will be cast directly behind and raised objects.
This can make the terrain tricky to read, especially when you're running, but there's a solution!
The Kogalla RA! This light strip shines brighter than most headlamps, runs longer than a rechargeable headlamp, and covers a wide area like a camping lantern.
If you're going to be mixing up your adventures like camping, hiking, or running at night, the Kogalla RA is a great option! I love that each of Ra's five lighting modules is as bright as a high-quality headlamp.
But instead of lighting up a spot, Ra lights up an entire area, making it easier to navigate even the roughest of terrain.
With its magnetic fastening system, you can also get creative with how you attach the strip lights to your clothing or just strap it around your waist.