A good pair of snow goggles will protect your eyes from a range of conditions and hazards you may encounter when skiing or snowboarding, both in-resort and in the backcountry. The reflection of sunlight and UV rays from the snow, snow and ice, freezing wind and trail obstacles such as tree branches and stray ski poles can all be a risk, so it pays to protect your eyes to maximize your enjoyment slopeside.
ADVERTISEMENT
This buyer's guide shares our picks of the best ski goggles currently available from top ski goggle brands, including their key features, cost and where to buy them online. We've highlighted the goggle styles which are available with prescription lenses as well as those which are designed to be worn over your regular glasses (OTG goggles).
Below the list of men's and women's snow goggles we've also included a brief goggles buyer's guide, which is designed to help you choose the best pair for your needs.
If you're new to skiing or looking to refresh your snowsports gear locker then also check out our guide to what to wear skiing which provides a checklist and advice for what to take with you skiing or boarding (link opens in a new tab).
---
1. Oakley Flight Deck Prizm Goggles
Lens style: Frameless spherical lens
Key features: Color contrast Prizm lenses
Glasses fit (OTG) available: Yes
Cost: $200 at Amazon.com
Choose if you want the best overall ski goggles offering great all-round performance, comfort and style at a great price point relative to its competition.
These immensely popular jet pilot-inspired rimless Oakley ski goggles provide an excellent field of view, moisture-wicking foam padding and Oakley's proprietary Prizm lens technology which is designed to maximize the color contrast of the terrain in front of you.
While they only come with one lens, this allows you to choose exactly what you want if you need from that second lens – if you feel you need one at all (many people won't). These Oakley goggles offer a great fit for most men and women, and it's also worth noting that they are available in a large size, too.
Last Amazon price update was: 4th July 2022 6:01 am
---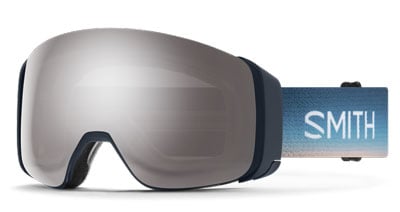 2. Smith 4D Mag ChromaPop Goggles
Lens style: Frameless spherical lens
Key features: Unique lens shape provides greater visibility at the bottom edge
Glasses fit (OTG) available: No
Cost: $320 at Amazon.com
Choose if you want quality snow goggles with an excellent field of vision and easy lens swapping.
These spherical lens Smith ski goggles offer best-in-class optics, come with two lenses and provide an excellent field of vision so you can focus on your style and speed.
You get what you pay for, so if you're someone who loves to ski or snowboard and is good at caring for premium lenses, then the Smith 4D goggles are a top choice. Head over to Smith Optics' online store for the biggest range of lenses and straps, including all their mirrored lens options and their all-black ski goggles.
If you like the look and sound of Smith goggles but aren't looking to spend more than $300 then also consider the Smith I/O Mag for a less expensive option (costing around $50 less).
Last Amazon price update was: 4th July 2022 6:01 am
---
3. Dragon X2 Goggles
Lens style: Spherical lens
Key features: Excellent anti-fog features
Glasses fit (OTG) available: Yes and also available with prescription lenses
Cost: $220 at Amazon.com
Choose if you want supreme anti-fog and ventilation features, a comfortable fit and very cool-looking goggles with a lens clip-in feature to swap lenses.
A personal favorite, the Dragon Alliance X2 are ultra-comfortable and offer a high standard of ventilation and anti-fog coating – over many years of skiing, including sweaty backcountry skins, these have never fogged up and you even forget you have them on.
These Dragon ski goggles are a top choice for that classic spherical dome ski goggle look. They're also available with prescription lenses – you can find them at online stores such as SportRX's range of prescription ski goggles.
Last Amazon price update was: 4th July 2022 6:01 am
---
4. Julbo Aerospace REACTIV Goggles
Lens style: Spherical lens
Key features: Photochromic lenses
Glasses fit (OTG) available: Yes (Julbo Aerospace OTG model)
Cost: $250 at Backcountry.com
Choose if you want the best ventilation and goggles that should never fog up, even when skinning up hills in the backcountry.
If you feel you need maximal ventilation when it comes to your ski goggles, then the Julbo Aerospace is what you're after. They feature innovative hinges to allow you to expand the ventilation gap – making them a great choice for intensive up and downhill skiing pursuits, especially if you're sweating it in the backcountry.
While these Julbo ski goggles come with only one lens, it is pretty versatile and good for all but the very brightest or darkest conditions on account of the REACTIV photochromic lens quickly adjusting to changing light conditions, so you have very little need for additional lenses, just put these on and off you go!
Last Amazon price update was: 4th July 2022 6:01 am
---
5. Julbo Cyrius Photochromic Goggles
Lens style: Cylindrical lens
Key features: Photochromic lenses, frameless construction
Glasses fit (OTG) available: No
Cost: $220 at Amazon.com
Choose if you are looking for great all-round frameless ski goggles with quality photochromic adjusting lenses and good breathability
These comfortable, high-end snow goggles perform in all weather conditions, and have a minimal feel as a result of their frameless construction. Like the Julbo Aerospace above, the Julbo Cyrius goggles feature Julbo's REACTIV photochromic lens technology, that adapts to light conditions to lighten and darken the lens.
These polarized Julbo ski goggles are also going to appeal if you prefer a more classic look to your ski goggles with cylindrical lenses (rather than the more bulbous spherical lenses on other goggles in this list).
Last Amazon price update was: 4th July 2022 6:01 am
For alternative frameless photochromic goggles, also consider the Zeal Portal polarized goggles which are another sturdy frameless choice.
---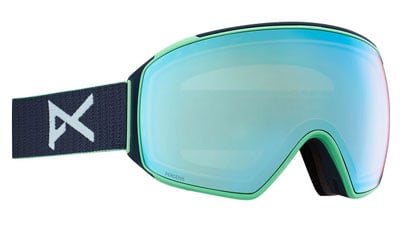 6. Anon M4 Toric Goggles
Lens style: Spherical lens
Key features: Easiest magnetic lens swapping, large face fit
Glasses fit (OTG) available: Yes and also available with prescription lenses
Cost: $320 at Amazon.com
Choose if you want an easy magnetic way to swap lenses, high-end optics, and need a larger face fit than the Smith 4D Mag have to offer.
These Anon ski goggles are comparable to the Smith 4D Mag and also come with two lenses, but are more popular among those looking for goggles to fit larger faces.
The Anon M4 Toric look awesome however the size does mean they're less suited to those with medium and small face shapes, compared to other snow goggles on this list, and this greatness also comes at a price.
Last Amazon price update was: 4th July 2022 6:01 am
---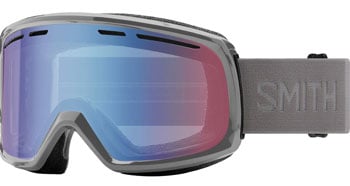 7. Smith Range Ski Goggles
Lens style: Cylindrical
Key features: Simple, affordable snow goggles
Glasses fit (OTG) available: No
Choose if you are looking for the best budget snow goggles on the market.
If you're new to skiing or snowboarding and just want an affordable pair of goggles to take up the mountain to protect your eyes then these Smith goggles are a great choice – they're popular for good reason!
For this price, you get a simple, sturdy pair of snow goggles that will work with your helmet and provide improved visibility in typical resort skiing conditions.
Last Amazon price update was: 4th July 2022 6:01 am
If you're shopping for goggles under $200 which will fit over glasses also consider the Giro Method.
---
Buyer's guide to finding the best ski goggles for you
How to choose ski goggles
While at first ski and snowboard goggles may all seem pretty similar, there are some key features to have in mind when working out which are the best goggles for you to wear, whether you're into skiing, snowboarding or both:
Goggle frame fit
Ventilation and anti-fog features
Lens shape
Lens colors and features
Other snow goggle features
Ski goggles for glasses
Wearing sunglasses instead of goggles for skiing
Goggle frame fit
It's important for your snow goggles to fit comfortably and snugly, so they're protecting you without obstructing your vision or moving around when you ski or board. While most ski goggles are unisex and 'medium sized' to fit most people, many of the best ski goggle brands also offer larger and smaller sizes, including kids and women's ski goggles.
Ventilation and anti-fog features
The last thing you want when skiing is for your lense to fog up, so it pays to seek out a good pair of goggles that feature vents and double-layered lenses to reduce the chances of this happening.
The more expensive snow goggles also feature anti-fog coating, which goes even further to prevent them from fogging up.
Lens shape
Ski goggle lenses come in two main shapes, spherical and cylindrical. Certain brands may call them different things, but essentially, both styles feature horizontally curved lenses, but spherical lenses curve vertically as well, offering less distortion, an improved field of vision, and reduced glare.
Unsurprisingly, snow goggles with spherical lenses tend to cost more than cylindrical-lensed options.
Lens colors and features
Choosing an appropriate goggle lens color is not just a style thing! The color lens you use will affect how well light is filtered and the colors are represented. This helps protect your eyes, as well as improve your ability to see the lie of the ski hill and any obstacles.
Some goggles come with one fixed lens, but many of the best snow goggle options offer easily interchangeable lenses and even come with more than one lens color, so you can switch them out depending on the light conditions each day.
Lighter goggle lenses (such as rose, yellow and amber tints) are best for flat light, overcast cloudy days.
Dark and mirrored ski goggles such as brown, copper and gray colors for bright bluebird sunny days – these darker lenses will allow less light through and make it easier for you to see.
Polarized snow goggles are also great for reducing glare of sunlight off reflective snow and mountain lakes.
Clear lenses are good if you plan to wear goggles for night skiing and low light.
Ski goggles with interchangeable lenses provide you with the most versatility. Depending on the brand, interchangeable lenses use either a clip, bracket or magnetic method or attaching and removing the lens from the frame when you want to switch it out.
Consider goggles with photochromic lenses if you intend to ski in a variety of light conditions and don't want to use interchangeable lenses. These premium goggle lenses change the tint level depending on the light conditions – although some are quicker to brighten and darken than others.
Other snow goggle features
It almost goes without saying that any ski or snowboard goggles you buy should have 100% UV protection, but it's worth checking that is the case before you buy.
Most goggles are helmet compatible and intended to be worn and clipped in over the back of your ski helmet. When trying your goggles on with your helmet, make sure they're compatible and fit comfortably over your face with no pressure points or gaps.
Ski goggles for glasses
If you wear glasses and need them for skiing, then choose ski goggles designed to fit over glasses (they're referred to in the trade as OTG models, short for 'over the glasses').
These goggles have specific design features to take into account the glasses, for example allowing space between the insulating padding for them to fit over the bridge of your noise. Online eyewear store SportRX offers a broad range of prescription lens snow goggles.
Should you wear sunglasses instead of ski goggles?
Many people enjoy skiing in sunglasses rather than ski goggles. On a bright, clear day and with mild temperature conditions, a good pair of well-fitting dark mirrored sunglasses is perfect for skiing in.
That said, on those colder, overcast and windy days, nothing beats a good pair of ski goggles for comfort and eye protection, whether you're skiing or snowboarding.