Nowadays, there are so many different features to be aware of when buying running socks (trail running included), and brands will often have their own unique selling point which helps their socks stand out from the competition. Each unique feature will undoubtedly bring benefits but sometimes they come with drawbacks too. While researching which running socks to buy, you've probably seen words like compression, cushioning, moisture-wicking, breathability, and more being used, and on top of that, you will have also noticed that there are usually different lengths and thickness options to choose from too.
All this choice can ultimately lead to overwhelm and at the end of the day, the best running socks for one person may not work for another so it's important to do your own research and follow trusted recommendations (like these) as a starting point.
This particular trail running socks buyer's guide features the best no show running socks for women and for men, because no-show tab socks are the length of socks that I like to run with the most. Why do I prefer no show running socks over longer socks? A few reasons come to mind, firstly I prefer how no show running socks look, but they also cover less of your legs which makes them a better option if you prefer more airflow and cooler legs. With no show socks, there's also no risk of getting tragic tan lines halfway up your legs after running a marathon or ultramarathon during a sunny day.
There is a caveat to no show socks though, there's more chance of fine dirt getting in between your ankle area and the socks. This doesn't happen to me often and I live with it when it does but it's something to be aware of when buying no show running socks for trail running and ultrarunning. If this is a concern, please read our mid/long-length running socks gear guides.
---
How These Running Socks Made It To This 'Best No Show Running Socks' Buyer's Guide
These tab running socks have all met my strict 'best no show running socks' criteria outlined below, and of course, they are all a joy to run with. For no show running socks to be great, they must:
be comfortable – whether you run ultramarathons or fast-paced 5ks, it's important to have socks that are comfortable to wear for the duration. If you're not feeling comfortable while doing the thing you love, then something's going wrong somewhere.
be sweat-wicking and help prevent blisters – sweat is a big contributor to blisters formation. Blisters are usually caused by friction, whether that's from your sweaty toes rubbing against one another, your feet slipping around in a badly fitting shoe, or a poorly designed shoe digging into your feet causing a pressure point. Socks can help with the first and second one of those causes. Helen has written some fantastic articles on blister prevention here if you're currently suffering from them.
be breathable – there's nothing worse than overheating feet. With all the work that your feet have to do while running, there's no surprise that they heat up over time, especially seeing as they're encased in running shoes which themselves have varying degrees of breathability. As your blood circulates, the heat from your feet travels right the way through your body, which can have a detrimental effect on your overall energy levels and perceived state of mind. This is why so often during a mountain trail ultramarathon I find myself soaking my feet (shoes and all) in streams, rivers, or puddles, and minutes later I have a new lease on life and can continue to the finish line feeling refreshed.
have sufficient cushioning – cushioning in the places that receive the most force/pressure makes all the difference to overall comfort but also the durability of your socks.
have some degree of compression/support – compression in the right places adds support to your feet and the muscles that get you where you're trying to go.
Hopefully, my recommendations below will narrow down your choice of which socks to buy. This best no show running socks buyer's guide is regularly updated so be sure to bookmark this page ready for the next time you need new running socks.
The tab running socks in this list are all available in sizes to fit men and women, and some have specific mens running socks and womens running socks versions with different sizing and colorways. As always, if you have a question on any of these no show running socks, please leave it in the comments down below and I'll reply within a few hours.
---
1. Feetures Elite Light Cushion No Show Tab Running Socks (Editor's Choice Award)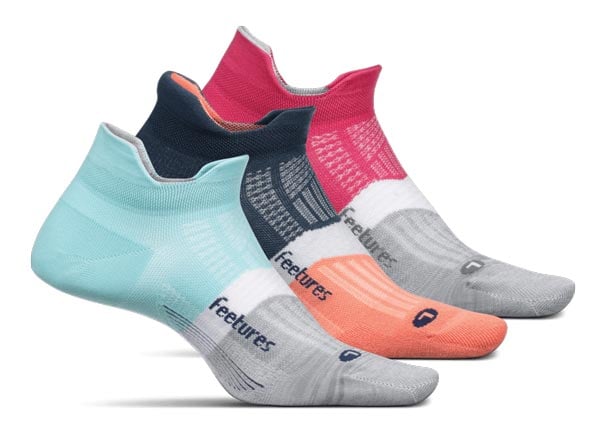 The Elite Light Cushion No Show running socks from Feetures are my current favorite running socks, and deservedly win our Editor's Choice Award for Best No Show Running Socks. These tab no show socks have been designed with an anatomical fit and targeted compression, which provides a fit that almost custom, and a reduced risk of blisters because of it. These socks make great trail running socks and are a personal favorite.
I particularly like that Feetures' light cushioning doesn't take up any unnecessary room inside your running shoes, which can sometimes lead to running shoes feeling too tight. There's just enough cushioning under the heel, forefoot and toe regions with more around the Achilles heel area. In the remaining areas is structured, directional compression which supports regions like the arches and the top of your feet. There are also no seams around the toes which makes them very comfortable as your toes splay and flex while running.
The socks are made with 95% Nylon and 5% Spandex which is able to wick moisture away from your feet and toes to keep them cool, dry, and hopefully blister-free.
Also available at the below stores:
Last Amazon price update was: 20th April 2021 7:00 pm
---
2. Darn Tough Vertex No Show Tab Ultra-Light Cushion Running Socks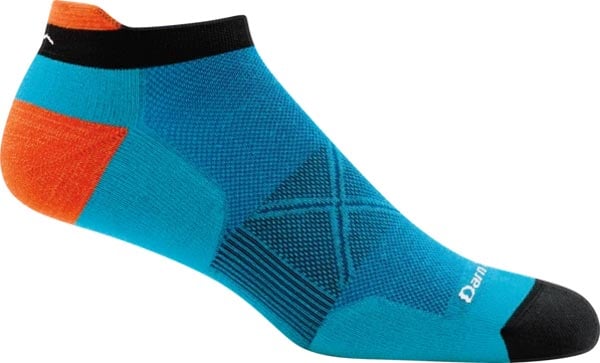 Darn Tough's Vertex No Show Tab Ultra-Light Cushion socks are incredibly soft and form-fitting and my choice for the second-best no show running socks. These socks are seamless too which gives a very comfortable feel on your foot with no risk of rubbing, and hence no blisters. I tested these socks during a grueling 35km trail race where it was raining throughout. My feet had been in so much water for so much of my race, yet my feet were immaculate by the end of it. There's also a nice soft layer of cushioning along the bottom of the sock for extra protection when running long distances.
You may notice that these Darn Tough ultra-light running socks look extra small before you put them on for the first time, so much so that you'll think you were sent the children's version by mistake. Joking aside, I was surprised at how much they stretched and how easily too. Probably attributed to the 5% lycra in their make-up.
This meant that when on, the fit was excellent with no bunching anywhere to be seen. You may think a material that stretches so much would feel tight on the foot but it doesn't. I should also mention that the other 95% of these Darn Tough Running socks consist of 50% Merino wool and 45% Nylon. I'm a fan of Merino wool for its ability to keep you cool in warm weather and warm in cool weather while maintaining breathability.
I was very impressed with how quickly the socks began to dry out every time I was done with a wet section of the course during the race mentioned above, this is a testament to their sweat-wicking capability. I finished that wet race with feet that felt good, which is saying something after everything I put them through, this has much to do with the breathability properties of Merino Wool.
Zappos.com
$16.95
See Deal
Darntough.com
$17.00

out of stock

See Deal
Backcountry.com
$11.86

out of stock

See Deal
Amazon.com
See Deal
Last Amazon price update was: 20th April 2021 7:00 pm
FULL REVIEW: Darn Tough Vertex No Show Tab Ultra-Light Cushion Review
---
3. Smartwool PhD Run Light Elite Micro Running Socks
Smartwool PhD Run Light Elite Micro Socks feature lightweight cushioning in the ball and heel of the foot for shock absorption with minimal in-shoe volume. These tab running socks also have foot-contoured mesh ventilation zones on the top section which help with breathability and also wick sweat away from your feet.
The PhD Run Light Elite Micro Socks also provide a virtually seamless toe box for extra toe comfort while running, and compression where it's needed, in the arch zone. They have a tab at the back too, designed to keep the socks from falling down and to give additional cushion to your Achilles.
PhD is Smartwool's high-performance line of products built to perform to the highest degree so you can imagine, how much testing and iterations have gone into these socks, one of Smartwool's best sellers. They are made in the USA with 56% Merino Wool (imported), 41% Nylon, 3% Elastane in a patent-pending construction method for exceptional durability and comfort.
Last Amazon price update was: 20th April 2021 7:00 pm
---
4. Balega Hidden Comfort Running Socks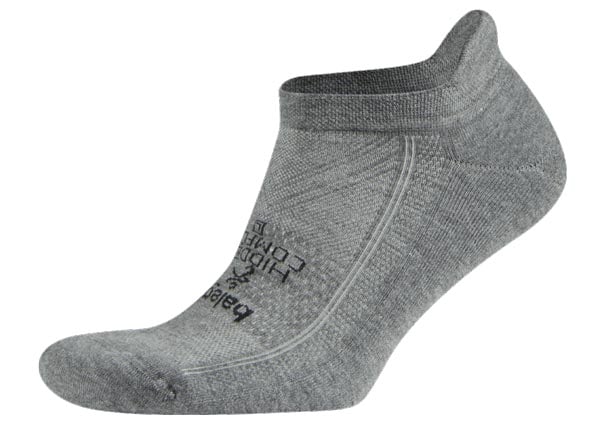 The Balega Hidden Comfort No Show Socks offer comfortable cushioning, excellent performance, and durability; these are features that make them a great choice for ultrarunners. Balega's Hidden Comfort No Show Socks are made with extra-fine yarn that gives a plush protective cushion without added bulk.
Balega uses their proprietary Drynamix moisture-wicking fibers with reinforced microfiber mesh ventilation panels to keep your feet dry and cool while also allowing for some level of breathability. They're seamless socks which provides an added level of comfort with the reduced risk of blisters. The heel tab at the rear is extra padded which helps prevent the sock from slipping into your shoe if that's ever an issue for your feet.
Zappos.com
$13.95
See Deal
Amazon.com
$14.00

4 new from $14.00

See Deal
Rei.com
$14.00
See Deal
Last Amazon price update was: 20th April 2021 7:00 pm
---
5. Stance Start Finish Tab Running Socks
Stance Start Finish Socks are made with FEEL360 which is Stance's exclusive fiber treatment that reacts to your body's temperature for high-performance comfort. Sounds a bit like magic, doesn't it! By infusing premium twisted yarns of 76% polyester, 20% nylon, and 4% elastane with their proprietary treatment, FEEL360 eliminates odor-causing bacteria as it wicks away moisture to keep you feeling fresh and dry while running. The material's construction is also very good at regulating the temperature of your feet.
I love the longer tab on these socks, it makes them easy to adjust with a quick pull and there's enough space on them for a reflective Stance logo, which will help you be seen when running in the dark. The sock material is lightweight with good padding in all the right places including the toe box and heel areas.
Like with all the socks on this list, there's mesh on the top for improved breathability performance to keep your feet cool and dry. This also helps the socks drain if they get wet during a downpour or a river crossing. Other features include a seamless toebox and compression in the arch for added support.
Last Amazon price update was: 20th April 2021 7:00 pm
---
BONUS – Injinji Run Lightweight No-Show Running Socks – NuWool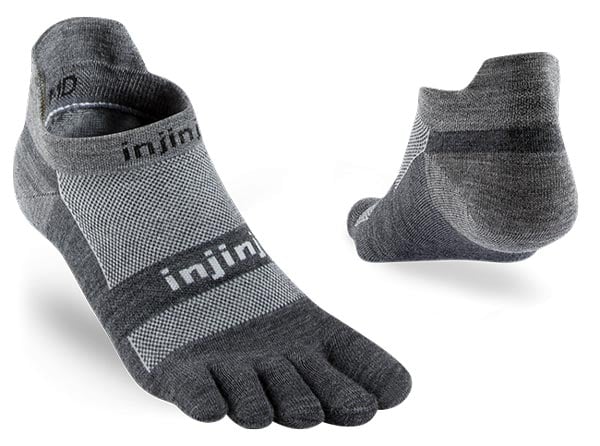 If you haven't tried toe socks before, you must because these Injinji Run Lightweight No Show socks may just be the best running socks for you. Now they aren't for everyone but many swear by them, and I enjoy wearing my Injinji's too. So, what are the pros and cons of wearing toe socks for running? Well, the key benefit of toe socks is that you shouldn't get toe blisters while running, provided you have a good pair trail running shoes that fit, and of course, the socks fit you properly too. The downside is that they take a little longer to put on, a small caveat if they prevent blisters for you though.
The reason for such good blister prevention is because each toe is protected with its own glove-like sock, which wicks sweat/moisture away from your toes and there's no way for your toes to rub against each other because of the material separating them.
Last Amazon price update was: 20th April 2021 7:00 pm
---