Advanced Primate is an American retailer specializing in curating quality adventure-worthy gear from American brands. In this Advanced Primate review, we cover what the brand is about, the types of product they curate and sell, and what differentiates Advanced Primate from the competition, as well as a review of their bestselling Mission Pack backpack.
ADVERTISEMENT
In today's day and age, it's easy to get overwhelmed by too much choice. When you're trying to live more intentionally and sustainably, it is important to ensure any gear you buy is of good quality, something you enjoy using, and that will stand the test of time.
These are all values held by us and also by the team at Advanced Primate – they specifically limit the product range they offer, and focus only on curating high-end adventure gear from American brands, and in this post we've also picked out some of the gear currently sold by Advanced Primate that exemplifies the type of cool adventure-worthy kit that they sell.
Advanced Primate Review: Table of Contents
About Advanced Primate
Advanced Primate is headquartered in Meridian, Idaho, with adventure on their doorstep in the form of the Boise Front Range mountains. Their handpicked product range is made up of products that the Advanced Primate team have themselves selected and tested in their wild backyard, and they stand behind those products with a commitment to top-notch customer support, plus a free returns policy and best price guarantee.
Their focus is on supporting American customers, and if you place an order over $50, it's free shipping in the US (if you happen to be in Boise, Idaho, then you can even get same-day delivery).
---
Advanced Primate Review: Mission Pack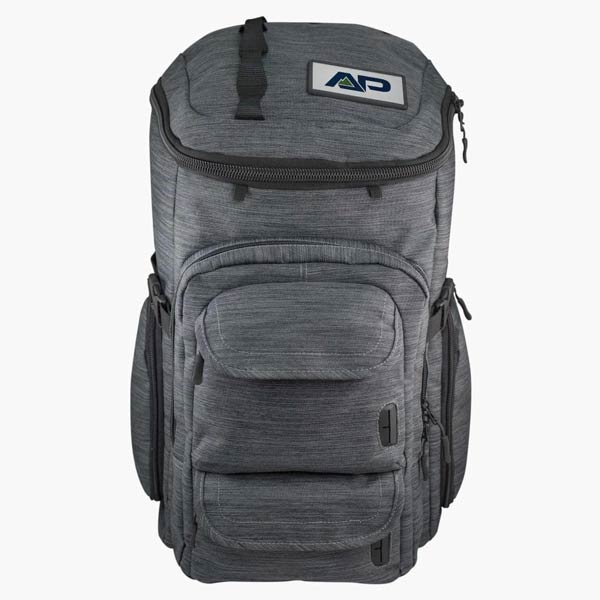 Because the Advanced Primate team is out there seeking out innovative, quality American brands, this means that when you shop at their store you may come across recommended new-to-you brands. We've found their website a great place to visit to get to know some innovative outdoor-focused American brands we weren't that familiar with previously.
As an example of the type of product you can expect from Advanced Primate's range, we got our hands on their bestselling backpack, the Mission Pack.
This pack is from California brand Origaudio and is packed with features – all while being competitively priced (and even more so when you get 15% off your order on their site using this link – our exclusive discount code gets automatically applied at checkout).
Features of this pack include: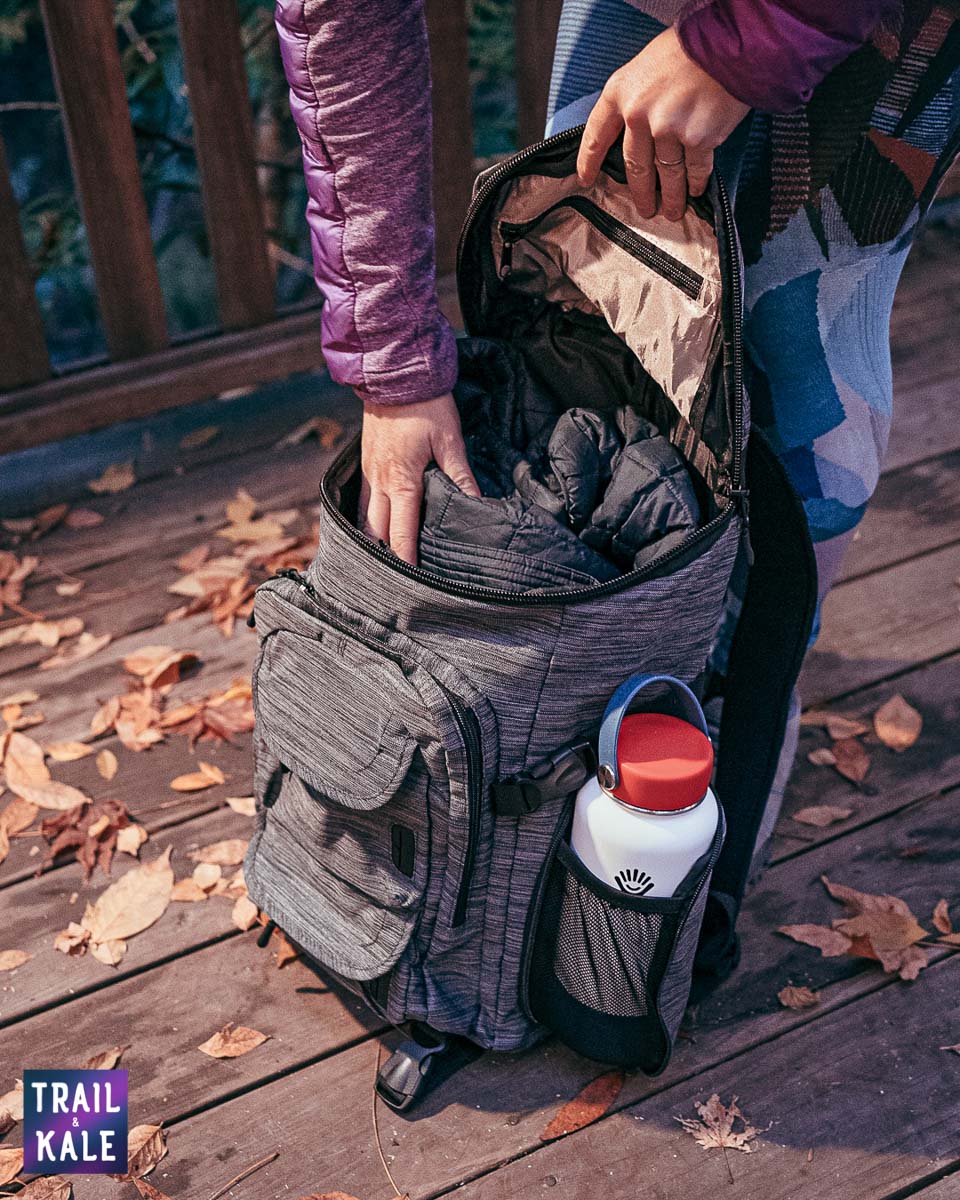 Insulated exterior cooler pocket
15 inch laptop sleeve
Two side water bottle compartments
Straps underneath for a yoga mat, blanket, skateboard, etc
Exterior water-repellant 600D 'snow canvas' material
Elasticated chest strap (great for securing the pack when on a bike or hiking).
Because of the shape of the main compartment, I've found this pack to be ideal for carrying camera gear while on hikes, and big enough to take enough food, water and stuff for our dog Kepler along for day-hikes. If he's lucky I also stow his doggy blanket using the straps on the bottom of the pack. It's also great for traveling as well as everyday commuting, given the laptop and water bottle storage features.
All in all, it's great to have found a backpack that doesn't leave you saying 'it's great, but I wish it had XYZ feature…' – this one is truly great given the quality of the design and all the features, and it should last me a long time.
Get 15% off the mission pack and any other items you order at AdvancedPrimate.com by clicking here to head to their website.
Mission Pack Review Image Gallery
---
Other products we love in the Advanced Primate lineup
We've been browsing Advanced Primate's website checking out some of the brands they sell – here are five top picks!
Ada Eco Yellow Tortoiseshell Polarized Sunglasses
These polarized vintage-inspired tortoiseshell shades are made from cotton-based acetate and sustainably-sourced wood, with stainless steel hinges.
There are a lot of sunglasses out there with this tortoiseshell pattern, but many are not made from quality acetate and lack the technical features such as the polarized lenses and stainless steel hinges that give these sunglasses a look and feel of quality, as well as long useful life.
These shades are, naturally, very Instagram-worthy 🙂 yet also actually practical for everyday activities and weekend adventures, especially given that the lenses are polarized, which is particularly great for when you're on or near water or snow.
---
Farm to Feet American-made wool socks
100% made in America wool socks made from American wool!
The range of Farm to Feet socks also offer some sweet designs, and socks specifically designed for running, hiking and skiing, ranging from low-profile trainer-liner style, to full length wool hiking socks.
The Farm to Feet socks pictured here with the PNW landscape design are the 'Cascade Locks 3/4 Crew' hiking socks, which have targeted foot support, light cushioning, seamless toe closures, and are made of 100% US Merino wool.
We are big fans of merino wool for socks and clothing, as it is naturally odor and bacteria-resistant, moisture-wicking, soft and itch-free – a perfect material for hiking and running socks.
---
Stanley Classic Outdoor Growler Gift Set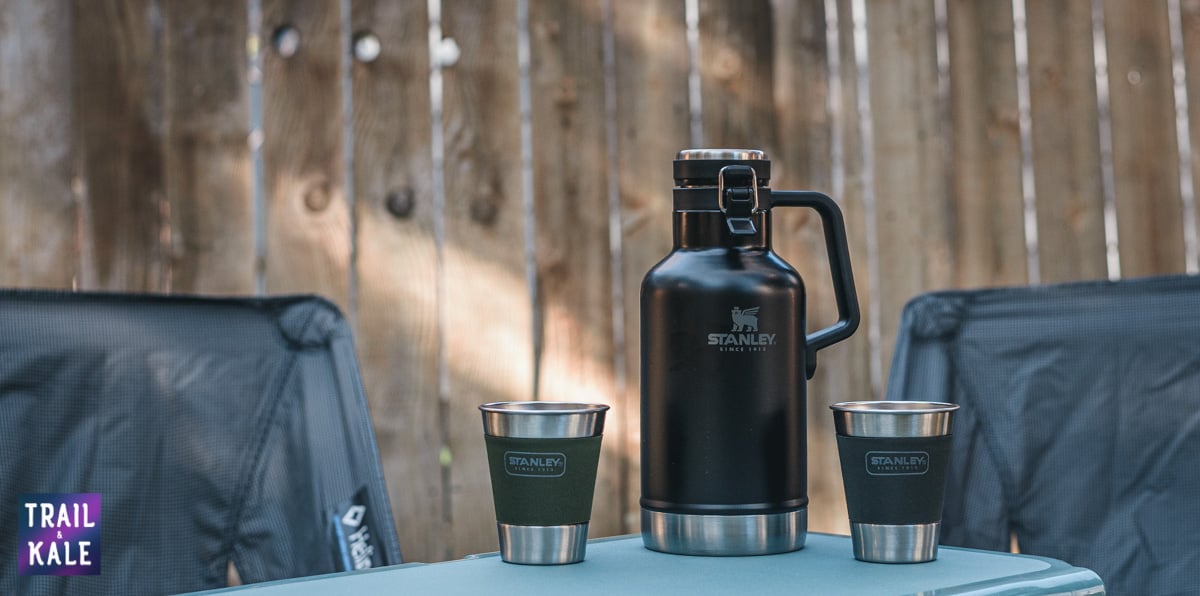 We have this Stanley Growler set and love it – it includes a stainless steel 64oz growler (stores 4 US pints) and four matching stainless steel tumblers.
The double wall insulation keeps hot drinks hot, and cold drinks cold for hours, so it's great to have with you on adventures (ours lives in our campervan!). To learn more and see more photos, have a read of our review.
---
Crescent Rocker Luna Snowshoes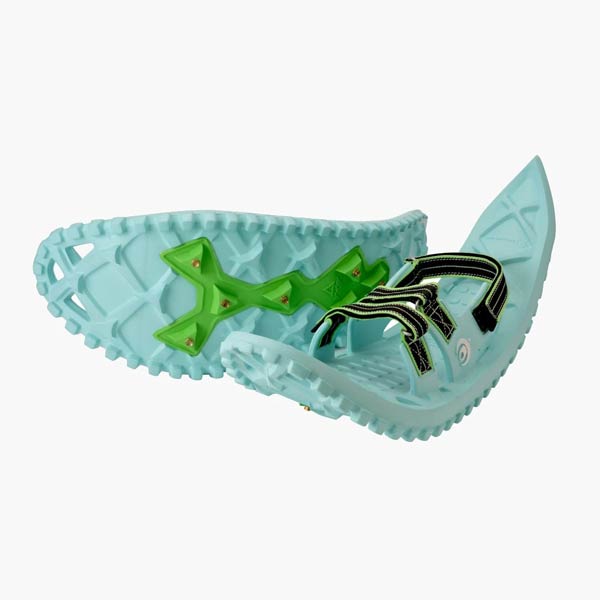 Soft, lightweight and bendy snowshoes, perfect for light hikes and running in the snow – need I say any more? Ok – I will. They're designed to be as comfortable as the shoes you have on, and the flexible, bendy rocker springs with your foot, so you can run or walk with a more natural gait than more traditional snowshoe designs.
The material used to make these foam snowshoes is the same as what is used to make many different types of running shoes – the concept has been repurposed by Crescent to make these innovative snowshoes!
Rocker platform bends and rolls with your foot.
Simple, secure hook and loop bindings.
Serious traction with durable rubber lugs and optional ice cleats for hardpack & icy conditions.
Recyclable through athletic shoe recycling programs.
Recommended for hiking and running on packed trails, flat to rolling terrain. Helloooo winter trails!
---
Adventure Medical Kits Mountain Backpacker Medical Kit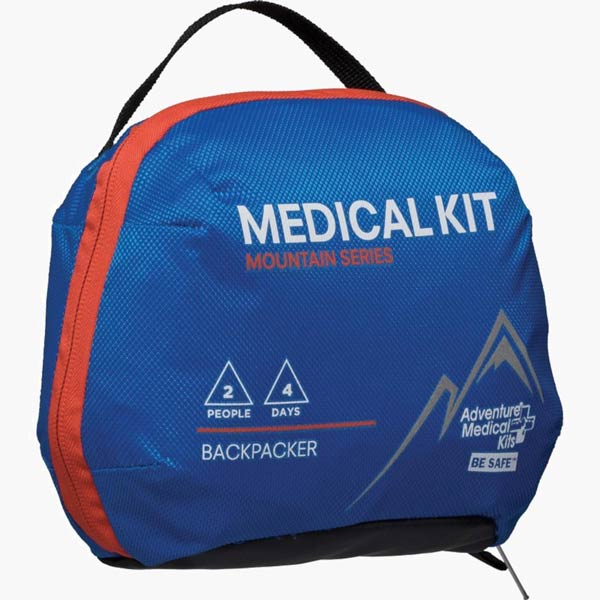 Anyone who plays in the mountains or on trails should have a quality medical kit to carry with them and keep in their vehicle.
If you're going to get an adventure medical kit, make sure it's a good one in a water-resistant bag that has the most appropriate selection and quality of first aid items for your terrain and type of adventures – especially if you're going to be going out into the wilderness and in more remote places with harder access, limited or no phone coverage, and few other people around.
This particular backpacking first aid kit includes an irrigation syringe, butterfly bandages, a range of dressings, and moleskin to help stop blisters from developing, plus a guide to wilderness medicine. The contents are organized into separate compartments which you can access when you unzip the bag, so it's easier to put your hands on the right kit in an emergency.
---
Let us know in the comments below if you have any questions about Advanced Primate or the Mission Pack covered in this review. Happy trails!