Welcome to our Best Women's Waterproof Running Jackets guide which features the top 5 lightweight waterproof jackets for women trail runners, ultrarunners, fastpackers and hikers. When running in Fall and Winter (or rainy days in general) it's important to have a reliable waterproof running jacket that won't soak through and will keep you as warm and dry as possible. Because waterproof running jackets are usually quite expensive, It's important to invest in a durable running jacket that will last long enough to give you good value for money and of course, perform as expected without letting rain in. There are few things worse than running when you're soaking wet and getting colder and colder the longer you're out there. Don't let winter ruin your running motivation, buy the right gear and the bad weather will seem insignificant.
When buying your next waterproof running jacket there are a few essential features that you'll want to look out for, and these features are my ranking criteria for this 'best-of' list. For a waterproof running jacket to be great, it must:
be fully waterproof. If the product marketing says water-resistant or water-repellant then it may not actually be fully waterproof- beware!
be lightweight. Avoid being weighed down by a jacket that absorbs water, even if it keeps you dry underneath.
have some level of breathability. At some point, you're going to be running in the rain while the temperature isn't crazy cold, like in the Fall or Spring for example. A breathable jacket will ensure you don't overheat while running by helping moisture (i.e. sweat) pass away from your body.
be form-fitting. Extra wind resistance while running is a real 'drag', especially on a wet and windy day. Make sure your jacket fits your body's frame closely, if that means you need to drop down a size, consider it. Having a women's waterproof running jacket, rather than wearing one designed for men, is important particularly if you're curvy, so you don't feel like you're running wearing a big flappy waterproof bag!
All of the women's waterproof running jackets in this list have the important features listed above, so whichever one you choose, you'll make a good buying decision. All these jackets are impressive so your final decision may actually come down to price, or how stylish you feel the jacket looks.
RELATED: The Best Waterproof Running Jackets for Men (Buyer's Guide) / Ultimate Beginner's Guide To Trail Running
With these features in mind, I've picked out a selection of waterproof women's running jackets that you're going to be able to invest in and use for years to come. This list of the 'best women's waterproof running jackets' is continually updated, so make sure you check back before buying your next winter running jacket.
1. The North Face Women's Flight Futurelight Jacket
This premium trail running jacket from The North Face is one of the best women's waterproof running jackets available. It's lightweight, packable, made from soft fabric that is quiet, meaning it doesn't 'rustle' when you move. The women's Flight Futurelight Jacket is designed to be highly breathable so while it is fully waterproof, it helps disperse sweat to keep you warm and dry.
The North Face describes the Futurelight jacket as 'An ultra-thin, nimble garment that feels comfortable and provides the protection needed against the elements in the harshest environments'. Sounds like just the right waterproof jacket for any ladies heading out for long trail runs and ultramarathons in changeable and/or soggy wet conditions.
As well as these features, we love that this women's waterproof running jacket is made from 88% recycled materials, comes with a lifetime warranty and can be machine-washed.
This premium jacket comes at a relatively high price, but if you're looking to invest in one of the best women's waterproof and breathable jackets on the market then this would be a great choice.
Weight: 8.32oz (236g)
---
2. Arc'teryx Norvan SL Hoody – Women's
The men's version of this Arc'teryx waterproof running jacket also made our men's waterproof running jackets list, and like The North Face's Flight Futurelight jacket, the women's Arc'teryx Norvan SL Hoody is designed with hardcore trail running in mind, and so it is necessarily very lightweight, breathable and, of course, intended for use in even the wettest conditions. You could take this jacket on mountain ultramarathons or multi-day fastpacking trips and it should stand up to a variety of challenging weather conditions.
I particularly like that the Norvan SL Hoody's hood is fitted and has an elasticized brim to it, which helps keep rain/sleet/whatever precipitation out of your eyes when running, and negates the need to wear a cap under the hood for this purpose (although a cap can still be worn under the hood if you like). Plus, it's one of the lightest waterproof running jackets available and the most lightweight option on this list of women's jackets. The trade-off for this supreme light-weight is that the Norvan does not have pockets.
Weight: 3.88oz (110g)
Last Amazon price update was: 8th October 2021 12:00 pm
---
3. On Waterproof Anorak – Women's
The On Waterproof Anorak women's has many practical features that will keep bad weather out while still allowing for airflow and breathability. The hidden vents on the front and rear will help increase airflow through the jacket while still making sure the rain stays out. The On Waterproof Anorak is a great mixed-weather running jacket too because it packs down into its own inner pocket ready to be stashed into your hydration pack at a moment's notice, with ease.
The jacket is made with a premium three-layer membrane which is how it's completely waterproof and windproof while still allowing for that dynamic breathability. Elements in the lining are also able to transport moisture from the body and expand as they do so which according to On means the more you sweat the more breathable the jacket becomes.
We like that the materials have been responsibly chosen. The advanced waterproof membrane is not only breathable, stretchable and durable, but it's also entirely PTFE-free.
The fit is a bit looser than the slim fit styles of the Arcteryx and Salomon jackets described in this list, which is good if you prefer a looser fit, or if 'slim-fit' apparel doesn't suit your body shape.
RELATED: ON Running Reviews: On Shoes & Apparel Reviewed
---
4. Lululemon Break A Trail Jacket
The flattering fitting waterproof Lululemon Break A Trail running jacket has fully sealed seams and is designed specifically for running even when it's a torrential downpour outside. The Break A Trail jacket features side vents to help keep you cool (although zip them up when the downpour arrives!), two chest pockets and two hand pockets, and, of course, an adjustable hood. There is also an hidden phone sleeve in one of the pockets.
We also love that this jacket is available in colors other than black… as Lululemon often rotate their color availability it can vary, but at the time of writing there are camo and pale pink options, as well as black.
---
5. Marmot Women's Precip Eco Jacket
This jacket is the eco-conscious version of Marmot's best-selling PreCip Rain Jacket. The Women's Precip Eco Jacket is lightweight, breathable and waterproof, and made from 100% recycled nylon fabric.
Similar to the other jackets on this list, the Marmot Precip waterproof jacket packs down small and has taped seams to help keep water out. It also has a stowable hood, adjustable hem and 'pit-zips' which can be undone to cool you down without removing the jacket.
The Women's Marmot Precip Eco jacket offers great waterproof features, a large selection of color options, and is less expensive than some of the other options on this list – although it is heavier and more 'rustly' than some of the other options on this list. It is suitable for trail and regular road running, as well as other activities such as hiking or commuting.
Weight: 11.4oz (323g)
Backcountry.com
$59.97
See Deal
Rei.com
$74.73
See Deal
Amazon.com
$82.50

3 new from $82.50

See Deal
Zappos.com
$69.99

out of stock

See Deal
Last Amazon price update was: 8th October 2021 12:00 pm
---
*BONUS* – On Weather Jacket – Women's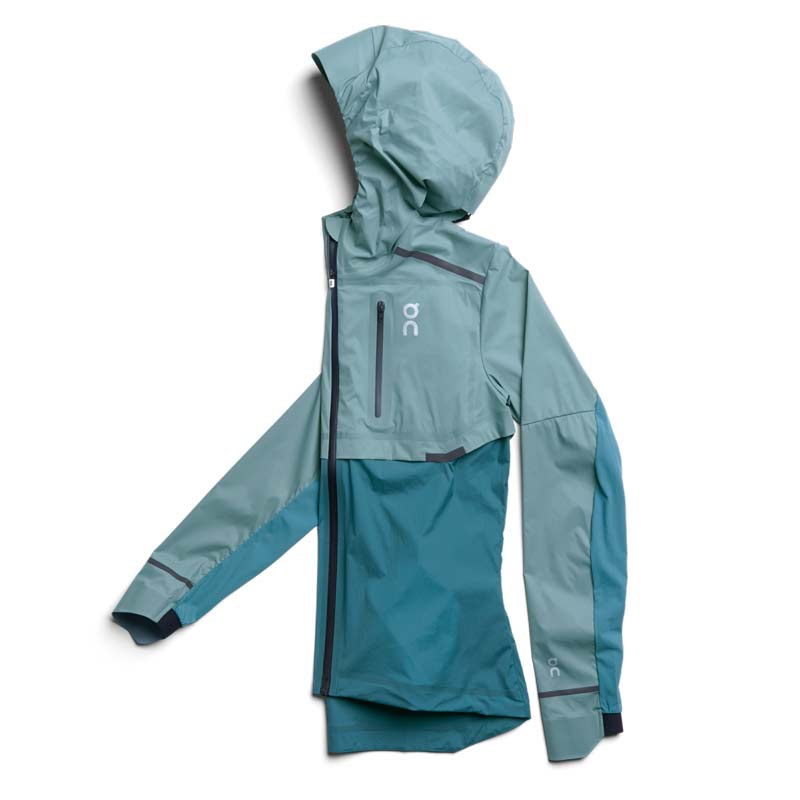 This women's running jacket weighs hardly anything and packs down small, and, as with other On Running clothes, the On Weather Jacket is a slim, flattering fit. The On Weather Jacket's hood is also very well-designed to stay on your head! An adjustable toggle at the back tightens the fit, a built-in semi-rigid visor shields your face from the elements, and the shape of the hood fits my head. This jacket, however, will not hold up to a heavy rainstorm due to the stretchy underarm fabric not being waterproof. Having said that, its an incredibly versatile and lightweight jacket that is sufficient for running in light rain and windy weather.
The On Weather Jacket doesn't have zips in the armpits – instead, it has slits in the front and back of the jacket with the top portion of material overlapping the bottom on the outside. This allows air to flow through the jacket, stopping you from over-heating.
I regularly run in my On Weather Jacket, and wrote a review which you can read by clicking here: On Weather Jacket – Women's Review.
Weight: 9.79oz (228g) for the men's version (women's version is lighter due to smaller sizes)
- Advertisement -