I think it's fair to say that trail running is no longer considered a niche sport. Its fast growth within the last few years has led to a huge increase in products hitting the market, making buying chooses harder than ever. This concise list of the 5 best men's hydration packs for trail running will help you decide which race vest is best for you. This gear guide is continually updated, so make sure you check back before buying your next trail running hydration pack.
RELATED POST: Best Trail Running Hydration Packs for Women
Most trail runners nowadays will own at least one hydration vest, as it's the best, and most streamlined way to carry essentials including water, energy food, spare clothing (including your running hat when not being worn), mobile phone, keys, and even trekking poles… the list goes on and is only limited to your creativity :). The alternative to a hydration vest is bleak, and that involves stuffing your pockets full of necessities that will bounce up and down during your run, turning what should be a fun experience into a punishing one.
Without a race pack, you may even have to resort to carrying items in your hands, not a good situation, especially as you may need to use them during gnarly sections of trails.
The reason I personally own more than one is that, for my short runs, I don't need the capacity for lots of food and water, so I take a smaller, much lighter race vest. Of course, the most versatile hydration vests are the ones with a higher capacity that can be worn for ultra marathons and also shorter runs.
I've had a fair amount of experience trail running for many hours at a time in the mountains, so hopefully, this experience of successes and failures will help you here.
A great race vest should be:
comfortable (form-fitting)
have a good storage capacity, and easy access to the compartments/pockets while on-the-move
durable if you intend to be out on the trails a lot. A good pack will last many years and should become your companion out there
as lightweight as possible
stylish, after all, who doesn't want to look stylish, given the choice!?
With these features in mind, I'm here to help you find a hydration vest that you'll be happy with, that's also going to be the best choice for you.
This trail running hydration pack gear guide is going to focus on what I'll refer to as mid-capacity packs, which are the most popular choices for most trail runners, beginners and experienced alike. A race vest is not something to cheap out on, and it's important to remember that comfort, storage capacity, and durability are the three top features to be most concerned about when choosing one of these 5 hydration packs. All hydration packs on this list are excellent hence them being on this 'Best Of' list in the first place, so read carefully about each one below and choose one based on how you intend to use it.
1. Salomon Adv Skin 5 Set – [EDITOR'S CHOICE]
The Salomon Adv Skin 5 Set Hydration Vest Sensifit construction offers a snug, precise, comfortable fit and balances the load between the front and the back, so you can move quickly and freely.
An innovative elastic sternum-strap design allows you to adjust and connect your pack quickly while on the move; with non-constricting breathing during intense activity.
The pack can carry poles and accessories too and comes with 2x 500ml soft flasks that due to the design of soft flasks, will stay balanced as you run, with zero sloshing or bouncing.
It also has multiple solutions for storing collapsible running poles and comes with a little whistle, an item that's often required in mountain races. If you want a more impactful whistle though, check out the Fox 40 Sonik Blast Whistle on Amazon. This race vest is my top choice for trail runs from 10km to 50 miles.
Weight: 309g / Storage Capacity: 5 Liters
2. Ultimate Direction Ultra Vest 4.0 – [BEST STORAGE]
The
Ultimate Direction Signature Series Ultra Vest 4.0
will be your long-term ally out on the trails. With a 10.3 liter capacity, more than the others on this list, the Ultra Vest 4.0 is a do-it-all vest that will be just as good for the half marathon distance as it is for 100km.
The vest is made from a mesh fabric with 4-way stretch nylon that helps to eliminate irritation/chafe from sensitive spots like shoulders, neck, and ribs. The two pockets in the front each house a 500ml soft flask, for a total of 1L of hydration capacity. Two UD branded bottles come with the race vest set. Among the front pockets, are additional compartments for a mobile phone, camera, and even collapsible trekking poles. The vest is also compatible with a 2-liter (70 fl. oz.) reservoir, but this is sold separately.
There are also two lightweight T-hook adjustable sternum straps that let you comfortably snug down the fit that's perfect for you.
Weight: 206g without bottles / Storage Capacity: 10 Liters
3. Salomon S-Lab Sense Ultra 5 Set – [BEST MINIMAL]
The Salomon S-Lab Sense Ultra 5 Set is built on Salomon's SensiFit system that's designed for a contoured, comfortable fit that's snug and close to the body.
There are lots of pockets for storage that are all easily accessible. These pockets include 2x front soft hydration pockets, 1 chest zip pocket, 2x side zip pockets, 1 back kangaroo pocket, 1 chest stretch pocket, 1 back main compartment, and 2x front stretch pockets.
Salomon uses elastic power-mesh materials for the Sense Ultra 5 Set that is lightweight and completely chafe-free while running. This breathable and moisture-wicking unisex race pack also includes a whistle (a requirement in many long mountain trail races), reflective decals for safety if running at night, and 2x 500ml soft flasks for hydration.
Weight: 190g / Storage Capacity: 5 Liters
4. Osprey Duro 6 Hydration Pack – [BEST PRICE]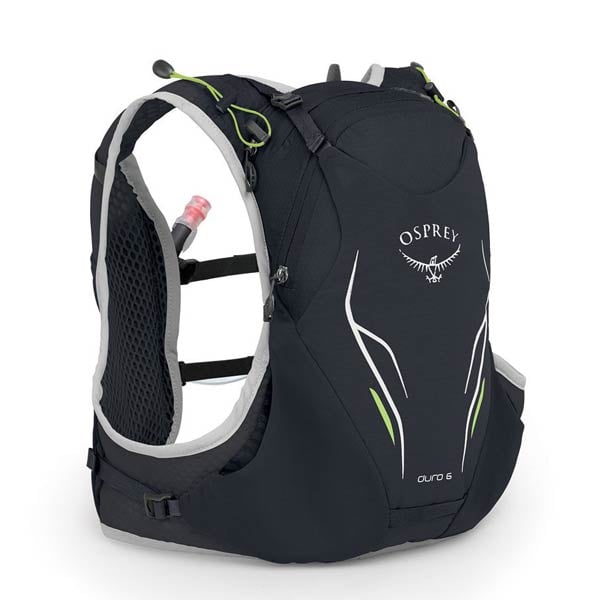 The Osprey Duro 6 Hydration Pack offers room for extra layers, a 1.5-liter reservoir for water and plenty of pockets for fueling long days out on the trails. Osprey is taking a slightly different tack with hydration with the Duro 6, because they encourage using the rear of the pack for your hydration storage, in the 1.5-liter reservoir that comes with the race vest.
I love that Osprey has added a QuickConnect™ sternum magnet for the hydration pipe so that it's easy to access on the move, no more flapping your arms about and looking down to your chest to find your hydration nozzle, so to speak!
There are front panel stretch-mesh compression pockets and vertical zipper stash pocket for a phone. If you prefer, there are also dual, extra-large stretch-mesh pockets to store your phone, food or water bottles; the lower stretch-mesh harness pockets are good for storing lighter weight food or supplements.
The rear has lots more storage with the main compartment having a dual zippered panel so that it's easy to access and grab essentials on the move. If you do stuff the back full, then there are two upper compression straps to pack it down for you. This pack also has storage for trekking poles. It comes with a safety whistle too, which some mountain trail races will require you to have. If you want a more impactful whistle though, check out the Fox 40 Sonik Blast Whistle on Amazon. This is the best-priced vest in this list but remember, don't choose your pack solely on price, be sure to weigh up all the features and see if it's right for you.
Weight: 312g / Storage Capacity: 5 liters for Size S/M or 6 liters for Size M/L
5. CamelBak Ultra Pro Hydration Vest
The CamelBak Ultra Pro Hydration Vest is made from a lightweight 3D vent mesh that's breathable and comfortable during long runs.
The dual adjustable sternum straps stabilize the pack, reducing any bounce as you run. There are plenty of easily-reachable pockets for stashing a layer, snacks, energy gels, and whatever else you may need.
Available in 3 different size options and you'll also get 2x 500ml (17oz) high-quality CamelBak branded soft flasks included. It also comes with a little safety whistle.
The CamelBak Ultra Pro hydration pack was Xavier Thevenard's race vest of choice when he won UTMB in 2018.
Weight: 160g / Storage Capacity: 6 Liters
---