Your Super is a superfood company that specializes in nutrient-rich, healthy food powders as diet and wellbeing supplements.
What sets Your Super products apart is that their powders are truly all-natural, with nothing added, just 5-6 naturally or freeze-dried organic, non-GMO plant-superfoods. No 'natural' sweeteners like stevia.
Nothing artificial or natural gets added at all, in fact.
In this Your Super review, I share more background on the brand and their top products, including reviews of their popular women's wellbeing supplement, Moon Balance, their Skinny Protein powder, and the unique Golden Mellow superfoods mix.
---
Your Super Review – Table of Contents
---
About the company
This California-based company specializes in organic superfood powder mixes to supplement your daily nutrition.
Superfoods are plant-based foods that contain high amounts of micronutrients, vitamins and minerals.
For many of us, it's likely that we don't always take on a sufficient amount of superfoods in what we regularly eat and drink each day, or week.
These supplements are designed to enhance your nutrition, especially where you feel you need to boost what vitamins, minerals and micronutrients you're taking on board – whether that's for general health, hormone or other wellbeing reasons.
There are a lot of companies out there selling various types of superfood powders and supplements.
However, a mixture of clever marketing by those companies and lack of end-customer awareness often results in people buying so-called natural supplements that contain a lot more than just the superfoods we want to consume.
For example, we regularly see brands offering products stating there is nothing artificial in their products.
But, what these other brands don't tell you is that their powder supplements contain a load of sweeteners such as stevia, which is added to make the product seem more palatable to those with a sweet tooth, but provides little nutritional benefit.
What I'm loving about this particular brand is that with Your Super's products what you see is what you get.
They literally only contain the stated superfoods, in clearly labeled packaging, and all of these ingredients are transparently sourced from organic, non-GMO suppliers.
Oh – and each batch is independently lab-tested by a third party.
All this means that whether you're looking for a plant powder you can mix with water or your favorite plant-based milk, or perhaps you want something to add to a meal, smoothie or hot drink, then they probably have a blend that will appeal to you.
See the full range of powders on Your Super's website and read on for my review of their Moon Balance, Golden Mellow and Skinny Protein powders.
---
Moon Balance review
A bestseller, Moon Balance is designed to support female health with ayurvedic herbs and adaptogens.
Many reviews on their website (YourSuper.com) are from women of all ages who have been using this supplement to help with hormonal symptoms, whether that's pre-period or to handle a transition to menopause, for example.
Although this product is specifically targeted at women, it contains a range of beneficial superfoods.
The superfoods come from plants including Baobab, Maca, Beetroot, Hibiscus, Amla Berry and Shatavari that can benefit everyone – and so men may equally enjoy this superfood mix.
Personally, I've mixed it with water alone, and also enjoy it mixed with plant milk.
Moon Balance's taste is described on the company's packaging as being like a tart lemonade.
I'm not sure about the lemonade part, but it is a slightly tart, light taste, and palatable even just mixed with water. There's no unusual aftertaste and it's easy to drink.
However, you may prefer to drink this superfood powder mixed with a plant milk such as oat or hemp milk, either warm or cold.
The company describes this method of mixing as creating a 'Pink Latte' – and that is what it looks like, especially if you froth the milk.
You can also sweeten your pink latte with a syrup such as maple syrup, to your taste.
Another option is mixing it with sparkling water – or even soda water.
Additionally, like with all of their powders, you can also blend it into your favorite smoothie, or get creative with baking muffins, even.
---
---
Skinny Protein review
We've reviewed a lot of vegan protein powders here at Trail & Kale (here's our full list of the best), so I was curious to see how Skinny Protein stood up to those other plant protein reviews.
Skinny Protein is made using predominantly organic pea and hemp protein, which provide all essential amino acids.
Additionally, it has added protein and vitamins from its other ingredients, Spirulina, Moringa and Alfalfa.
It provides 9g of plant-protein per 15g serving.
This is consistent with other plant protein powders, which are typically stated with serving sizes that are double the size. With that in mind, this protein powder will deliver 18g of protein in a 30g serving.
This protein powder is not designed for weight loss, nor is it a meal replacement.
It's called 'Skinny Protein' because the blend is intentionally light on carbs, so you can take it to focus on adding more plant-protein to your diet.
Although made with hemp and pea protein, the taste of this protein powder is influenced by the spirulina and alfalfa ingredients, which give it more of a spinach-smoothie taste.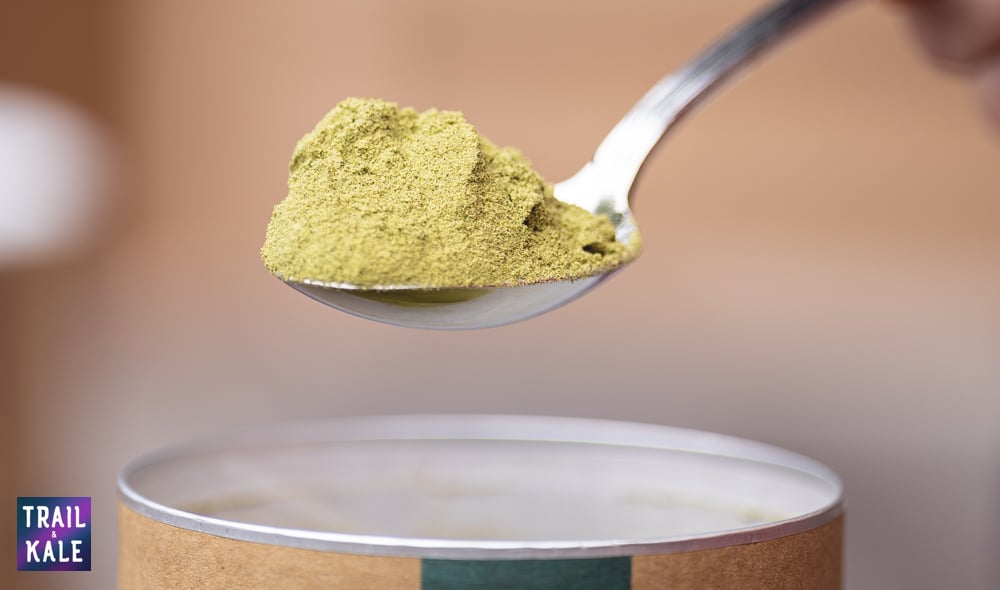 This is very different from many protein shake powders out there, which may come with a sweet flavoring such as vanilla or chocolate.
As well as blending it with water, you can also blend this powder with your favorite plant milk or smoothie.
I would say that as the powder simply mixed with water is an acquired taste, it's good to know what to expect when you order (and mix) it, as in my opinion, it's probably better enjoyed when blended with other fruits and plant milk, which of course provides additional nutrients (and calories) from those other ingredients.
---
---
Golden Mellow review
Golden Mellow is designed to be mixed into a superfood latte to help you de-stress.
The most desirable way to mix Golden Mellow powder is into a 'Golden Milk' style turmeric latte, with your favorite plant milk.
The company suggests you may want to enjoy it with warmed-up milk, so it's seen as more of a healthy alternative to a hot chocolate.
This is a great drink to have at the end of the day, as part of your wind-down.
It can also be enjoyed at any time of the day. There's no caffeine or melatonin in it, just natural ingredients, namely: turmeric, ginger, ashwagandha, cinnamon, lucuma and pepper.
Some of these ingredients do, however, have what is know as adaptogens, which can help with better sleep.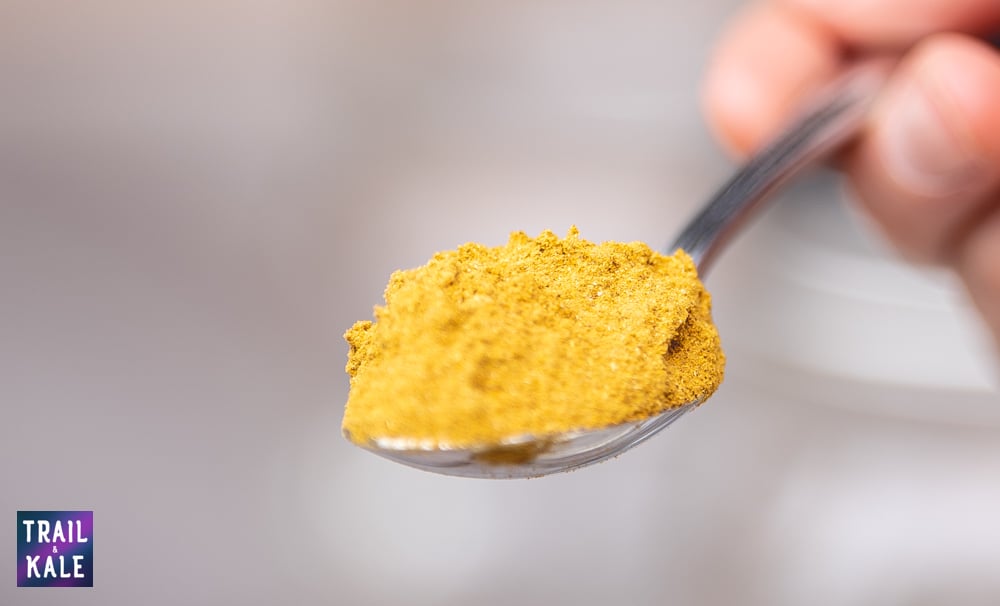 Turmeric is one of those antioxidant-rich superfoods many of us know are beneficial.
That being said, it can be an acquired taste and requires some creativity to make food or beverages that have enough turmeric to be beneficial, without the taste being overpoweringly spicy.
In my opinion, with Golden Mellow, they've managed to find that blend and get it just right.
I found their serving size recommendation to be about right for my taste, but you can increase or decrease the amount in each drink, to your preference.
Mixed the best way for you, this is a smooth mix to have in a warm drink in the evening, and a great alternative (with more nourishment) than, say, a regular black tea or coffee – both of which contain caffeine which can affect sleep.
---
Cost and where to buy
The majority of superfood powder mixes, including Moon Balance and Golden Mellow, cost $30 for a 40-serving tub.
This is great value for money considering if you had one of these drinks a day, one tub would last you more than a month!
You can also save 15% on this cost (bringing it down to just over $25) if you buy them on a 4, 8 or 12 week subscription.
Skinny Protein, which is a larger container (each 400g tub contains 26 servings), costs $35.
The button below will take you to their site where you can check for any current offers or bundles they may be offering right now:
---
Review summary
Your Super Reviews
PROS
As natural as it gets - with nothing added
Great value for organic superfood powder mixes - especially with subscription
Transparently sourced, clear ingredients
Diverse product range for different wellness priorities
CONS
Adapting to (and appreciating) natural superfood mixes with no additives or sweeteners may take some time
The protein powder (when just mixed with water) is an acquired taste
---
Image gallery