This one-day plant-based diet plan for runners is my challenge to you! Try eating plant-based food for one day, and see if it inspires you to turn one day into one week, or one day a week, or a whole month… and maybe even eventually completely change the way you think about food, nutrition, and fueling your running performance eating only whole-food, plant-based food.
This suggested plant-based diet for runners meal plan includes breakfast, lunch, and dinner meals for one day, plus running nutrition suggestions to take with you on your next long run.
We would LOVE it if you take us up on this challenge and try the easy plant-based meals we've included below – and let us know if based on this experience you think you may be interested and inspired to start transitioning to eating plant-based more often (or all the time)!
If you're not used to eating plant-based regularly I get it, it can be difficult to think of healthy, plant-based meals that will give you enough nutrition and fill you up without taking a long time to prepare or being too expensive to eat on a regular basis.
If that sounds like you then welcome to the club! This is where using services like Splendid Spoon, or Purple Carrot can be invaluable!
Click here to jump down and read the one-day meal plan but we hope you'll read the whole post, it's worth it, I promise 🙂
If you want to try plant-based with no meal prep…
Instead of following a meal plan, if you just want to try eating plant-based without needing to buy ingredients or do meal prep, to see how you like it over a week or more, check out this ready-to-eat meal delivery service from Splendid Spoon.
Splendid Spoon ships you a weekly package of freshly-prepared plant-based meals – for one, two, or all three of your day's meals, 5 days a week.
THey also offer a one-week package, which starts with a 'reset' day specifically for people who are transitioning to eating plant-based and want to kick-start things.
This package is often on offer, and the deals change regularly. We've seen deals that work out to cost $6.50 a meal – that's more than half of what you'd pay for a store-bought healthy meal!
The button below will take you to their site and the current deals available:
---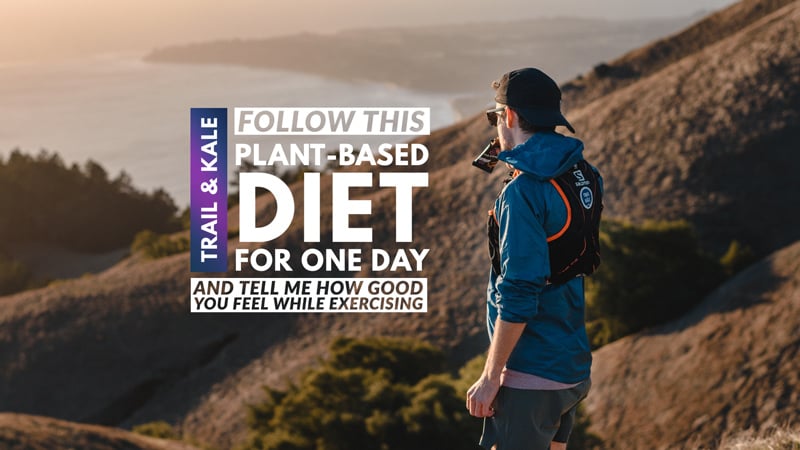 What is a "Whole-Food, Plant-Based Diet"?
Before we jump into our runner's plant-based meal suggestions for the one-day challenge, let's go over some background about eating plant-based.
This includes what a plant-based diet means, and why it is important that the movement towards eating plant-based is something that can grow and benefit not just ourselves and the animals we are eating less of, but ultimately the environment we live in.
A whole-food, plant-based diet is an excellent platform for people wanting to explore the benefits of living a more mindful lifestyle, not only to improve their own health but also for the welfare of animals and the protection of the environment.
As such, I believe it's more than just a diet and should instead be seen as a lifestyle choice.
Unfortunately, the word 'diet' has come to be associated purely with weight loss intentions, and many of those are fads, not to mention not good for your overall nutrition, health, and wellbeing.
When we say 'diet' we are referring to, quite simply, 'what we choose to eat'.
Nothing to do with starving, fasting, eating only soups or only animal fats, or anything unnatural for our bodies.
A common misconception about what it means to eat plant-based is that people tend to think that it means NO ANIMAL PRODUCTS, i.e. basically like being vegan.
That is not what eating plant-based is all about, in our opinion.
A whole-food, plant-based diet does not mean that you completely cut out animal products, including dairy, eggs, and even honey (that would be a Vegan diet).
And for clarity, a Vegetarian diet includes foods such as dairy products and eggs but not animal meat or fish!
We follow a plant-based diet but on occasion have a bit of chicken and fish. We always check that the meat is organic, and ethically sourced and that the animals have been treated well on the farm.
Personally, I believe that if you do eat animal meat then it should only be as a treat on occasion and not a frequent part of your diet.
A whole food, plant based diet means:
Limiting consumption of animal products with an open mind to transitioning to a new lifestyle that avoids them completely.
Eating whole foods that are minimally processed or preferably not at all.
Focusing on eating primarily plants, vegetables, fruits, whole grains, legumes and seeds & nuts.
Excluding refined foods like added sugars, white flour and processed oils.
Preferring locally sourced, organic food whenever possible.
Plant food groups to eat from:
Fruits (e.g. bananas, blueberries, oranges, strawberries)
Vegetables (e.g. broccoli, carrots, cauliflower, kale, lettuce)
Tubers & Starchy Vegetables (e.g. potatoes, corn, green peas, winter squash)
Whole Grains (e.g. barley, millet, oats, quinoa, wheat berries, brown rice)
Legumes (e.g. black beans, chickpeas, lentils, pinto beans)
Seeds & Nuts (e.g. almonds, pine nuts, sesame seeds)
To learn more about the benefits of eating a plant-based diet (including some FAQs for athletes), read this post next: The benefits of a plant-based diet for athletes
---
Why It's Important To Start Moving Towards A Plant Based Diet
Three key reasons for eating plant-based and cutting down meat consumption:
Environmentalism
Animal welfare
Personal health
Our choice of the food we eat is a fundamental influencer of how we behave.
In a runner's context, it's also important to reflect this in how we structure our nutrition plans for running and fitness activities, to ensure we are getting the right balance of nutrients and portions to fuel our runs, races, workouts, and adventures.
Many runners and other endurance athletes have seen performance and health benefits resulting from changing how they eat towards more whole foods and eating mostly plants to fuel runs and adventures.
---
A one-day plant-based meal plan for runners
These meals are simple, don't require too many ingredients, and are fast to prepare. Let's face it, if meal prep takes too long then you may struggle to stick with it, It's totally worth it though, so please do!
We have selected the meals from the Forks Over Knives Meal Planner service and tweaked them slightly to ensure they provide enough energy to power your running adventures.
Plant-based diet for runners: BREAKFAST
I'm sure you've heard the saying "breakfast is the most important meal of the day", well it's true.
This should be the meal that sets up your day with the intention of keeping you full until your next meal and providing energy for your body and brain to perform.
If your breakfast doesn't fill you up and you need to snack on something, try some organic almonds, dried berries, or carrot sticks.
They are super healthy, taste great, and can be grazed on throughout the day!
Fruit & Nut Oatmeal – Ready in 15 minutes
This is quick to prepare and can be easily adapted if your food tastes change. This basic recipe is all you need to get started … add as much or as little of the extras as you like.
Ingredients
¾ cup rolled oats
¼ teaspoon ground cinnamon/organic cacao powder
¼ cup fresh berries (optional)
½ ripe banana, sliced (optional)
2 tablespoons chopped nuts, such as walnuts, pecans, or cashews (optional)
2 tablespoons dried fruit, such as raisins, cranberries, chopped apples, chopped
Apricots (optional)
Instructions
Combine the oats and 1½ cups water in a small saucepan. Bring to a boil over high heat. Reduce the heat to medium-low and cook until the water has been absorbed about 5 minutes.
Stir in the cinnamon/cacao powder. Top with the berries, banana, nuts, and/or dried fruit, as you like. Eat while it's warm.
What To Eat During Your Run
The simplest food for runners that is completely unprocessed and plant-based is the humble banana. It even comes in its own wrapper!
Just remember to take your banana skin home with you and not leave it on the side of the trail.
Bananas have almost single-handedly fueled many of our ultra marathons, trail marathons, and long training runs, they give a great amount of energy and aren't too dry or harsh to eat when you're running long distances.
In addition to bananas, nuts, nut butter and dried fruits such as dried apricots are all great natural plant-based running fuel options.
You can put peanut butter or almond butter in a squeezy tube to eat more easily on the go, and it can also help to mix the nut butter with honey to have a runnier consistency that helps it move along the tube.
if you want a more handily packaged option, there are also now hundreds of companies offering minimally processed, plant-based energy bars that will also help fuel long training runs and races.
Plant-based diet for runners: LUNCH
Quinoa Curry Bowl – Ready in 15 minutes
This quick and easy dish uses "stir-fry" frozen vegetables, along with fresh ginger and garlic.
Frozen veg has come a long way, and they can be a healthy and delicious meal addition to prevent those situations where you get home very hungry and find there's no fresh food in the fridge to cook with,
When buying frozen vegetables, look for 100% vegetables without any added salt or oil.
Ingredients
¾ cup quinoa (dry)
1 teaspoon granulated onion
1½ teaspoon curry powder
1 bag (16 ounces) frozen "stir-fry blend" vegetables
1 tablespoon minced garlic (4 to 5 medium cloves)
1 teaspoon minced fresh ginger
2 tablespoons tahini (ground sesame paste)
½ avocado
Sesame seeds for garnish (optional)
Instructions
Stir the quinoa, onion, and ½ tsp curry powder together with 1½ cups of water in a medium saucepan, and bring to a boil. Reduce heat to medium-low and simmer, covered with a tight-fitting lid, for 15 minutes.
While the quinoa is cooking, place the frozen vegetables into a pot on medium-low heat, and cover to allow them to thaw and soften. Stir occasionally, adding a little water if needed. While the vegetables are warming, mince the garlic and ginger.
When the vegetables have thawed and softened (5 to 10 minutes), increase the heat to medium-high and stir in the garlic, ginger, and 1 tsp curry powder, cooking 1 to 2 more minutes. Stir in the tahini, adding a little water as needed.
Stir the quinoa into the vegetables and serve with chopped avocado and sesame seeds.
For some efficiency in multiple days' food prep, this quinoa mixture will also keep well in the fridge for a couple of days for tomorrow's lunch or dinner (just don't add the avocado).
Plant-based diet for runners: DINNER
Tucson Spicy Lentil Tacos – Ready in 35 minutes
Who doesn't like tacos? They are easy to make, you can mix up the contents to taste and they only take around 30 minutes to prepare.
If you've had a busy day and don't plan to spend the whole evening cooking then give this meal a try. Tacos are also great social food if you have guests over for dinner.
Ingredients
1 cup uncooked lentils, rinsed and drained
2 large onions, diced (about 2 cups)
2 tablespoons minced garlic
½ jalapeño, diced
One (1.25-ounce) package taco seasoning
2 cups vegetable stock
10 (6-inch) corn tortillas
Tomatoes (chopped)
Lettuce (shredded)
Guacamole
Jicama, peeled and shredded
Salsa
Instructions
Preheat the oven to 350˚F.
Bring the lentils and 2½ cups of water to a boil in a saucepan over high heat. Reduce the heat to low, cover, and simmer until lentils soften, around 20 minutes.
Saute the onions, garlic, and jalapeños in a saucepan over medium heat, stirring frequently, until the onions start to turn brown and translucent, about 8 minutes. Add water 1 to 2 tablespoons at a time as needed, to keep the vegetables from sticking to the pan.
Add the cooked lentils and taco seasoning to the saucepan. Mix well and add the vegetable stock, and bring to a boil, then reduce the heat, cover, and simmer for 6 minutes.
Drape each corn tortilla over two bars of a vertical oven rack so that the tortilla's two opposing sides hang down, evenly, facing each other. Cook the tortillas until crisp, around 6 minutes, then remove the tortillas from the rack and admire your new taco shells.
Spoon lentil mixture into the taco shells. Top with tomatoes, lettuce, guacamole, jicama, and salsa. Note, if you'd prefer, use romaine lettuce leaves as a wrap instead of the taco shells.
Let me know how you get on with these plant-based meals and if you got adventurous by adding extra ingredients 😉
If you're interested to learn more plant-based diet recipes you can use to make meals at home, check out our list of the best-plant based diet books next!
Happy Trails!!