Introduction
Looking for the most unique trail running races to plan for the coming year? You've come to the right place. We've handpicked a selection of unusual, adventurous and downright crazy trail running events for your consideration. We have intentionally focused our selections on sub-ultramarathon distances that do not require you to be a hardcore ultrarunner to complete – all of these are shorter than marathon distance trail running races, although some also have marathon and ultra-distance options available. Ultramarathon races and multi-day stage races and events are subjects of their own lists in their own right! Having said that, some of these races are still very tough and require some dedicated training 🙂
1. Mount Marathon Race – The 'Toughest 5k on the Planet' in Seward, Alaska, USA
If you're after something different to do during 4th July weekend then head over to Alaska to run this hardcore 5k race. To complete the race you have to run straight up the side of a scrambly, gnarly mountain, climbing c.920m (c.3000ft) and back down again. Most runners will take well over an hour to complete this one!
2. Red Bull 400 – The World's Steepest Running Race – Locations Worldwide
If running a 400m race up a ski jump (climbing 140m in the process) sounds like a fun challenge, then you're in luck! This is a pure uphill sprint, run at mountain elevations in various resorts. It's been held at 17 different locations around the world to date, including Austria, Switzerland, Utah and Poland.
3. Otillo Swimrun – Open Water Swimming and Trail Running Races – Locations Worldwide
Otillo has been putting on 'Swimrun' events since 2006.
What is a Swimrun?
A cross-country race, run in teams of two, involving travelling from A to B over trails (on foot) and open water (swimming), in multiple stages. Swimrun events vary in distance, from a hefty 75km over tricky terrain for the World Championship courses and around a marathon distance for the World Series courses, to 'sprint races', which cover a distance of between 15-17km in total (combined swimming and running distance) and 'Experience races', which cover between 5-7km in total – ideal for beginners. Our eye is on the Otillo Engadin event – a swimrun through the gorgeous Swiss alpine valley of Engadin. The water looks a bit chilly but the views surely make up for it!
Last Amazon price update was: 1st June 2023 3:33 pm
4. Man vs. Horse – A Marathon Race against Horses! Wales, UK
If you're truly after an authentic and unique trail running experience, and especially if you haven't run the green green lands of Wales, UK, then you're in for a treat with this unusual event! Man vs. Horse has been running (pardon the pun) since 1980, and yes, it is possible to beat the horses – if you're very quick. It's a reasonably priced and fairly low-key event, although now with 650+ runners, it's getting bigger each year.
5. Pack Burro Racing – Mountain Running Races… with a Donkey in tow! Colorado, USA
If you would rather race with a 4-legged beast, rather than against one, then perhaps Pack Burro Racing is the trail running race style for you. Born in Colorado mining communities, Pack Burro Racing involves running a mountain race with your friendly burro (donkey). Nope, you can't ride your burro, but you may carry him/her (if that is even possible!). This video from Salomon Running gives a bit more of a flavor of the races: The best way to get involved is to connect with the Western Pack Burro Ass-ociation, as you'll need to buy/borrow and ideally train with your burro before thinking about actually racing!
6. Fueled by Fine Wine – Wine Country Half Marathon in Dundee, Oregon, USA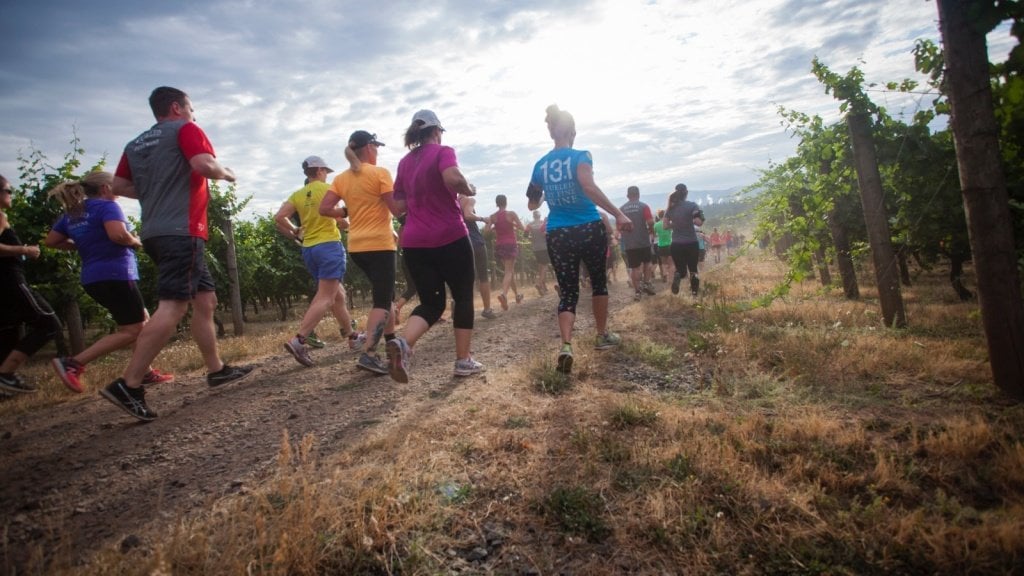 What could be better for a wine-loving trail runner than a race 'fueled by fine wine', run mostly off-road through the beautiful Dundee Hills Oregon wine region? The race looks awesome and their slogan 'punished by the hills, rewarded by the wine' is spot-on – finishing a race with a glass of Pinot Noir does make a change from chocolate milk and beer!
Read More Trail Running Inspiration and Event Lists
Are you looking for more race inspiration – perhaps a longer or shorter distance? Check out these posts:
advice section
for more advice on trail and mountain running, including what to wear and carry and how to fuel your race.