We've almost reached the end of 2016, and for most of us (and certainly us at T&K HQ), this means we start to look ahead to 2017 and think about what dreams we can realise, what trail running race ideas do we fancy and what adventures do we want to take on next year?
2016 was a big year for us, we both ran our first ultramarathons and had the opportunity to visit some gorgeous places in doing so. Here's our round up of 2016's races – perhaps you may find some ideas or inspiration in these for your 2017 trail running adventures?
Trail & Kale was born
Trail & Kale was born in mid-2016 – having evolved from Helen's personal running blog, we are now a fully-fledged, and still fast-growing community of global trail runners and adventure lovers. It has been an exciting journey growing T&K to this point, and this is just the beginning…
Thank you to all of you for joining us and helping make this possible – and here's to an even bigger, better and equally exciting 2017!

Trail running races & recommendations
CTS (Coastal Trail Series) Exmoor Marathon, April 2016
We kicked off the year with a spring trail marathon in Exmoor National Park, North Devon. CTS Exmoor Marathon is one of the UK's toughest marathon distance races, due to the amount of climbing involved: with 2000m of climbing and descending (on paper) and a varied mix of terrain, this was a big challenge, but it was big AND beautiful – what more could you ask for?
CTS events sell out several months in advance so get in quick if you want to sign up for 2017's series! They also run 10ks, half marathons and ultra-distance races.
Helen's 2016 CTS Exmoor Marathon review
Alastair's 2016 CTS Exmoor Marathon review
Keswick 50k ultramarathon @ Keswick Mountain Festival
Next up in May we headed to the Lake District (my first time!) to tackle our first ultramarathon. We know how to pick 'em – this one was another toughie, but hey, it's around one of the most beautiful parts of the UK, another National Park, and we were blessed with good (dry) weather!
The ultra was a beast of a challenge, especially as I had a sore ankle so pretty much had to hobble over any technical (loose rock, boggy, very uneven) terrain, but the feeling when crossing the finish line was incredible! Plus, we had the honour of running in the same race as Lizzy Hawker, who was in the Lake District to speak at the festival.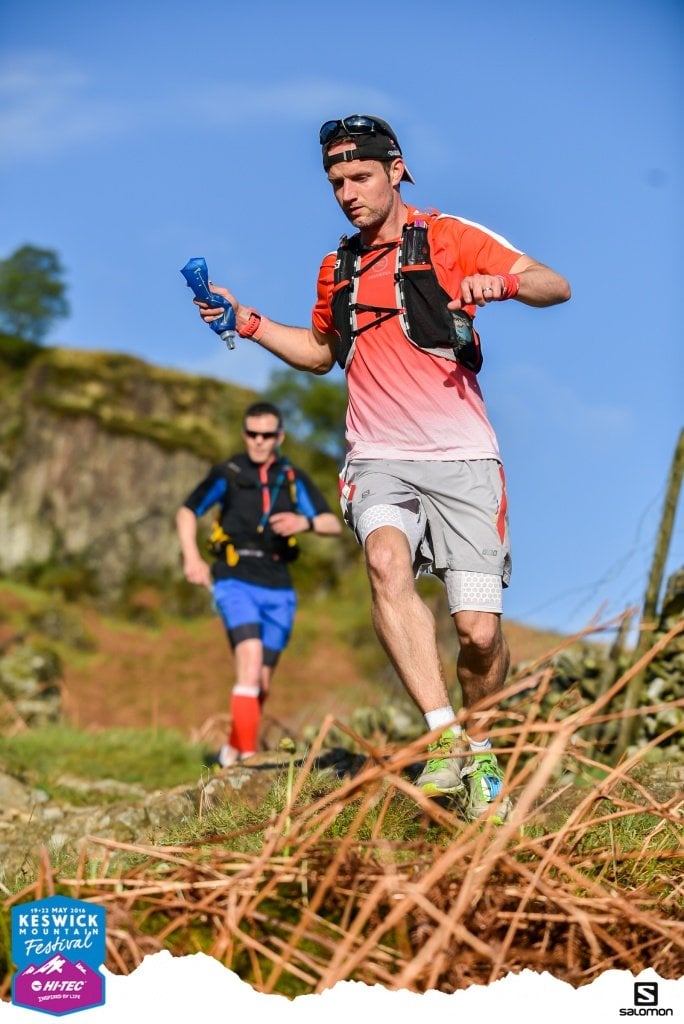 We highly recommend this fun weekend – which was full of speakers, music and other sporting activities, including shorter trail races, triathlons, sportifs and swimming events. NB 2017's event is to be held a few weeks later, in June.
Helen's review of Keswick Mountain Festival 50k Ultra
Alastair's review of Keswick Mountain Festival 50k Ultra
Trail Marathon Wales
We returned to Snowdonia (yes, another National Park 🙂 ) in June to race TMW for the second year running. This has to rank as one of the top trail marathons in the UK, a must-do!
Alastair had a great race, and I ran the half, still challenged by a sore ankle but at least I was able to get out and enjoy myself anyway. Read why we love TMW in our reviews (links below). Also note this, like the CTS events, sells out many months in advance, so get in quick if you fancy 2017's race.
Alastair's write-up: Trail Marathon Wales 2016
Race to the Stones 100k/50k
We were signed up to RTTS 100k in mid-July, which is billed as 'the UK's most popular ultra marathon', with c.2,500 runners and walkers registering for the 100k or 50k event, over either one day, non stop (100k or 50k) or two days with an overnight camp halfway.
Since registering, Alastair won a competition to go with Buff to run a race at the Buff Epic Trail in Spain a few weeks later, so this was on his mind as he toed the line at RTTS. I'd turned up having done hardly any training due to various ankle/heel problems but I'd paid a lot of money to be there, so it was worth giving it a go and seeing how I felt…
Check out my write of the RTTS experiences here: Race to the Stones 2016 review
Buff Epic Trail half marathon
This running weekend is held in Barruera in the Spanish Pyrenees every July – and every race at the event is HARDCORE! The terrain is the most technical we have seen, the scenery is indeed epic and – as it turned out – all the races are too. The ultra is a 105k, 8000m adventure, the marathon involves 3200m ascent/descent, and the half simply goes up a mountain, and back down the other side – a true skyrunning race, with 1800m ascent/descent, at elevation on some very challenging terrain including a particularly gnarly ridge which, if I had run, would have taken me a long time to navigate.
Alastair ran the half, which he can't recommend enough. For someone who can run a 1h40 road half, the fact that it took him 4h (147/425 finishers) shows just how epic this race was. Check out his write up for a great read and some great photographs of the race – definitely a good one for your diary if you fancy a challenging weekend in the Pyrenees in 2017:
Matterhorn Ultraks 46k/30k
We toyed with the idea of heading to Chamonix to run the 53k OCC in August, but then Matterhorn Ultraks caught our eye. Another awesome race, this time in the shadow of the Matterhorn on trails around Zermatt, Switzerland – we had to sign up.
I ran the 30k (32k, 2000m ascent/descent), Alastair took on the headline event (48k, 3600m ascent/descent).
All I can say is – get it in the diary for 2017! We may well go back again, it was a fantastic weekend – read all about our experiences here:
Helen's review of Matterhorn Ultraks 30k
Alastair's review of Matterhorn Ultraks 46k
Looking forward to 2017 adventures
Phew! So 2016 has been a fantastic year and we hope you all had great years too 🙂
Looking forward to 2017, we have some exciting adventures planned, including:
a road trip around New Zealand
another CTS Event – this time, Pembrokeshire Ultramarathon in Wales, UK at the end of April
Lavaredo Cortina Trail – a 46k race around the Dolomites in Italy at the end of June
We're still deciding what the rest of the summer's adventures – and would love to hear your suggestions for August / September / October ultramarathons, particularly between 70-100k and involving mountains – post them in the comment below!
Right then, I'm off to run off some Christmas calories – so all that's left is to wish you all a Happy New Year and here's to a 2017 full of trails, mud, fun and adventures!