Introduction
Whether you're a seasoned trail runner looking for your next trail marathon, or new to trail running and researching trail marathon events for the first time, we've summarized a selection of the best and most scenic destination trail marathons to have on your season's race plan!
We've intentionally sought out a mixture of some famous races and some you may not have heard of – hidden gems that can offer more adventure and excitement than just doing the race that everyone has heard of 🙂
Trail marathons are my favourite distance of trail running race – always a tough day out, always an adventure, but easier to train for than a longer ultramarathon race. Because we're talking trail, and not road marathons here, some of the distances are longer than 42km – think of the extra kms as bonuses allowing you to spend more time out on those beautiful trails.
Cortina Trail – Dolomites, Italy
The Dolomites are Italy's answer to Yosemite – in other words, simply stunning landscapes. The Cortina Trail is the little sister of the Lavaredo Ultra Trail, and takes place in June of each year.
RELATED: Best GPS Running Watches [Buyer's Guide]
This race is a great way to experience the energy and passion of running a true European mountain race, that follows a logical loop course starting and finishing from the beautiful mountain town of Cortina. Cortina is a few hours' drive from Venice, so you can combine a sightseeing trip to Venice with this perfect mountain race!
The North Face Endurance Challenge, Marathon distance – San Francisco, California
Excellent organization, beautiful course, and stunning sea level location – the marathon distance is part of a wider high-profile running festival weekend, with a headline 50 mile event, as well as 50k, half marathon and 10k distances. Every runner should have the opportunity to run amongst Marin's golden fields of rolling hills and breathe that delicious Pacific sea breeze. As an added bonus, the race now finishes with a run over the Golden Gate Bridge – while it's not a trail, it's a spectacular way to finish the race!
Golden Gate Dirty 30 – Black Hawk, Colorado
Held in Golden Gate State Park, Colorado – around 30 miles from Denver, this dreamy trail race flows over meandering single-track through groves of aspen, green meadows and thick pine forests. Rocky ridges provide majestic views of snow-capped mountains. Dreamy! Oh, and of course you get a beer afterwards, and there are rewards for the 'bloodiest' finisher 🙂
Link: Dirty 30
Distance: 50k
Ascent: 2,200m
Transgrancanaria Marathon – Canary Islands, Spain
Part of a bigger trail running weekend festival, the marathon distance of Transgrancanaria is one of the shorter distances that traverses the Spanish Canary Island of Gran Canaria. The race is point-to-point, starting from the center of the volcanic island, and finishing near the beach at the coastline. While it descends more than it ascents, there is still a significant amount of climbing involved – be warned 🙂 and also remember that the descents are what shatter your quads! This was our first marathon, and certainly a baptism of fire, but a great welcome into the exciting and crazy world of mountain trail running. Gran Canaria is a great place to spend a long weekend – there are plenty of quality hotels in which to relax after a challenging day out on the mountain trails!
Mont Blanc Marathon – Chamonix, France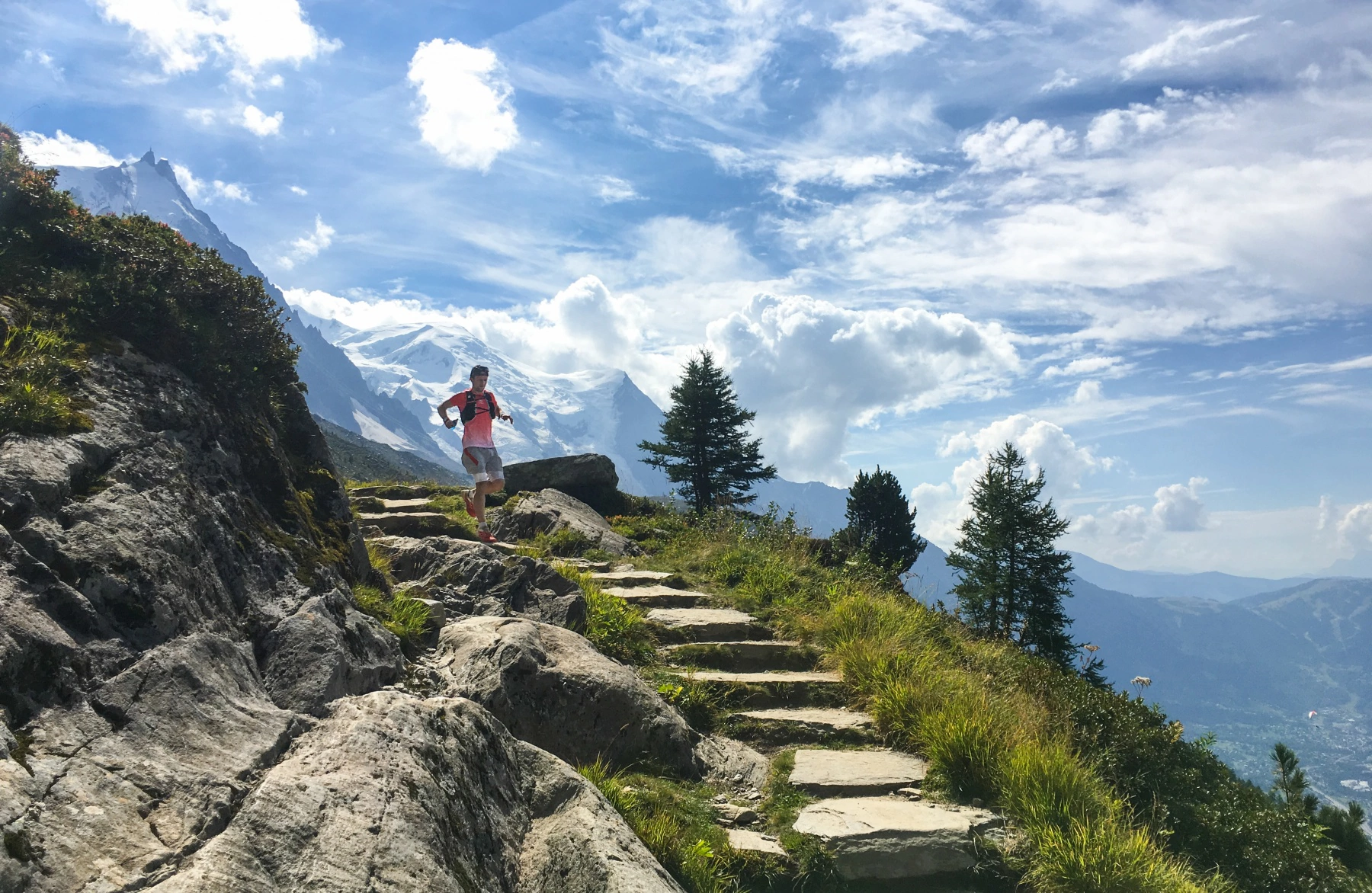 The 42k distance at the Marathon du Mont Blanc travels around the Chamonix Valley in the French Alps, starting from Chamonix town centre and ending at Planpraz. For world-class mountain trail running, look no further!
RELATED: Best Trail Running Shoes: Buyer's Guide
Buff Mountain Festival Marathon – Barruera, Spanish Pyrenees
It's a pretty surreal spectacle to arrive in a tiny remote town in the Pyrenees, and see the population more than double as people from all over the world turn out to celebrate the crazy sport of mountain running. Buff Mountain Festival (formerly known as Buff Epic Trail) is hosted in Barruera, a couple of hours from Barcelona in the Spanish Pyrenees. Expect a technically challenging and stunning mountain race, with excellent organization and a fiesta-like atmosphere.
Distance: 42k
Ascent: 2,900m
Read more
Are you looking for more race inspiration – perhaps a longer or shorter distance? Check out these posts:
Wondering what to wear for a mountain marathon?
See this article for a video where we show you what we packed for a mountain marathon race in the Swiss Alps (Matterhorn Ultraks). Also, have a read of this article for our guide on what to pack for trail running.
Also – check our advice section for more advice on trail and mountain running, including what to wear and carry and how to fuel your race.