One of the highlights of our recent trip to New Zealand (January 2017) was having the opportunity to spend a day running the Routeburn Track.
ADVERTISEMENT
The planning of this adventure came about as a combination of:
(a) looking for an inspiring day-run in the South Island's mountains and
(b) by running this one-way track, being able to cut out 4 hours of driving on our onward journey from Queenstown to Milford Sound.
What is the Routeburn Track?
The Routeburn Track is one of New Zealand's 'Nine Great Walks'. These are premier tracks that pass through diverse and spectacular scenery, are well-marked and maintained.
It is a one-way track, 32km long, with c.1400m of climbing and descent, which traverses the mountains between Glenorchy, c.40 minutes drive north of Queenstown, and a place called The Divide, which is c.40 minutes drive south of Milford Sound.
New Zealand's Department of Conservation describes the Routeburn Track as:
"…the ultimate alpine adventure, weaving through meadows, reflective tarns and alpine gardens…"
Having read about it, and seen some fantastic photos of the area, how could we turn down the opportunity to take on this adventure?!
Preparing to run the Routeburn Track
The track is designed for people to be able to hike it in 2-4 days, depending on speed, staying in pre-booked huts along the way. When I came across it and noted it was 32k long, I knew it could be run in a day, and finding this post on ultra-running blogger Sarah Lavender Smith's blog cemented our decision to go for it. Check out Sarah's post, which is packed full of great info about running the track too.
How do you move your car?
If you are running a one-way track as part of a road trip, how do you get your car from the start to the finish? Trackhopper, a car-relocation service, based in Glenorchy, was perfect. Sarah's blog and Trackhopper's website explain more about how the service works.
Basically, you arrange to meet/leave your key in a locked box for them at one end, and someone will drive your car to the other end of the track, where it, and the key (in a locked box) will be waiting for you to drive away! Awesome service, and it's run by friendly fellow trail-runners Mike and Kiyomi, what more could you ask for?
This picture, from New Zealand Department of Conservation's website, also shows the track compared to the road you need to drive on to travel from Queenstown to Milford Sound: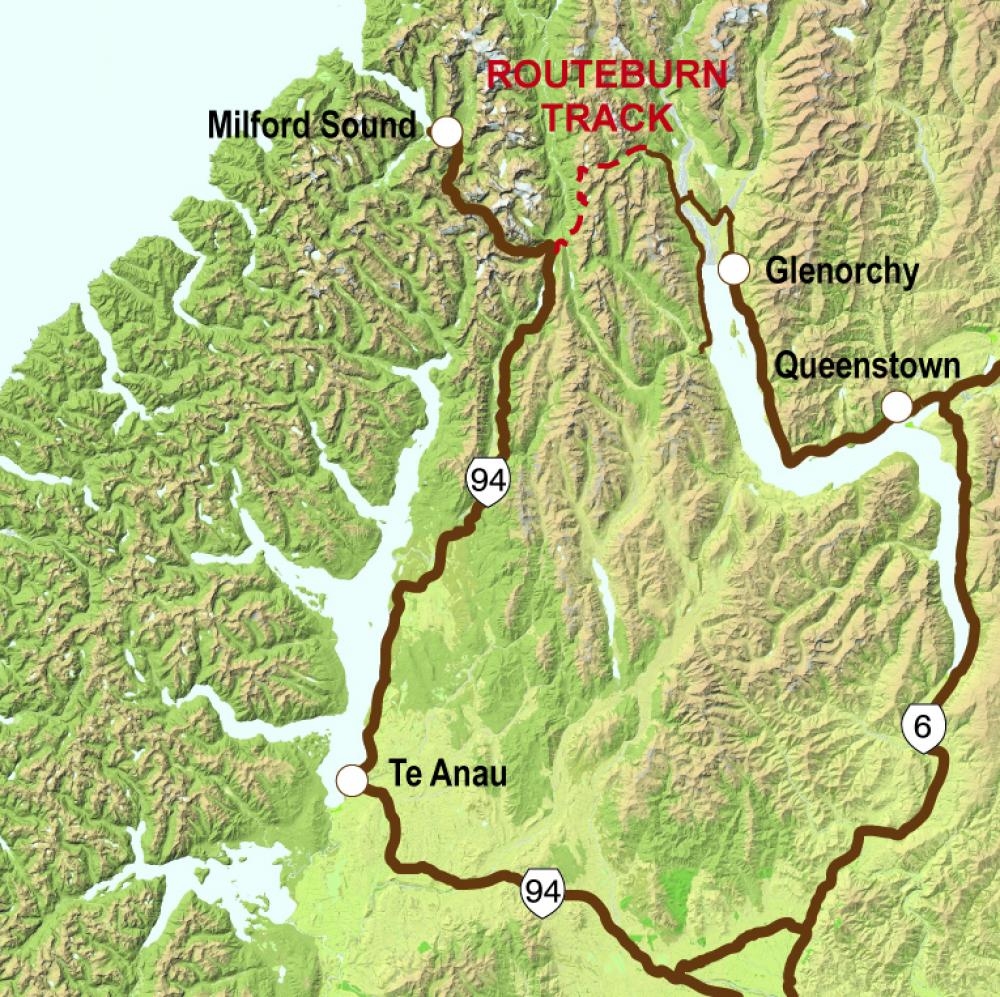 Routeburn Track elevation profile
Running the Routeburn Track
What really struck me about this track was the diversity of the terrain and scenery – so much gets packed into the 32km.
Here is the Strava Route with plenty of statistics for you to look at in preparation for your own adventure along the Routeburn Track.
Routeburn Shelter to Routeburn Falls Hut
We started out at the trailhead by the Routeburn Shelter around 8am, where there is a car park and toilet block. The first part of the trail is a relatively gradual climb, ascending c.750 meters over c.12km. The trail is well-marked and not particularly technical in most places along this section, and it passes past two huts, the Routeburn Flats and the Routeburn Falls (which is by a nice waterfall, with some beautiful valley views).
We stopped at the Falls hut to take a few pictures, and by that time there were several hikers, who had stayed there the night before, preparing to continue their trek that morning.
Routeburn Falls Hut to Harris Saddle
After leaving the hut, we continued the climb (which was getting steeper) up to the highest point, the Harris Saddle, where there are a few small huts (no toilet facilities though!). Along the way, the trail traverses the side of the mountain above Lake Harris, a big, dark mountain lake.
It was a great feeling getting to the top at Harris Saddle! We were just above the clouds, and knew it was predominantly downhill from that point – although still 20km to go.
Harris Saddle to Lake Mackenzie Hut
This was my favourite section, as we were high in the cloudforest, with mountain views all around, good quality and well-maintained trails, and surrounded by nature. The bush itself was gorgeous (so different from the shrubs and trees at home!), and we enjoyed the company of local birds, including Fantails, and the unique Kea: big, green mountain parrots, with a distinctive loud 'KEA' call!
It took a while to descend down to the next hut (by a gorgeous blue-green lake), mainly because we kept pausing to take in the views.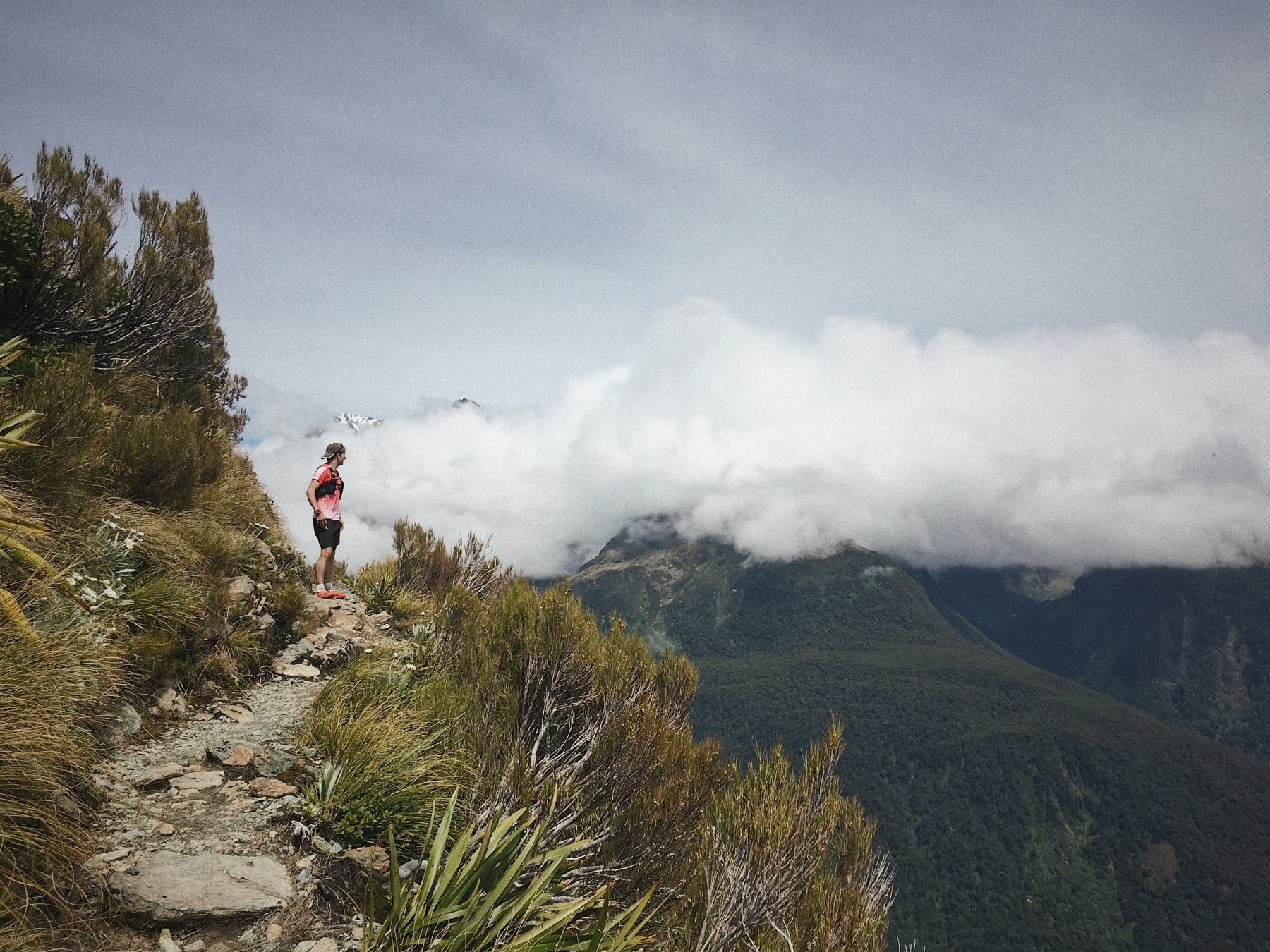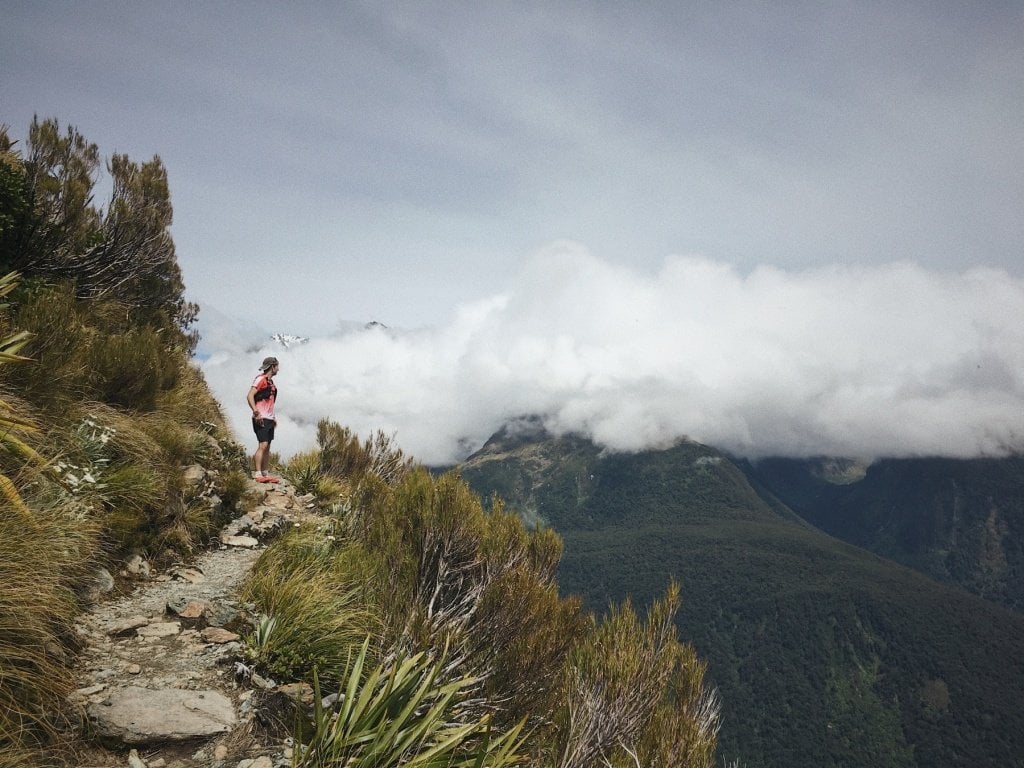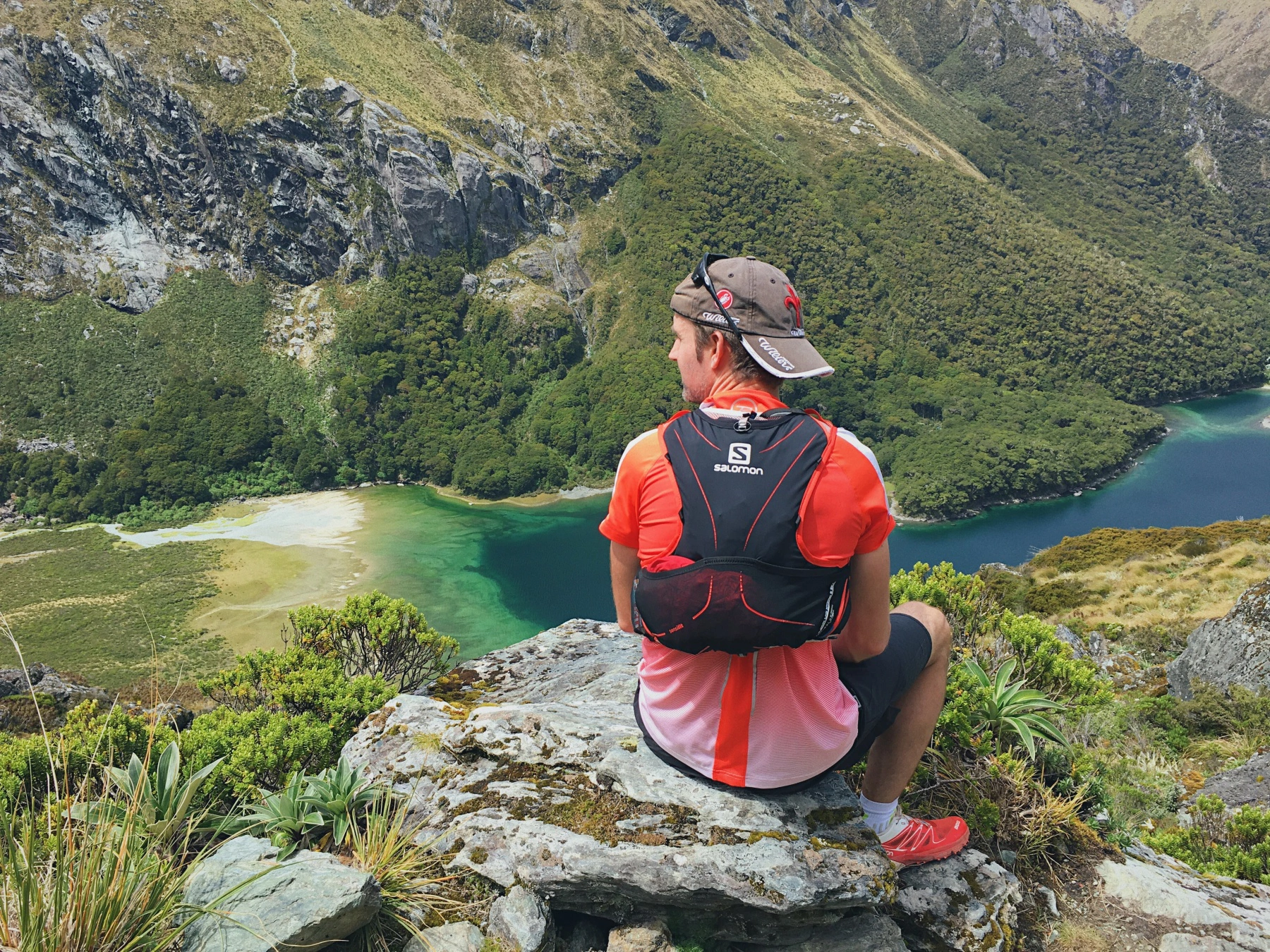 Lake Mackenzie Hut to The Divide
This section was the most tricky. From looking at the profile, it looks like a nice steady descent for most of the way to The Divide, with a few small climbs. In reality, the descent was mainly through (gorgeous) beech forest, but was really tricky to run on in many places, and we were reduced to a fast hike for much of the way (well, Alastair could have run more, but he had to keep to my pace and not leave me behind, of course!).
If you do decide to do this run, watch out for this and bear this in mind that it's not an 'easy' quick descent, especially if you start to run out of time or daylight, it could get tricky.
The photo below was of an easier section, with well-maintained and groomed trail.
Having the right weather
It took a leisurely 7 hours for us to complete the route. Before deciding whether to go for it, we kept an eye on the weather, as it needed to be looking good for us to plan to go up there. If a storm had been forecast then we may have had to miss out… As it was, it was a perfect dry, mild and largely sunny day!
The fortunate weather meant that the terrain was pretty dry on the mountains, although still wet and slippery in the forest. We had to take care and pick our way slowly through the forest sections, particularly going downhill – these were pretty slow-going. We also stopped a lot to take all the photos and – yes – I needed a breather at the top of some of the climbs!
We ate two Energy Bars and a banana each along the way, which was enough to keep us going for 7 hours.
Kit for a day out in the mountains
I was excited to be able to take some new Salomon kit out for a spin on this trip, both in Abel Tasman National Park (where we ran part of the Abel Tasman Coastal Track, another 'Great Walk') and running the Routeburn Track.
New leggings, shoes (S-Lab Wings 8) and race vest – a little Christmas gift to myself – all got thoroughly tested. The shoes were a good choice – all-round trail running shoes, lightweight and good grip on rock and slippy surfaces, with some cushioning.
Recommended run trip
If you are planning a trip to New Zealand and are confident mountain running independently for similar distances, then I'd highly recommend running the Routeburn Track for an awesome one-day mountain adventure!
Call for comments
Have you hiked or run the Routeburn Track? What are your other favourite NZ trail running routes that visitors should check out?