In this post I'm sharing a variety of techniques and methods we have found helpful to calm our dog down after exercise and help him to engage his 'off-switch'.
These are also useful in general to calm down our dog and help him relax in the house. Some have been the result of working with dog trainers, and others are tips we picked up from experience, research and other dog owners since bringing Kepler home.
We have no doubt these tips will also help calm your dog down if he is similar to our energetic Border Collie!
We had a steep learning curve in ensuring we are helping Kepler learn to be a happy yet calm and relaxed pet dog at home and on the trails.
Border Collies are famous for being highly intelligent and highly energetic dogs, and our dog loves to do energetic activities such as trail running and dog sports such as his current favorite, frisbee!
These sports help him satisfy his need to burn off some energy and 'work' – the work being running with us, or chasing, catching and returning the frisbee as a reward for doing dog tricks and obedience.
While it's great that Kepler loves to go trail running and play frisbee, but while it does get him some exercise, it also pumps him up on adrenaline and we've found that a short game of frisbee can actually make him MORE herdy and energetic when we get home, which he exhibits in trying to do things like chase the cats or barking at people running on TV, or simply just milling about and not settling down.
These tips have all been helpful to us in learning how to calm our dog down at times when he is overly excited, as well as generally helping him learn and develop into a calm and composed adult, rather than a reactive overly-alert one, both at home and when we are out in public or on the trails.
If you also trail run with your dog or have an energetic dog like Kepler, then hopefully these will be helpful for you, too.
---
1. See if a Thundershirt works for your dog
When Kepler was around 8-9 months old he started going through a mega 'fear' phase.
This is obviously quite common with dogs of that age, but as he was already pretty reactive to people moving and doing 'strange' things, so this was a pretty intense time for all of us.
With 4th July coming up, we were particularly worried that experiencing loud fireworks during a time while he was so fearful would be pretty traumatising for him, so were willing to try anything to reduce the stress he could feel on that day in particular.
I was pretty skeptical about whether the Thundershirt would actually help, but as it didn't do any harm to try, we bought him one and got him used to wearing it each evening.
The way the Thundershirt works is to provide a mildly compressive 'hug' around the dog's body, which they find comforting (plus, he looks cute in it – I call the Thundershirt his pajamas, as it's made out of a similar soft fabric to PJs!!).
We noticed a clear difference in his behavior immediately – it was actually quite amazing!
When Kepler wears his Thundershirt we can tell from his body language that he relaxes more easily and dozes off much quicker than he would otherwise, so I often put it on him after a long run, to help him relax after all the excitement of trail-time.
While the Thundershirt may not work for everyone it is definitely worth a try if you need to calm your dog down after exercise or generally help them relax more easily.
US online stores selling the Thundershirt:
Last Amazon price update was: 29th September 2023 1:30 pm
UK online stores selling the Thundershirt:
Last Amazon price update was: 29th September 2023 1:30 pm
---
2. Exercise their brain
This would be the subject of an entire post in its own right – it is a huge myth that Border Collies can be satisfied by tons of exercise alone.
Apparently, all that achieves is a very fit (and possibly amped-up) dog wanting more and more exercise.
Of course, he also gets physical exercise, but not tons. On days when he doesn't run with us, he gets a 15 minute structured walk and/or a frisbee or recall session, for example. 15 minutes, not two hours!
Instead of over-exercising our dog with lots of cardio (which he is probably perfectly capable of doing for hours), we are very intentional about ensuring he gets a good amount of structured mental training every day, which is rewarded with his daily portion of food.
Some examples of how we do this are:
Teaching our dog new tricks
Working on improving other tricks he has learned in the past (building distance, duration, height, etc)
Playing 'find it' – hiding treats all over the house and letting him have a good sniff-session to find them. Sniffing is surprisingly tiring for many dogs and a natural thing that they do to self-soothe.
Giving him enrichment-focused puzzle toys (like those listed in our best dog toys guide)
Canine fitness exercises such as dog burpees and doing sits/stands on uneven/wobbly surfaces (if we don't think he is too tired to do these after running around). We use a variety of household, gym and dog-specific items for this – such as our BOSU and his K9 FitBone, which is basically a big wobble-cushion.
We all know how tiring learning new things can be – and conversely, how it can be hard to sleep after a lot of exercise if your brain is still thinking about 'stuff'.
It seems Kepler is the same, as he can sometimes seem to have MORE energy after a run or frisbee game than on days when he doesn't get to do those things.
These mental games have proven to be a great way to calm our dog down after exercise, as they allow him to focus on the tricks/sniffing to earn his meals.
US online stores selling the regular-size Fitbone for dogs:
Last Amazon price update was: 29th September 2023 1:30 pm
---
3. To calm your dog down try giving them CBD Oil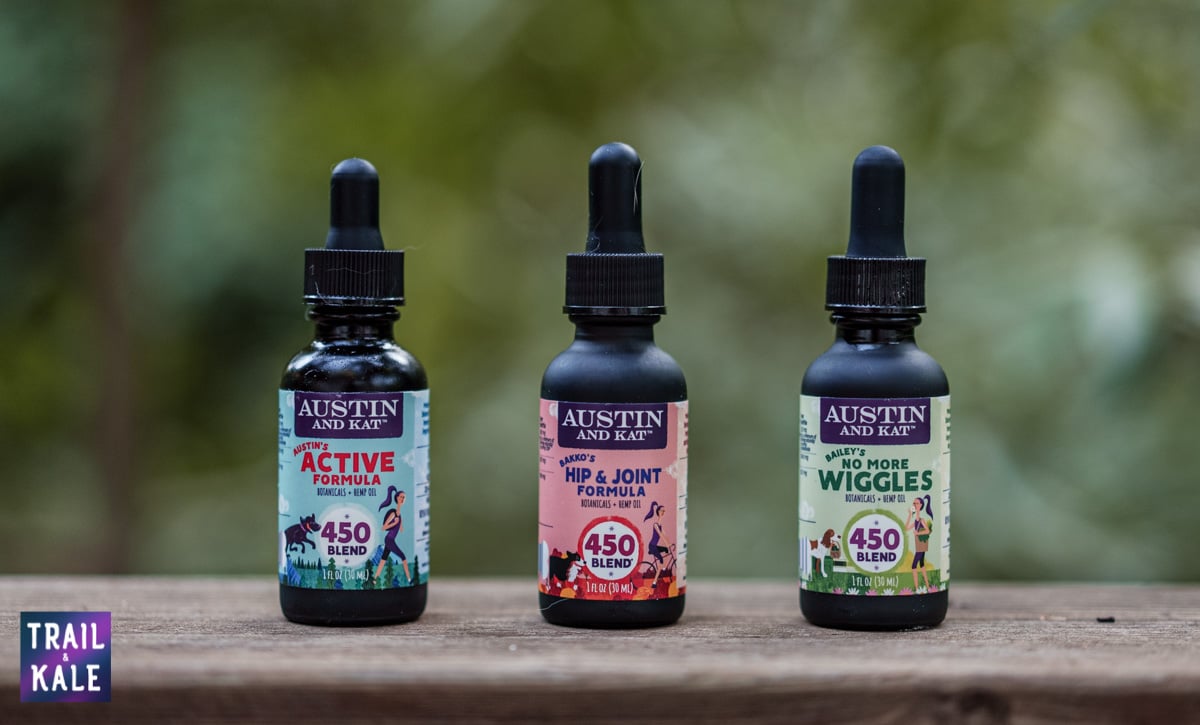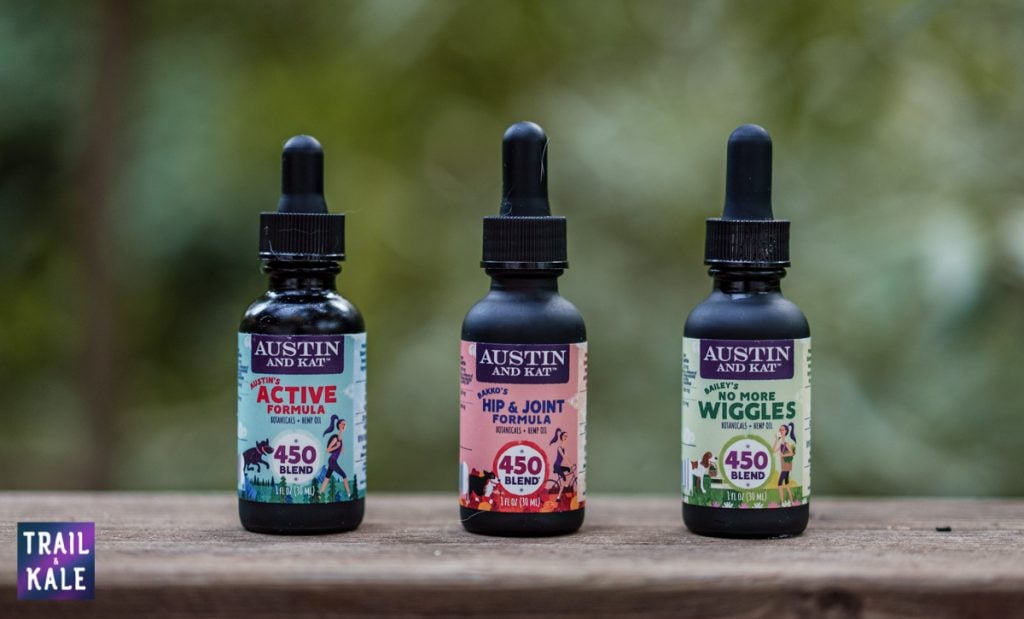 If you're familiar with the benefits that people can experience from using CBD oil, then you'll appreciate how it follows that it can also help dogs, in particular anxious dogs as well as those dealing with stressful issues such as separation anxiety.
We've used a variety of CBD oils and supplements ourselves, and wanted to see if it could help calm our dog down and reduce any feelings of anxiety he may be having.
Other stated benefits of CBD are that it can also help with joint mobility and inflammation, so this was another reason why a CBD supplement could benefit our very active dog. It could be worth a try if you're looking for ways to calm your dog down after exercise (or in general).
We first bought Kepler some CBD cookies around the same time as the Thundershirt, and the brand that stood out was Austin & Kat.
More recently, he has been taking their CBD oils daily, to help with general calmness and also joint mobility and post-exercise recovery.
The oils are easy to give – you can either give it to them alone or put it on their food. Kepler's tried three of Austin & Kat's CBD oils and will lick up all three without any food (just dropped into a bowl for ease of licking).
Our favorite Austin & Kat CBD oil for helping calm him down is the 'No More Wiggles' formula, although we also use the 'Hip and Joint' and 'Active Recovery' formulas.
I love that each formula is clearly labeled and they each contain different additional supplements such as green-lipped mussels, botanical extracts, Ashwagandha and Salmon oil.
To learn more about CBD for dogs read this post, or to check out the products mentioned above, click the button to visit Austin & Kat's website (and if you make a purchase, don't forget to use our exclusive discount code TRAILANDKALE25 for 25% off your order!).
If you are looking for other calming dog chews, also consider hemp-based supplements such as these from Premium Care.
---
4. Make their crate a calm, safe space
Our dog finds it much easier to relax in the safety of his crate than out in the rest of the house.
He can't help but stay awake if the cats are around and teasing him, or there's something exciting on the TV. If he needs to calm down then the crate is a great place for him to do that with little effort.
To help our dog like his crate, we locate it so he can't see the TV, in a darker part of the room (but where he can still see us and feel part of the family group when he's in there). He likes to be near us but finds it a lot easier to chill out if he's not where the TV/bright lights are, which is fair enough!
We also bought a crate cover to help his wire crate feel more den-like.
Our wire crate cover is from Molly Mutt, and I particularly love it because it features a constellation design (Kepler was named after a famous astronomer).
It is designed to fit the more popular wire dog crate sizes and available in a range of different fabric designs.
We also sometimes use a white noise machine near his crate, to help drown out distracting noises – this is particularly helpful if there are noises outside that we can't control – like fireworks or even packs of coyotes howling.
If you're looking to buy a dog crate, it may be worth investing in a crate that is already more enclosed. Kepler was recently treated to a folding crate from Impact Dog Crates, which lives in our DIY Sprinter campervan.
As the van is also our car, this is how Kepler lives, sleeps and travels with us when we are in our van or using it to go places on a daily basis, and he is very happy to have a quiet, dark crate to chill in on long road trips and on the way back from adventures.
We're happy with it as it's a safe way for him to travel and stay secure – plus it looks much nicer than the wire crate and other plastic travel crates.
---
5. Spend time on their 'place'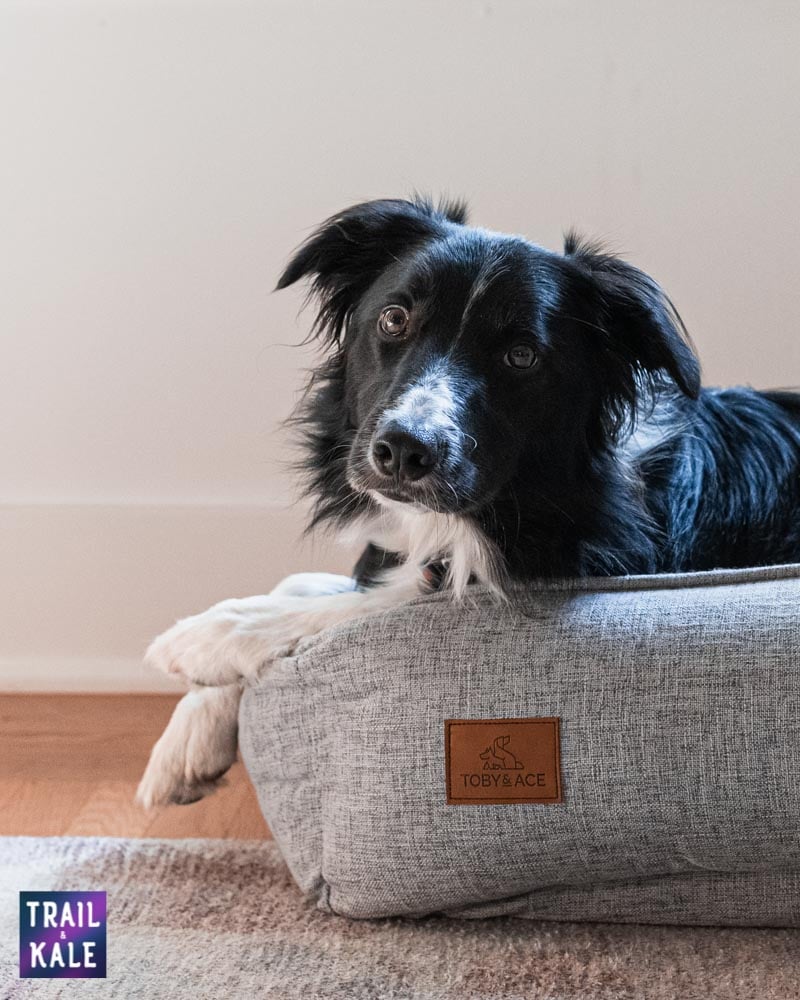 Since Kepler learned the 'place' command (aka 'mat' or 'bed') it has been a total game changer for helping him with impulse-control, and also learning to relax in one place while there are distractions going on.
If he is a bit 'amped' after having had some intense or challenging exercise, then he spends time on his dog bed (a 'place') where he eventually (sometimes faster than others) falls asleep.
Kepler has a few raised beds which make it easier for him to stay on them and not slither off – the nicest being his Buddy Bed and YETI dog bed as featured in our best luxury dog beds buyer's guide. A cheaper one which also works well is this one on Amazon (we have the 'Large' size).
I sometimes give him a chew to enjoy when he is on there as chewing is another way dogs can help themselves relax – and he's often hungry after a trail run!
He's currently enjoying bully sticks, which I prolong the life of by sticking in a Qwizl (the 'Large' size), which is an awesome dog toy for stuffing treats in and making him work for them.
---
6. Give your dog a massage
I mentioned in our post 'how to trail run with your dog' that we give Kepler post-run massages to help with his recovery and also as a good opportunity to check him for cuts, ticks and burrs, do some handling conditioning and of course some bonding.
We've also found this to be a great way to help him relax, because… who doesn't feel relaxed after a nice post-workout massage??!
---
I hope you enjoyed these tips we've put together on how to calm your dog down after exercise, let me know if you have any questions in the comments below, and if you have any other great tips to share that help your dog relax after exercise!