Front of the Pack (also known as FOTP) makes premium dog food and supplements in California.
Their products are not your typical dog food. The company is specifically focused on creating dog food and dietary supplements that are made with natural, vet-approved ingredients with no fillers or artificial additives.
Their most popular dog supplement, which is covered in this Front of the Pack review, is called 'The One'.
I also provide an overview of some of their other dog supplement powders and their air-dried dog food which we have also tried.
Perhaps you've already heard of The One supplement, and are wondering what it's all about. Or, perhaps, this is the first time you've heard of it and you're curious to learn more about how it could help your dog – read on and I'll explain!
What is The One supplement for dogs?
'The One' is FOTP's all-round, daily health supplement for dogs.
It's designed for dogs over one year old, and has an impressive list of stated benefits, as well as being made in America rather than overseas.
Rather than a pill or liquid, The One is a powdered food supplement.
It either comes in a paper bag sachet or a container with a scoop that you can use to measure out an appropriate quantity of powder for your dog's weight, and sprinkle it on their regular food in their favorite bowl.
Kepler's favorite bowl is the YETI Boomer dog bowl if you're looking for a super durable one for your pup.
Here are some of the potential benefits listed on the company's website, which the brand states you should start to see results or improvement in within six weeks of consistently giving your dog the supplement each day:
Relieve Hip & Joint Stiffness
Alleviate Stress & Anxiety
Support Healthy Digestion
Soothe Itchy Skin & Allergies
Freshen Breath & Reduce Plaque
Promote Mental Sharpness
Support Immune Health
Maintain Healthy Heart Function.
Other Front of the Pack Dog Supplement Powders
If you want a more focused powdered dog supplement, FOTP also offers three specific types:
Harmony is their supplement for stress and anxiety support, Soothe is for itch and gut support and Move is for joint and mobility support. Visit FOTP's website for more details about each of these options.
One of these could be a good option if for some reason your dog has a specific need and you don't feel like giving them everything in The One. We have a packet of Harmony and Move to try out, and I'll update this review with thoughts on those supplements once we've moved on to them.
It's also worth noting that one of these alternative supplement powders could also be a good option if your dog is very picky and didn't enjoy The One.
That hasn't been an issue for our dog, and he is normally quite fussy! However, every dog is different and it's great that FOTP has developed formulas for these specific needs.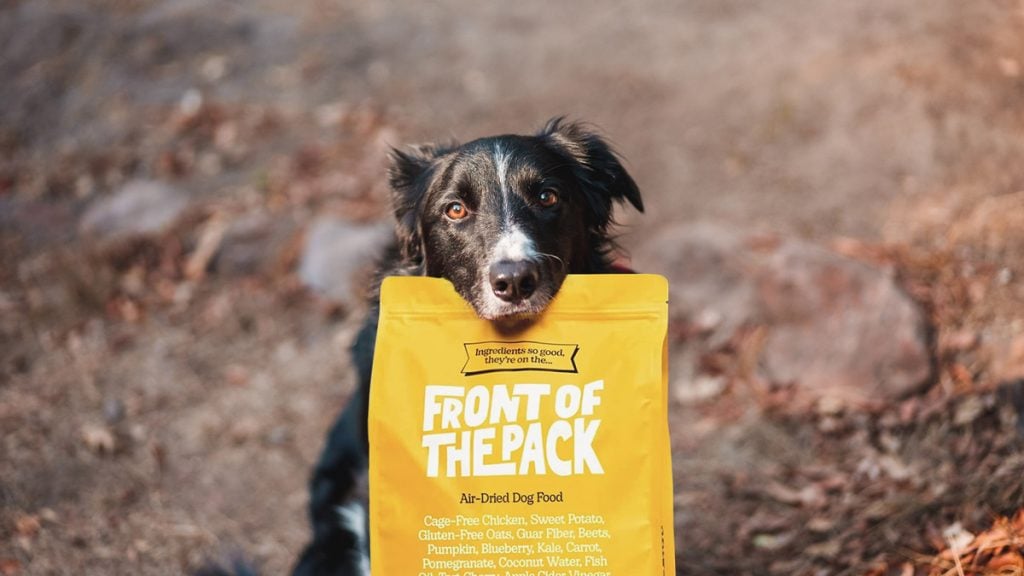 Front of the Pack air-dried dog food
As well as these dog food supplements, we have also used FOTP's air-dried dog food.
The Front of the Pack dog food doesn't have fillers or artificial additives and our dog finds it pretty tasty, so it works well as training treats.
The air-dried food doesn't leave as much of a residue on your hands as other dog treats or food such as chicken or cheese can do, so this is another reason it's handy for training.
Our dog loves this air-dried food so it's pretty motivating for him to work for when we're learning new tricks.
It's also great for working on things such as learning to be ok with brushing, handling and care such as filing his nails.
Kepler's regular food is raw, so this FOTP air-dried dog food doesn't disrupt his diet, its more complementary to it. He does well with his frozen raw patties so I haven't switched his diet over completely.
While air-dried food may be a great option for smaller dogs as their main meal, it works out too expensive if we were to use it as our dog's main food source, due to the amount of food he needs to eat each day.
So, we keep it as something special for training with and know that it's a lot better for him than 'junk food' treats!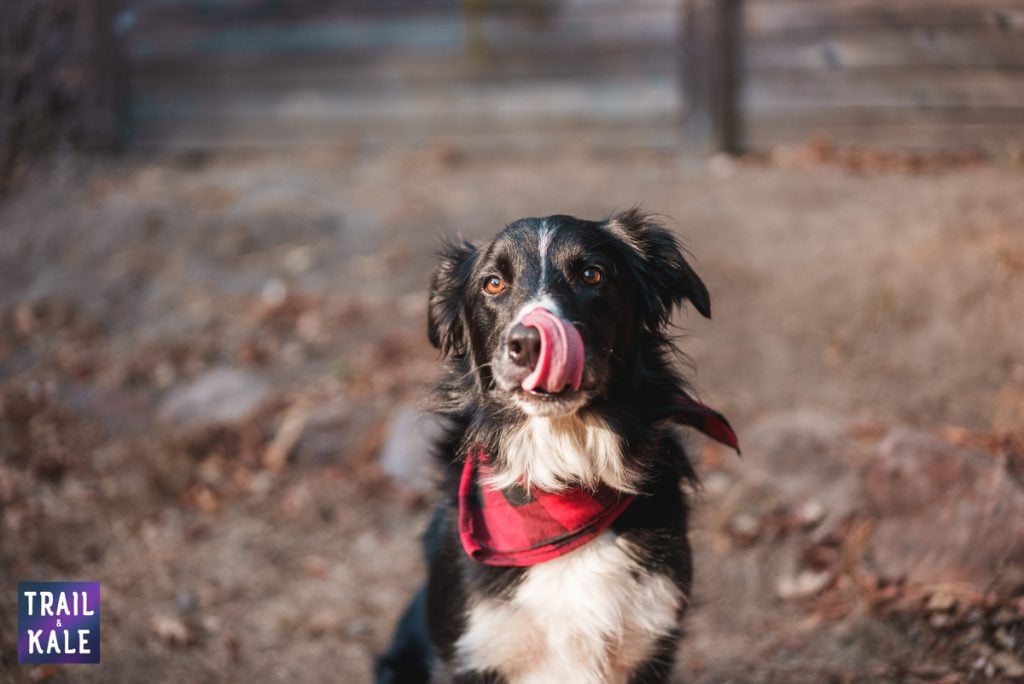 Does The One for dogs work?
If you read the reviews on FOTP's website, it's quite compelling to see how many different dogs of various breeds, ages and backgrounds seem to have benefitted from the addition of this daily supplement to their diet.
The most obvious and easy-to-spot improvements are, of course, with issues that have physical symptoms, such as in pets that have digestive issues, bad breath or itchy skin.
The owners of these dogs writing the reviews have clearly seen improvement, which is fantastic for their pets (and them)!
For the other benefits, such as supporting immune health and alleviating stress and anxiety, it can be harder to see the benefits within six weeks.
However, the supplement contains ingredients that are natural, hypoallergenic, with no artificial colors or flavors, non-GMO, pesticide-free and clinically proven, so we felt confident that this dog supplement powder was a good choice to give to Kepler, Trail & Kale's resident adventure dog, and see if it makes a difference for him.
He doesn't suffer from the more physical symptoms listed above, but could always do with help when it comes to managing anxiety and, like anyone, supporting his heart, joints and immune system for long-term health.
He loves to run (freakin' fast), chase, jump and catch frisbees, and given the chance he'll run or hike for hours. So, we need to make sure we're caring for his joints.
When it comes to helping with anxiety, we will take whatever help we can get.
In a time where so many people feel they have to take the path of medicating their dog to help them handle situations where they may feel particularly anxious or uncomfortable, if there's a more natural, supplement-based way to help your dog then (if you're anything like me) you'd consider it's worth a try and see if you (and your dog) notice a difference.
Because of the nature of these benefits, it's not really possible to tell with our dog how much of a difference the supplement makes to his physical health.
The difference will most likely be seen in years down the road when he may otherwise start to experience joint pain and stiffness, for example.
As far as anxiety goes… well, honestly, it's hard to tell. Some days are better than others and every situation you encounter is different from the last.
For example, would a dog that he's not too worried about cause him more anxiety if he hadn't been taking The One? Maybe? Maybe the dog was just not that concerned on that occasion. Is he barking less at strange noises? Or perhaps he's getting older and is simply less bothered by these things.
Like when you make dietary choices yourself or take regular vitamins and other dietary supplements, if they're for your general health and well-being then it may be hard to discern a difference compared to – say – taking something that helps with skin problems that subsequently clear up.
Still, as our dog is still young (three years old) and very active (he's a Border Collie after all), I am hopeful that the investment we are making now in how we care for him and what we feed him will translate into a long, healthy, calmer life for him.
How to give your pet The One dog supplement
Each packet contains 60 scoops. That's enough for up to 2 months' supply.
Quite how long it lasts depends on how large your dog is, because larger dogs will have a larger recommended daily allowance.
There are three allowance categories, small, medium and large dogs, bracketed as under 25lb, 25-50lb and over 50lb, respectively.
Our dog weighs within the 25-50lb range so for him, the daily allowance is 2 scoops per day, so one tub should last him around one month.
The One dog supplement powder ingredients
The One includes 12 ingredients, including green tea, curcumin, pre and post-biotics and taurine.
For the full list, see under 'nutritional information' on Front of the Pack's website.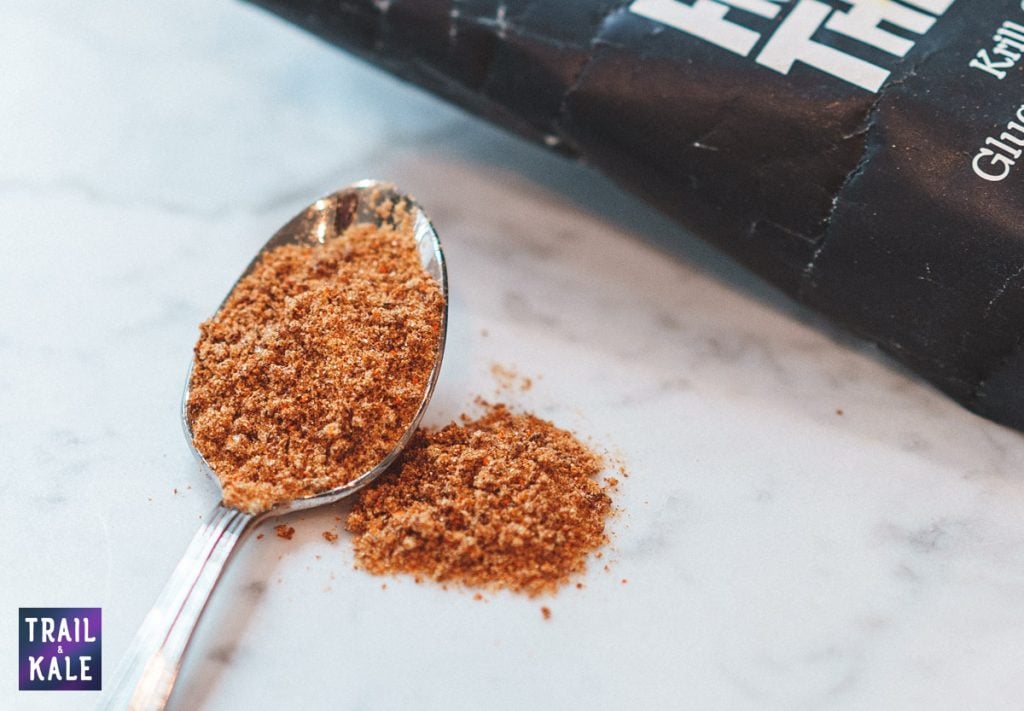 Cost and where to buy The One
At the time of publishing this review, The One costs between $0.59 and $1.51 per day, depending on the size of your dog, when you buy it on a subscription. It works out between $36 and $92 for a two-month supply.
While the subscription is worth doing to save money (and can be canceled at any time), you can also buy The One dog supplement without a subscription, which costs from $44 for the two-month supply, so you can try it out before subscribing to see if it works for your dog.
To check the latest prices, visit the product page on their website for all the details:
If you do choose the subscription option then you get a reusable tin for storing the powder for free.
The tin is a nice addition given that the paper-wrapped sachets which are easily broken and once open have to be re-sealed with a peg or stored in something to keep it air-tight – plus, they don't come with a scoop so you have to guess what a scoop size is.
It's also worth noting that shipping is free (when you spend over $20) and Front of the Pack offers you a full refund within 90 days of your purchase if you're not satisfied, making this a great option to try out even if you're hesitant about the cost initially.
Front Of The Pack Review Summary
FOTP The One Review
PROS
Our dog finds it tasty and has no problem with the powder sprinkled on his meals
Made in the USA with natural ingredients
Includes clinically-proven ingredients
CONS
The packaging could be improved - the paper sachets crease and tear easily.
More guidance on how large a 'scoop' is would help with getting the portions right.
Front of The Pack Review Image Gallery